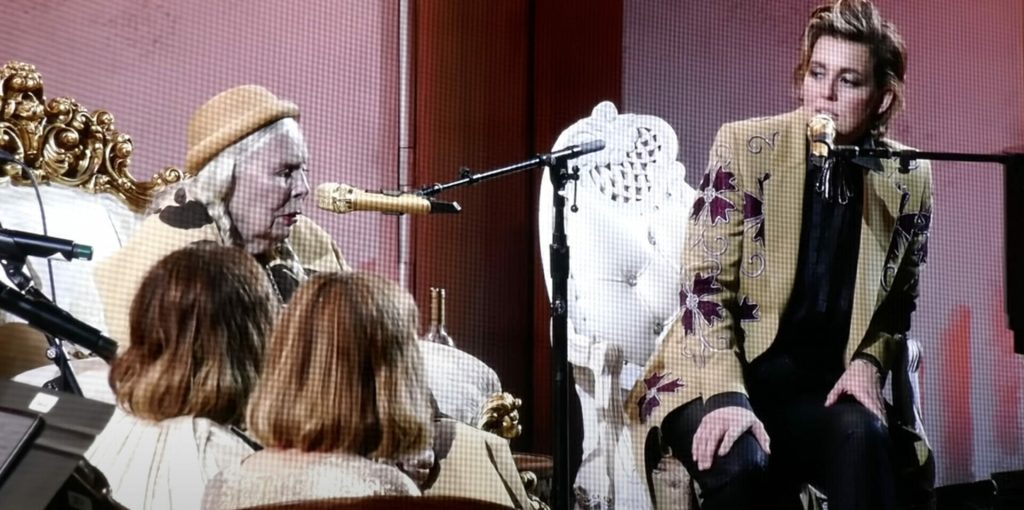 On Saturday, four months after Joni Mitchell's highly anticipated return to the stage, the legendary singer-songwriter surprised fans with another unexpected live appearance, this time at Los Angeles' Hollywood Bowl. For the appearance, Mitchell acted as a surprise special guest during Brandi Carlile's show, which also featured an ensemble of talented friends.
Seated at the center stage–which held an intimate living room atmosphere equipped with a gilded armchair–Mitchell sat between Carlile and special guest Annie Lennox. The crew's stage preparations allowed for a brief, delightful conversation between Carlile and Mitchell. During the impromptu chat, the two artists discussed their recent journey to Canada, a particularly poignant moment that marked Mitchell's first visit to her home country since her 2015 battle with a brain aneurysm.
"Joni, it's an absolute joy to be here with you. Thank you for joining me on this journey. You make me feel incredibly cool," Carlile said. "I owe you one, and I promise not to overstay my welcome with favors."
The massive talents began with "Shine," a personal favorite of Carlile's, followed by a soulful rendition of "Ladies of the Canyon" and brought the concert to a mesmerizing conclusion with the timeless classic "Circle Game."
Carlile paid homage to the music icon by closing the main portion of the show with a captivating cover of Mitchell's "Woodstock." The event also featured stellar performances by Wendy & Lisa, Blake Mills, Lucius, Allison Russell, and more.
Mitchell's performance marked her first since her memorable set at the Echoes Through the Canyon festival in Washington's Gorge Amphitheatre earlier in the summer. The timing was perfect, as it came just days after the release of her highly-anticipated Archives—Volume 3: The Asylum Years (1972-1975) collection.
Watch clips from the performance below.