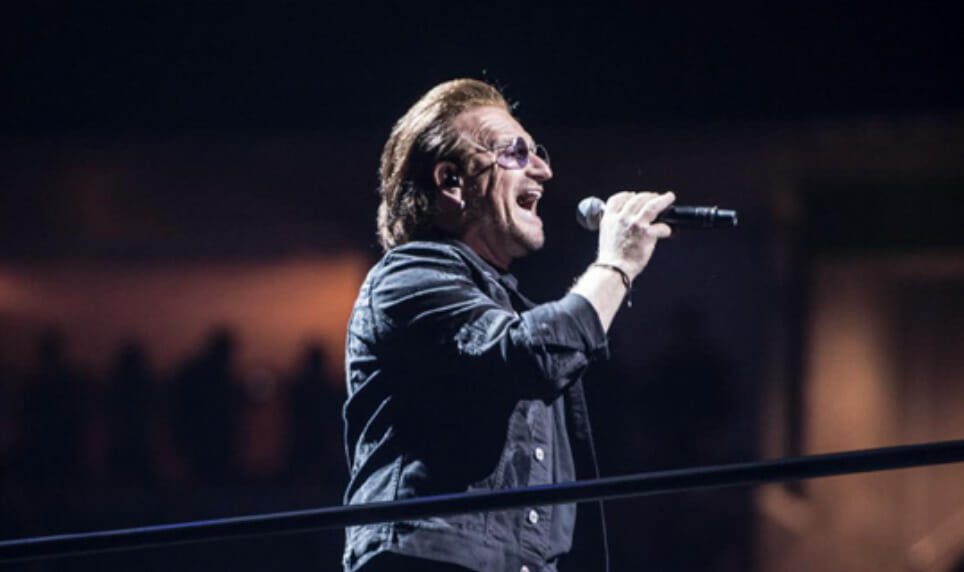 Photo by Jay Blakesberg
U2 made a poignant tribute to the tragic loss of young lives at the Supernova music festival in Israel during their recent concert in Las Vegas. The Irish rock band, currently in the midst of a 25-show residency at the Sphere, chose to modify the lyrics of their 1984 hit, "Pride (In the Name of Love)," as a tribute to those who were murdered by Hamas fighters, referring to them as "stars of David."
Before embarking on their rendition of "Pride (In the Name of Love)," Bono addressed the audience with a heartfelt acknowledgment of the somber backdrop: "In the light of the recent events in Israel and Gaza, singing a song about non-violence may seem somewhat absurd, even ironic. But our prayers have always been for peace and non-violence."
He continued, "However, our hearts are heavy, and our anger is directed towards a certain point. So let us sing together… for those beautiful kids at that music festival."
The Supernova music festival experienced an unprecedented tragedy–the worst civilian massacre in Israeli history–when Hamas fighters opened fire on the 3,500 festivalgoers during an all-night electronic music festival, coinciding with the Jewish harvest holiday of Sukkot.
In the early morning, festivalgoers witnessed rockets fly before militants arrived on the festival site in what would be the worst breach in Israel's defenses since Arab armies waged war in 1973. Others were waiting near bomb shelters to gun down people fleeing seeking safety. The main entrance of the festival was blocked, forcing people to run through an open field as automatic rifles mowed them down. Many were shot in the back.
Videos on social media show gunmen taking men, women and children hostage, including the elderly and disabled, while screaming "Allahu Akbar," meaning "god is great." This is our 9/11 and more," said an Israel Army spokesperson, adding that Hamas wanted "an annihilation of our State." He went on to say, "They went for civilians, grandmothers, and babies."
Over 1,000 people have died on both sides since the attack. The aftermath revealed the bodies of over 260 festivalgoers by the Re'im kibbutz near the Gaza border–the amount of people taken hostage and missing is still unclear.
During an instrumental interlude in "Pride," Bono paused to address the Las Vegas audience: "Let's sing for our brothers and sisters, those who were celebrating and singing themselves at the Supernova Sukkot festival in Israel." He continued, "We sing for them, our people, our kind of people – music lovers, playful souls, experimental minds, our kindred spirits. We sing in their memory."
With heartfelt modifications to the song's lyrics, Bono sang, "Early morning, October 7/ the sun is rising in the desert sky/ Stars of David, they took your life/ but they could not take your pride." The original lyrics to the song, "Early morning, April four/ Shot rings out in the Memphis sky/ Free at last, they took your life/ They could not take your pride," were written to honor the life of U.S. civil rights leader Martin Luther King Jr.
Bono's history of altering U2 lyrics during concerts in response to current events and using his platform to advocate for tolerance and coexistence is well-documented. Reflecting on past events, Bono recalled the band's profound shakenness after the terrorist attacks in Paris on Nov. 13, 2015, in which 130 people lost their lives, including 90 at the Bataclan concert hall during an Eagles of Death Metal performance.
U2 was originally scheduled to perform at the AccorHotels Arena in Paris on Nov. 14 and 15. In solidarity, the band postponed their concerts and rescheduled them for a few weeks later.
The band's residency at the 18,000-seat Sphere in Las Vegas will continue until Dec. 16. The show includes performances of every song from their 1991 album, Achtung Baby, and explores their extensive four-decade catalog.
In the light of what's happened in Israel and Gaza, a song about non-violence seems somewhat ridiculous, even laughable, but our prayers have always been for peace and for non-violence…

But our hearts and our anger, you know where that's pointed. So sing with us… and those… pic.twitter.com/S1zfCMNtzz

— U2 (@U2) October 9, 2023