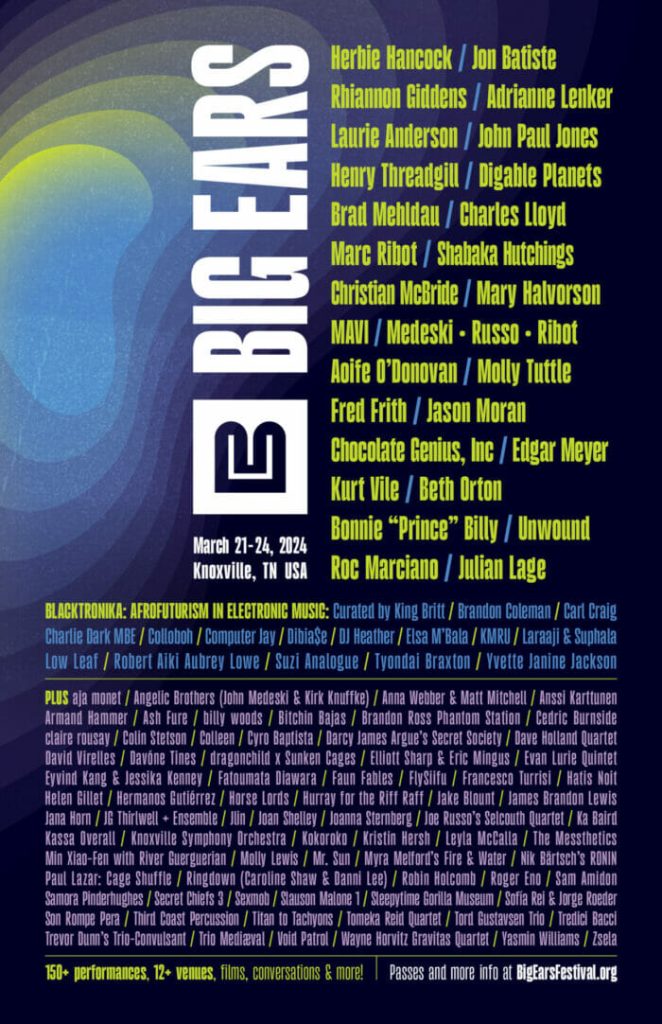 Big Ears Festival has added a second wave of names to its impending lineup of 2024 performers that will return to Knoxville, Tenn., on March 21 through 24. The announcement includes an assortment of talent, ranging from solo acts to group gigs, all of which promise memorable musical experiences in the spring. 
Topping the list of newly added names is five-time Grammy-award-winner and pillar of the New Orleans musical dynasty, Jon Batiste. Tapping into the celebratory nature of the gathering, Big Ears will mark Marc Ribbot's 70th birthday with a rare trio performance with John Medeski and Joe Russo. 
Moreover, Russo will perform alongside his Selcouth Quartet ensemble, including Stuart Bogie, Jonathan Goldberger and Jon Shaw. Initially, when the event announced its return in September, they also tacked on the first round of musicians to make the schedule, including Herbie Hancock, as well as artist and resident Rhiannon Gidden. 
Also slated to take the stage during the impending spring gathering are  Kurt Vile & The Violators, Beth Orton, Joanna Sternberg, Hurray for the Riff Raff, Vijay Iyer, Claire Rousay, Carl Craig, Molly Tuttle, Armand Hammer, billy woods and many more. Scroll down with a list of the current lineup. 
Big Ears Festival passes are on sale now at bigearsfestival.org/passes.
Full Lineup (Alphabetical)
Adrianne Lenker * Aja Monet * Angelic Brothers (John Medeski & Kirk Knuffke) * Anna Webber & Matt Mitchell * Anssi Karttunen * Aoife O'Donovan * Armand Hammer * Ash Fure: ANIMAL * Beth Orton * Billy Woods * Bitchin Bajas * Bonnie "Prince" Billy * Brad Mehldau * Brandon Coleman * Brandon Ross Phantom Station * Carl Craig * Cedric Burnside * Charles Lloyd * Charlie Dark MBE * Chocolate Genius, Inc. * Christian McBride * Claire Rousay * Colin Stetson * Colleen * Colloboh * Computer Jay * Cyro Baptista * Darcy James Argue's Secret Society * Dave Holland Quartet * David Virelles * Davóne Tines * Dibia$e * Digable Planets * DJ Heather * Dragonchild x Sunken Cages * Drawing Sound (Fred Frith Trio with Heike Liss & Susana Santos Silvia) * Edgar Meyer * Elliott Sharp & Eric Mingus: Songs From a Rogue State * Elsa M'Bala * Evan Lurie Quintet with Bandoneon * Eyvind Kang & Jessika Kenney * Fatoumata Diawara * Faun Fables * FlySiifu * Fred Frith (Solo) * Fred Frith & Ikue Mori * Hatis Noit * Helen Gillet * Henry Threadgill, Vijay Iyer, & Dafnis Prieto * Henry Threadgill's ZOOID * Herbie Hancock * Hermanos Gutiérrez * Horse Lords * Hurray for the Riff Raff * Jake Blount * James Brandon Lewis * Jana Horn * Jason Moran & the Harlem Hellfighters * JG Thirlwell + Ensemble * Jlin * Joan Shelley * Joanna Sternberg * Medeski • Russo • Ribot * Joe Russo's Selcouth Quartet featuring Stuart Bogie, Jonathan Goldberger & Jon Shaw * John Paul Jones * Jon Batiste * Julian Lage and the Speak to Me Band * Ka Baird * Kassa Overall * King Britt * Kristin Hersh * KMRU * Knoxville Symphony Orchestra * Kokoroko * Kurt Vile & the Violators * Laraaji & Suphala * Laurie Anderson & Sexmob: Let X=X * Low Leaf * Make A Move * Marc Ribot's Ceramic Dog  * Mary Halvorson * MAVI * The Messthetics * Min Xiao-Fen with River Guerguerian * Molly Lewis * Molly Tuttle & Golden Highway * Mr. Sun * Myra Melford's Fire and Water * Nik Bärtsch's RONIN * Paul Lazar: Cage Shuffle * Rhiannon Giddens * Ringdown (Caroline Shaw & Danni Lee) * Robert Aiki Aubrey Lowe * Robin Holcomb * Roc Marciano * Sam Amidon * Samora Pinderhughes * Secret Chiefs 3 * Sexmob * Shabaka Hutchings * Slauson Malone 1 * Sleepytime Gorilla Museum * Sofía Rei & Jorge Roeder * Son Rompe Pera * Sons of Chipotle (John Paul Jones & Anssi Karttunen) * Suzi Analogue *  Third Coast Percussion * Threadgill, Iyer & Prieto * Titan to Tachyons * Tomeka Reid Quartet * Tord Gustavsen Trio * Tredici Bacci * Trevor Dunn's Trio-Convulsant avec Folie à Quatre * Trio Mediæval * Tyondai Braxton * Unwound * Very Very Circus * Void Patrol * Wayne Horvitz Gravitas Quartet * Yasmin Williams * Yvette Janine Jackson * Zsela