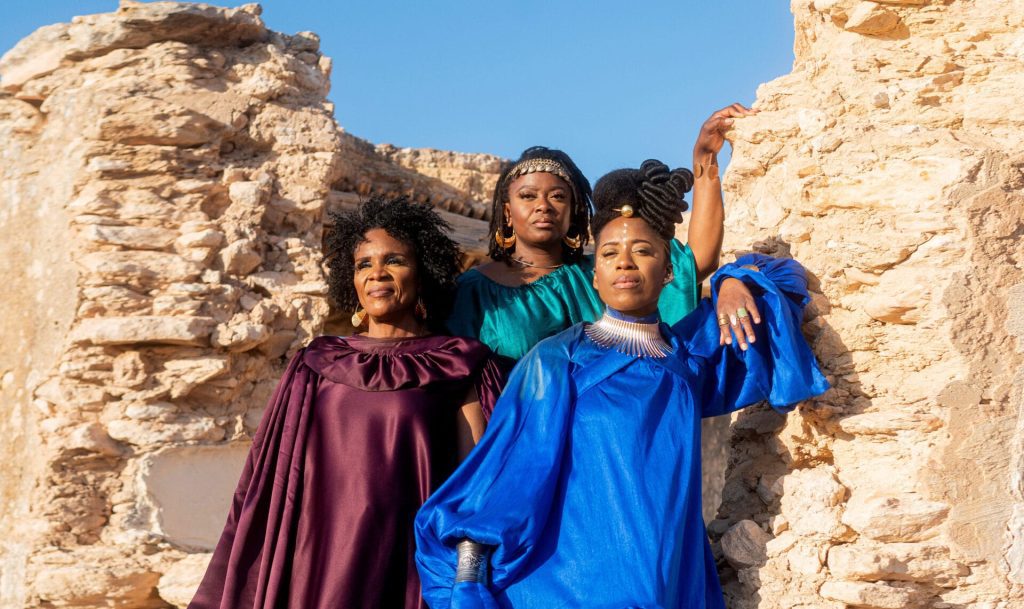 Photo by Odhrán Mullan
Today, the all-female African supergroup Les Amazones d'Afrique made their triumphant return with a new single, "Kuma Fo (What They Say)," off their album Musow Danse – set to release on Feb. 16 via Real World Records. The song is a gorgeous representation of the continent, with five members of the collective–some of the biggest stars in African music–singing in their native languages.
Alongside the familiar voices of Mamani Keïta, Fafa Ruffino and Kandy Guira, the track features new members Alvie Bitemo, an activist and actress originally from Congo-Brazzaville, and renowned Ivorian artist Dobet Gnahoré. The homes of languages showcased on "Kuma Fo (What They Say)" include the countries Mali, Benin, Burkina Faso, Ivory Coast and the Congo-Brazzaville.
"'Kuma Fo' is about women's freedom of expression," Bitemo said in a press release. "It's about speaking up — not asking, not waiting for us to be given the floor. We need to seize it."
She then reflected on the influence female warriors had on the country in citing the Amazons of Dahomey. "It was female warriors who made the decisions and took power," she said. "It feels like, since colonization, certain countries in Africa have moved further away from women's rights. And in this song, we say that if you bring life into the world, you educate, you organize the family, then you should reclaim your power: your female power."
The majority of the beautiful, uplifting accompanying music video for the song was filmed in Morocco during the band's visit to perform at the legendary Gnaoua World Music Festival in Essaouira last summer. In bright silken clothes of royal disposition, the artists walk confidently through their environment, bombastic and proud.
Listen to "Kuma Fo (What They Say)" below.
Les Amazones d'Afrique – Live 2024
30 JAN 24 JUVISY-SUR-ORGE Les Bords de Scènes
02 FEB 24 GLASGOW St. Luke's
15 FEB 24 PANTIN La Dynamo
16 FEB 24 SAINT-SYMPHORIEN-D'OZON Espace Culturel Louise Labe
29 FEB 24 SCEAUX Les Gémeaux Scène Nationale
02 MAR 24 SAINT-DIZIER Les Fuseaux
27 MAR 24 OYONNAX Centre Culturel Louis Aragon