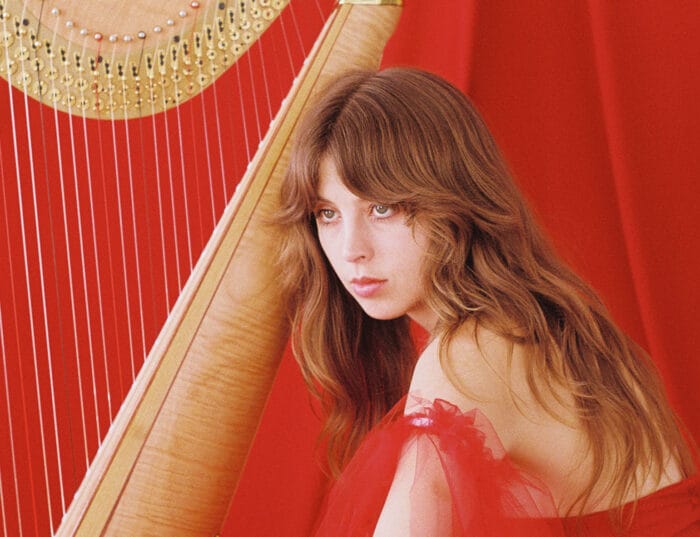 photo: Emily Pinto
***
"It wasn't until I sat in with Bob Weir & Wolf Bros. in 2018 that I started seriously improvising," Mikaela Davis reveals. "My band had always encouraged me—and I did it a little bit at shows—but when I sat in with Bob, I just threw myself into it."
That appearance at the aptly named Landmark Theater in Syracuse, N.Y. was facilitated by a mutual friend, who passed along a video of Davis and her longtime band Southern Star covering Neil Young's "Down by the River" to Weir's manager, with the suggestion that her harp would provide a sublime addition to "Bird Song." This supposition proved correct and the outcome has continued to resonate.
"I was scared to death to do it," Davis continues. "But Bob, Don and Jay were really encouraging. They wanted me to step out. I was so happy I did, and it gave me the confidence to improvise more in my band. Everything has blossomed tenfold since then."
Davis and the members of Southern Star share an ease of communication and comfort, honed during their formative years. "When we're onstage, we just know what to do," she says. "We're all good friends who have been playing music together for so long. My drummer Alex [Coté] and I grew up around the corner from each other. We've been friends since high school."
At that time, Davis—who began playing the harp at age 8—envisioned a future career for herself in a more formal musical setting. She enrolled at the Crane School of Music, where she took top honors in the college's concerto competition en route to receiving a harp performance degree.
While still an undergrad, she also created music with an indie-rock flair alongside some of her fellow students. By then, Davis already had a few years of songwriting experience under her belt. At age 11, she would sit in front of her piano and attempt to play the pop hits she heard on the radio. She recalls, "Sometimes I wouldn't quite get it right, but when I came up with something else I thought was interesting, I decided to flesh that out. Then, soon enough, I realized, 'Oh, this is my song, and I can do this too.'"
So despite her affinity for classical harp, after graduating from Crane, rather than audition for an orchestra, Davis lit out for the territories with a rock group. She had met brothers Cian and Shane McCarthy (guitar and bass, respectively) in college and later added steel guitarist Kurt Johnson.
2018 was not only significant for Davis' appearance with Weir, but it also marked the year when Rounder released Davis' debut album, Delivery. Produced by John Congelton (The Decemberists, Angel Olsen), the record received critical plaudits, with one reviewer declaring that it "nimbly explores various genres spanning psych-rock, synth pop and gritty funk."
Davis and Southern Star maintained a steady presence on the road while continuing to develop their sound. One notable series of shows featured a set of original music followed by a performance of Live/Dead. Davis notes, "We spent weeks learning those tunes, and it gave me a whole new look at how to write a song and perform a set. It definitely helped evolve us as a band."
Meanwhile, her personal profile continued to rise, resulting in new musical opportunities. For instance, Newport Jazz Artistic Director Christian McBride invited her to guest with Brandee Younger at the 2021 fest and then participate in his own Jam Jawn, which also featured Marco Benevento, Joe Russo and John Scofield. "That performance was completely improvised," she remembers. "I was nervous about what I was going to play with all those greats, but when I got up there, it all went away."
When the time came to craft a follow-up to Delivery, Rounder passed, so Davis decided to record an album with her group and then seek out a prospective label.
"It was a really a collaborative effort when it came to the songwriting and the entire process," she says of the album that would be titled And Southern Star, reflecting the active contributions of the band members. "We got to do it the way we wanted to do it without a label telling us to change this or that. Everyone always has their grand opinion, but in recent years, I've realized that you've got to go with your gut because if you're not happy with your art, it won't shine through to others."
Kill Rock Stars found it shimmering and agreed to release the record. Davis, who first learned of the label through her Elliott Smith fandom in high school, observes, "My 16-year-old self would be mind-blown."
And Southern Star continues to build on a sonic palette that encompasses elements of folk, rock, pop and psychedelia. "I originally wanted the album to start with a pop song, 'Promise,' to hook people's attention," Davis says. "But after our friend Mike Fridmann mixed 'Cinderella,' I thought, 'Wow, this song needs to be the first track on the album—it sounds so magical and mystifying. We follow that one with a country song. Then the back half of the record stretches out more. 'Far From You' has a long instrumental section at the end. It's a tip of the hat to let people know that we're going in this direction."
Most of the tracks are further elevated by Davis' ethereal vocals, and when it comes to her primary instrument, she remarks, "I like to use the harp as just another texture in the band. It's not all about the harp. It's all about the song."