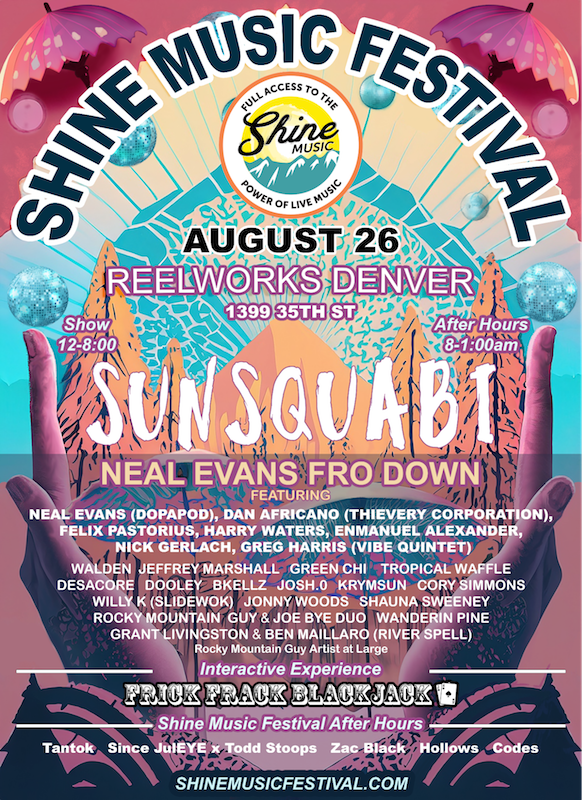 Today, Shine Music Festival detailed highlights ahead of its event at Reelworks Denver on Saturday, Aug. 26. SunSquabi will headline the event and Dopapod drummer Neal 'Fro' Evans will host the Neal Evans Fro Down for the festival's third edition – which is flowing forward with more passion behind its good faith mission than ever before.
Shine Music Festival is a donation-optional event that ensures anyone can enjoy what it offers regardless of financial constraints and aims to unite people of all backgrounds and abilities for a transformative live music experience.
Artists with Evans for the Fro Down include Thievery Corporation bassist Dan Africano, son of jazz bassist legend Jaco Pastorius bassist Felix Pastorius, British-pianist Harry Waters (the son of Pink Floyd co-founder Roger Waters), guitarist Enmanuel Alexander, saxophonist Nick Gerlach, and vibraphonist/percussionist Greg Harris.
"The Shine Music Festival is the only accessibility forward event I know of," Evans said in a press release. "As such, of course, it's great that all alter-able people are in attendance, but it's almost more important for able-bodied people to be there too and see what a difference this approach can make!" 
2023's event at Reelworks follows a successful 2022 gathering at the Civic Center Park. Like the previous iteration, the gathering set for Reelworks Denver will welcome ADA patrons and able-bodied fans to "intermingle fluidly and collectively." To this end, the festival is preparing comprehensive accessibility measures, state-of-the-art adaptive technology, and traditional festival structures to create an open and free space for fans to revel in the power of music together.
"65% of people with disabilities are unemployed due to government and social factors beyond their control. So our Universally Designed Festival offers optional donation ticketing, bridging the gap between accessibility and inclusion," offered Shawn Satterfield, Shine Music Festival founder/president. "By embracing this inclusive approach, we empower everyone to enjoy the magic of music, while your generous donations drive change for individuals with disabilities, ensuring they're not held back by outdated policies and misconceptions." 
The festival–which is both indoors and outdoors–will welcome many adaptive features and safety measures, including a bone conduction vibrotactile dancefloor from Feel The Beat, allowing users to feel sound through vibrational energy, closed-captioning glasses from Xrai Glass, which allow deaf or hard of hearing guests to see subtitles from anywhere across the venue. Another inclusive offering will be the Full Body Sound devices, which translate music from the soundboard into tactile audio stimulations. The Sensory Club will curate sensory zones for neurodivergent individuals who are prone to overstimulation. Shine Music Festival also shared it is proud to be the first and only music festival with braille merchandise.
Additionally, Shine Music Festival has partnered with Healing With Harmony, which enlists therapists with experience in music-related therapy to assist in creating a rejuvenating space that promotes emotional well-being.
After the main event ends, Shine Music will host an afterparty in the same venue from 8 p.m. – 1 a.m., featuring acts house artist Tantok and Since JulEYE– a collaborative project between DJ/producer Lev Averbackh and veteran keyboardist Todd Stoops (RAQ, Kung-Fu). The after-hours lineup also includes DJs such as Zac Black, Hollows and Codes. 
Shine Music Festival is donation-optional, and 100% of proceeds will go towards continuing Shine Music's mission to make live music accessible for all. Both free and donation-based tickets are available now, learn more and find tickets here.
Donate to Shine Music Festival here.
Shine Music Festival Lineup
Main Stage:
SunSquabi
Neal Evans Fro Down featuring: Neal Evans (Dopapod), Dan Africano (Thievery Corporation), Felix Pastorius, Harry Waters, Enmanual Alexander, Nick Gerlach, Greg Harris (Vibe Quintet)
BKellZ
Desacore
Green Chi
Jeffrey Marshall
Walden
Dooley
Tropical Waffle
Acoustic Avenue (outside)
KrYmsun
Josh.0
Wanderin Pine
Jonny Woods
Willy K
Rocky Mountain Guy & Joe Bye Duo
Grant Livingston & Ben Maillaro (River Spell)
Shauna Sweeney
Cory Simmons
Shine Music Festival AfterHours
Tantok
Since JulEYE x Todd Stoops
Zac Black
Hollows
Codes