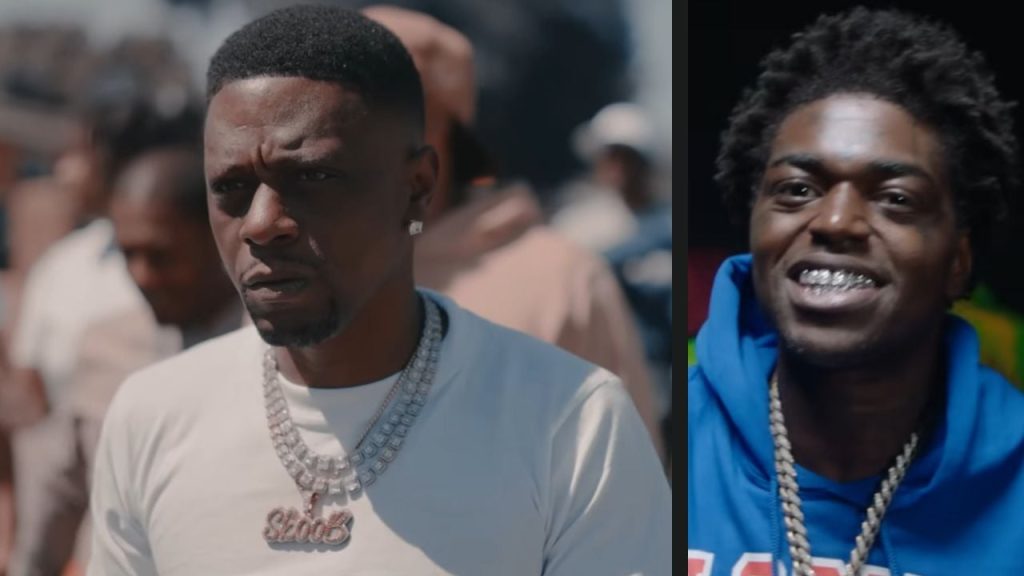 Boosie has aimed at Kodak Black in a new diss track titled "Ungrateful." In the song, the Baton Rouge rapper criticized Kodak for working with someone he considers a "snitch," referring to 6ix9ine's cooperation with law enforcement in his 2018 RICO case.
"Ungrateful"
In "Ungrateful," Boosie accused Kodak of violating street codes and claimed to have given him his stage name. He rapped, "The name that you got, I think you got that from me," suggesting that he played a role in developing Kodak's music career. 
Boosie also questioned the South Florida rapper's street credibility, claiming that he doesn't live the lifestyle he raps about.
"I've been going through some shit, man, this shit done got deep/ Gotta realize everybody ain't G/ How the fuck you do that when you represent the streets?/ Streets made you and the streets made me/ If you ask B.G., you was on PC/ The name that you got, I think you got that from me," Boosie rapped.
Later in the song, Boosie continued about how Kodak's  "street cred is gone," he doesn't live what he raps about, and him "working with a rat,' when referring to 6ix9ine. 
The Song That Started It All
The song "Shaka Laka," which caused the rift between Boosie and Kodak, was released in July 2023 and has amassed 27 million views on YouTube. 
In an Instagram live video, the 40-year-old rapper expressed his shock and disappointment over Kodak's actions, stating, "That n*gga Yak f*cked me up," and questioning how Kodak's Haitian community, referred to as "Zoes," would feel about the collaboration.
The diss track comes after the release of Boosie's album Goin Thru Some Thangs on August 15. Boosie's disappointment in Kodak's collaboration with 6ix9ine stems from a personal connection to the younger rapper, making the betrayal even more hurtful.
Kodak Black's decision to collaborate with Tekashi 6ix9ine reportedly came with a hefty price tag. According to 6ix9ine's manager, Wack100, the "Walk" rapper received a substantial sum of money and a Rolls Royce for his verse on the song.
Updated By: Chris Samuel (8/17/23 at 5:31 pm)
Kodak Received A "Whole Lot Of Money" and a Rolls Royce For Tekashi 69 Collab
Kodak Black fans were shocked and disappointed when it was announced on July 20 that he would be featured on a new single with the shunned Brooklyn rapper, Tekashi 69.  Turns out the reluctant collab was motivated by a major payoff and hefty perks.
Kodak Gets a Huge Payday For Collab
The music industry can sometimes make for strange bedfellows, and the recent collaboration between Kodak Black and Tekashi69, also known as 6ix9ine, is a perfect example.  Music executive Wack 100 confirmed that he played a key role in arranging the unexpected collaboration between Kodak Black and Tekashi 69.  
Turns out that Kodak didn't jump on board without some enticing incentives. According to Wack 100, the "Pistolz N Pearlz" rapper was promised a jaw-dropping payday just to feature on Tekashi's new song. According to Wack, "Kodak "came in a black car and he left in a Rolls-Royce." 
"Cheese" Diss Leaked
After being tempted with a "whole lot of money," Kodak Black overcame any initial reluctance and went forward with the feature.  Subsequently, the single "Shaka Laka" featuring Kodak Black and Yailan la Mas Viral was released on Friday, July 21.
(1560) 6ix9ine, Kodak Black & Yailin la Mas Viral – Shaka Laka (AUDIO) – YouTube
But Kodak sneaked a quick diss into the mix.
Kodak's engineer, known on Instagram as @dyrk, couldn't resist teasing fans by leaking a snippet of now-deleted bars from the track.  In the snippet, Kodak humorously dissed Tekashi by saying, "I'm so raw I got a rat giving me cheese," a clear reference to the significant sum of money offered for the feature and the 6ix9ine's' past history as a police informant.  
The Florida rapper assured listeners that joint drop was all business saying we're "going in on a verse, not a brick," referring to Tekashi's infamous legal troubles and history of cooperating with authorities.  Dyrk also made it clear that "It's called music business. Not music friends," and not a sign of newfound friendship.  Ironically, SOHH predicted the collabo years earlier.
Boosie Badmouths Kodak
Of course, not everyone is thrilled about this alliance. Rapper Boosie, who has been vocal about his stance against snitching, had some choice words to share about the collaboration. Boosie went live on Instagram and expressed his disappointment in Kodak Black's decision to work with Tekashi, emphasizing that he believes in sticking to certain principles and staying true to the streets.
Future Disses Russell Wilson
In a new song, Atlanta rapper Future has sparked controversy with his latest feature on Quavo's new song, "Turn Yo Clic Up." In the track, the "Mask Off" rapper throws shade at his ex-fiancée Ciara's husband, NFL quarterback Russell Wilson.
Originally Written By: Aveon Sims