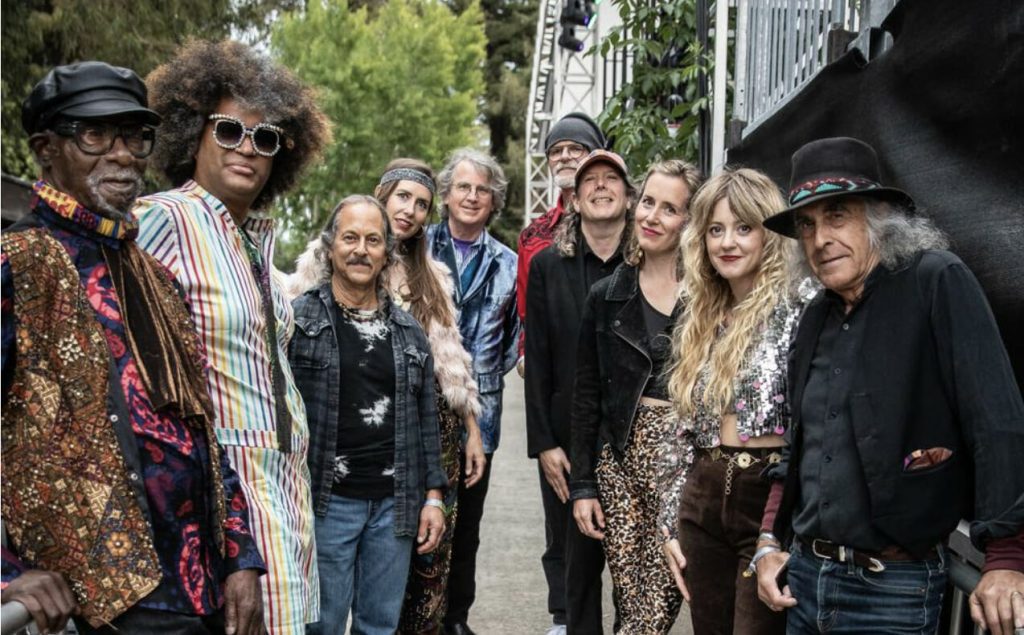 Photo by Jon Luini
Psychedelic soul and rock Bay Area collective Moonalice are gearing up to celebrate one of the cornerstones of their ethos: 4/20. The unit led by Roger McNamee congealed in 2007 for a concert in support of medical cannabis use and the end of criminalization and the civil rights abuses that stemmed from its prohibition, and this year they're set to celebrate the holiday with a cover of the cult stoner singalong anthem by Asleep at the Wheel "Am I High?".
The song–which is being premiered today by Relix–features Asleep at the Wheel's founder, vocalist Ray Benson who sings the bridge of the song in harmony with the T Sisters.
"'Am I High?' has been a staple of Moonalice's 4/20 repertoire for many years, but the recording of it happened almost by accident," McNamee told Relix. "I played the rough track for the man who wrote the song, Asleep At the Wheel's founder, Ray Benson, and he volunteered to add a vocal! How cool is that?"
"I met a few of the Moonalice folks backstage at Hardly Strictly in San Francisco, and they told me about recording it and the concept," Benson added. "I lit a joint and said sure, 'I'd love to sing on it!'"
In conjunction with the song, Moonalice released a hazy music video starring the iconic Grateful Dead roadie Big Steve Parish. As the anthem rolls out, Parish bellows smoke cooly – regardless of the lighting, be it a warm amber on his face or behind him, making him a silhouette – his coy grin can be felt.
The premiere of the song comes one day ahead of Moonalice's annual 420 Gathering of the Tribe Concert at The Chapel in San Fransico, which combines music, liquid lights, and poster art in celebration of a plant that brings elation, connection and relief to millions. This year's gathering marks the first in three years and is in partnership with Humboldt Family Farms. Hippie icon Wavy Gravy will serve as this year's emcee, legendary farmer Nik Erikson of Full Moon Farms and the founder of Humboldt Family Farms, Scott Vasterling, will be on-site discussing cannabis culture, history, and offerings. Learn more and find tickets to the event here.
"Am I High?" marks Moonalice's first release since Light Side of the Moonalice – An Acoustic Adventure, which was recorded in August 2022 with 4x-Grammy Award-winning engineer Dave Way and showcased reworkings from Full Moonalice Vol. 1 and Vol. 2 EPs, including "Time Has Come Today" and "Love Peace & Happiness." 
After their 4/20 celebrations, Moonalice are set to return to Skull & Roses Festival in Ventura, Calif., and BottleRock Festival in Napa Valley on April 23 and May 26, respectively.
Listen to Moonalice's cover of "Am I High?" below.