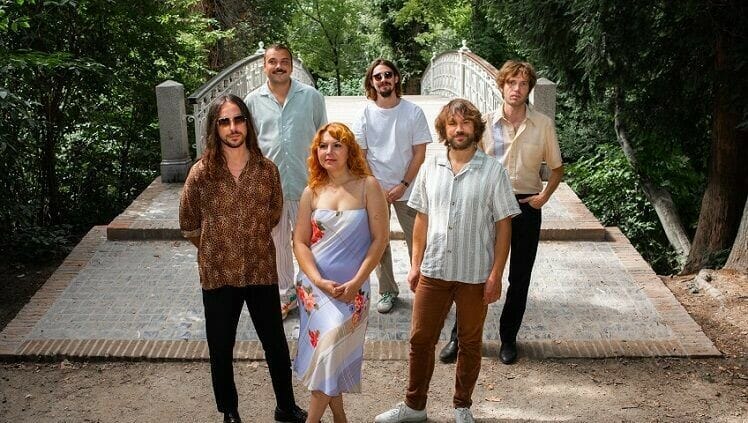 photo: Catherina Gerritsen
***
On past albums, Altın Gün have kicked off their most adventurous songs with some bubbling disco-funk congas, a streak of electro-prog synth or the slippery, psychedelic tones of Turkish string instrument the saz. But the band's fifth album, Aşk, opens with the most crucial sound of all—a blink-and-you'll-miss-it hint of analog tape hiss.
It's a heartening blemish, signaling that the members of Altın Gün have returned to a trusted process. Feel, in this case, trumps technology. "That was the only concept of this album, I think," bassist Jasper Verhulst says. "We wanted to go back to being a band in the same room."
More important, it was a welcome change of pace for the Netherlands sextet, following the more computerized sessions for their back-to-back 2021 LPs, Yol and Âlem. On those releases, they made the best of a tricky situation, leaning into their electronic influences and recording at home during the early part of the pandemic. But even if those restrictions helped them evolve creatively, they also highlighted the communal joy those albums were missing. So after getting back into the rhythm of regular touring, the musicians consciously embraced their roots and reinvented another batch of traditional Turkish tunes by workshopping them face to face.
"Originally we never set out to be a recording band," says Verhulst, the Dutch musician who founded Altın Gün in 2016, after recruiting likeminded players by posting wanted ads in person and online. "We really saw ourselves as a folk band playing these traditional songs live again. When we recorded the first album [2018's On] ourselves in our rehearsal space, we thought, 'OK, maybe we should have something to sell at shows.' And it got bigger than we ever expected. We still see ourselves as a live band."
That mentality has already taken Altın Gün farther than anyone would have initially wagered, but the multicultural group—whose members are Turkish, Dutch and Indonesian—seemed to arrive at the perfect time: In 2018, they caught the ear of ATO Records after playing King Gizzard & The Lizard Wizard's curated festival, Gizzfest, and have since become essential to the latest wave of modern psych-rock. (They even broke through on a broader level, earning a Best World Music Album Grammy nod for 2019's Gece.) Inevitably, the pandemic broke their momentum, but Aşk picks up right where they left off.
The process started, as usual, with the members of Altın Gün diving into Turkish music history, generating a list of song ideas and finding psychedelic ways to twist them inside out.
"There is [some jamming]," Verhulst says. "But sometimes there's also a reference track—'maybe we take this traditional and give it this vibe.' Then we listen to the song by someone else and go, 'OK, I can see the combination of those two worlds.' We start playing it, and usually it becomes something completely different."
However, Aşk still feels more like a refocusing of the GPS than a true departure. Some of Altın Gün's recent disco vibes linger on closer "Doktor Civanim," and a whiff of vintage psych carries the expansive voyages of "Badi Sabah Olmadan" and "Leylim Ley." But there are also subtle tweaks to the recipe: a more prominent usage of slide guitars, a heavy fuzz bass tone on the mind-expanding "Rakiya Su Katamam," and a brief drift into cosmic guitar ambience on latealbum highlight "Güzelliğin On Para Etmezli."
"That's one of my favorites," Verhulst says, nodding to the sudden entrance of a rhythm section halfway through. "Sometimes it's nice if there's a surprise toward the end. We wanted to keep the vibe open for a very long time."
The glue, as on those early albums, is the organic feel—the sense that you're hearing an actual group of musicians unlock these mysteries together. "It was almost like a live album because we didn't do many overdubs," the bassist notes. "We only rehearsed for a week or eight days. Then we did the U.S. tour for a month, had a couple days off and went into the studio for 10 days. That was basically the whole album. We did it very fast, almost like the '60s."
Coming out of COVID, Altın Gün are in no rush to fully overhaul their style. Verhulst admits that they've been toying with the idea of writing more original material, but he's still hesitant to mess around with the magic.
"We've done some original songs, and they're nice, but it's hard to really make it match with our live sound," he says. "I like the fact that we're basically a folk band. I think a lot of people forget that, before the '60s, almost all bands were playing either music written by someone else or folk traditionals. Buddy Holly, The Beatles and Chuck Berry changed that. It's kind of interesting going back to that [earlier approach] and seeing how you can still have an identity as a band. We write music, of course—if you hear those early, folky [versions of these songs], there's not much [similarity]. It's basically just the vocal melody and the lyrics that we use. But it's still different than starting from scratch. I've been in many bands, but I'm comfortable with this."
There's also something beautiful about the balance of a band without a songwriter. "If you really start to have one in the group, the whole dynamic changes," Verhulst adds. "Then you have more of an ego thing maybe. Now, we're all just doing the same thing, playing these folk songs—that none of us wrote—together."