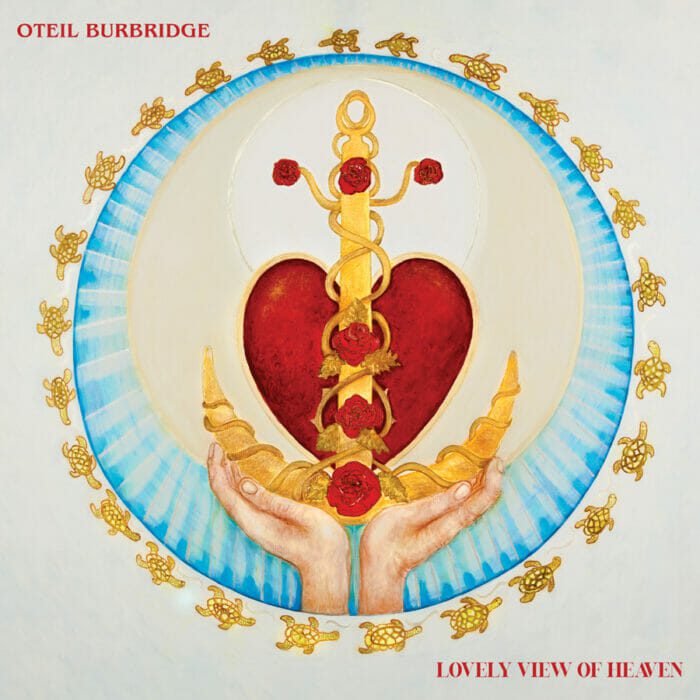 "The thing that I love the most about Jerry's voice is the emotional availability," Oteil Burbridge explains, as he describes the process of inhabiting the material on his new album of Jerry Garcia-Robert Hunter ballads, Lovely View of Heaven. "He was so emotionally available. You felt like you could touch it."
That warmth and passion guided Burbridge to the core of the songs. He then imbued these compositions with his own moods and mindset to fashion a vibrant collection that feels both intimate and inclusive. It's also full of heart.
"I began singing these songs with Dead & Company. Doing these ballads kind of became my thing. So I thought I should record them but I wondered, 'Should I do a record of just ballads? That seems kind of crazy.' Then I remembered that Meshell Ndegeocello—who's one of my favorite bassists, composers, singers and lyricists—did this album that was pretty much all ballads and she's super funky. That album just hit me so hard, and it's one of those albums where you just kind of have a good cry if you're in that head space. So when I thought about that record, I was like, 'Man, just go for it.'"
The bassist acknowledges that a series of losses forged a deeper connection to the material. "There was a long train of gut punches," he says. "My brother [Kofi] died, my dad died, Col. Bruce [Hampton] died, Butch Trucks died, Gregg Allman died, my theology mentor Jim Barnette died. So even though I was stepping in the deep end with all these ballads, I thought, 'Just sing from your own experience and your own pain.' When I sing these songs, I'm trying to communicate the melancholy that Jerry was feeling—you can hear it in 'China Doll' and a lot of these ballads."
Burbridge points to two additional factors that facilitated the potent results. He recorded the album at Iceland's Floki Studios, which helped to manifest "the sound of elves and all this mystical, magical wintry Lord of the Rings, Rivendell stuff." He also credits the core band who joined him at the edge of the Arctic Circle—Jason Crosby (piano and strings), Tom Guarna (electric and acoustic guitar), Steve Kimock (guitar), John Morgan Kimock (drums) and Pete Lavezzoli (drums)—as well as Adam Tenenbaum, who contributed synthesized guitar sounds from afar.
"This is how I've heard it in my head for the last eight years with Dead & Company, when everybody else is hearing what we play," Burbridge adds. "So I look at this album as a peek inside my head to what this music sounds like in my dreams."
Stella Blue
Col. Bruce always told me: "You've got to put your best things first and last." That's because people remember their first impression and the thing you leave them with. He said, "You can screw up everything in between, but you've got to be winning on that first thing and that last thing."
After doing all these tunes, it was really hard to decide but "Standing on the Moon" was one where everybody was like, "Holy crap, what just happened with that?" So I knew it was going to be the last thing on the record. Then I was like, "Alright, what's gonna be first?"
When we were mixing "Stella Blue," the way it starts out with the strings reminded me of Lord of the Rings. We were in this outrageously mystical, mythical and wondrous place in Iceland. Jason has this one violin that's from 1899, and when he brought it out, we just were like, "Oh, baby, the elves are happy now. That's magic." [Laughs.] So I thought that it should set the tone.
As I was learning the Dead & Company catalog, a light bulb went off and I realized one of the main places that I interfaced with Grateful Dead music is the record company ECM. They put out a lot of jazz and avant-garde jazz records that I've listened to by Jack DeJohnette, Keith Jarrett, Dewey Redman and many others. Pat Metheny had a few things on there like Bright Size Life with Jaco and Bob Moses. The Grateful Dead reminded me of that ECM vibe—it's open, spacious, spacey and kind of anomalous.
When you listen to an ECM record, you feel like you're floating in outer space—if you were to see a spaceship go by, it would be no biggie. [Laughs.] So I approach a lot of the music that way—especially the ballads. If you think of those ECM-like ballads by Pat Metheny or Jack DeJohnette, it has that vibe.
Then when we were in Iceland, I was like, "What a great place to cut an ECM-style record!" I was on the ocean, on the Arctic Circle, with the snow and the Aurora Borealis. It was just too much. We all had that in our minds. So the whole record, but especially the beginning of "Stella Blue," reminds me of looking out that window in the studio at the Arctic Ocean with the ground covered by snow. That imagery is so strong.
High Time
I dedicate "High Time" to Kofi. The last two gigs I played with him were the first times he ever played any Grateful Dead or Jerry Garcia Band music. We were at Santa Cruz Mountain Sol and Borderland Festival. I think it was his birthday, and when he played the solo on "High Time," the crowd went nuts. It was so great to hear Deadheads respond to Kofi playing this music.
I told Al Evans, the producer, that there was a tape of that show, although I didn't know if it was multi-tracked. I've also rearranged it since then. Al said, "Let's see if we can find it just for the hell of it and see what happens." So I contacted the guy who recorded it and it wasn't multi-tracked. I thought it wasn't going to work because you couldn't get the drums off and there also were some chord changes that were wrong.
But Al went to work, and one day, he told me he did it. I couldn't believe it, so I asked him: "First of all, how did you separate it? And second of all, how did you change it? It's impossible." He goes, "I turned it up when it was working, and I turned it down when it wasn't. Then when it worked again, I turned it back up." He sent it to me and I was in tears.
There are two versions of "High Time" on there because I also asked Jaden Lehman to play a guitar solo on it. Jaden is this young cat who's 18 years old and just started college. I met him through Roots Rock, and he came over to my house after asking me for a lesson. I said, "Let's play something together." We played "Bird Song" and I was like, "There's nothing for me to teach you." Then I started hiring him for gigs. [Laughs.]
So the record has two versions of "High Time." One has Kofi's solo at the end, and because I didn't know if the Kofi thing was going to work out, there's also one with Jaden's solo. It's like a bonus track. Jaden blew it out of the water and I can't wait for people to hear it.
Days Between
Right before the pandemic, my wife bought me a nice upright piano. We have Kofi's picture sitting on top of it. I started working through some of these songs for the streams that we were doing. I would play piano and sing, and it was super therapeutic.
As I was working on the songs for the record, I would sit at the piano and use these tunes to learn my way around the piano. Then, by accident, I would hit a wrong note that I'd end up loving. "Days Between" has a little descending chord passage that adds another chord that everybody will know is not in the original song. It happened by accident and I love it.
I also would mess around with permutations of a part, which is something I always did because it's how I learned harmony from Kofi. That would give me another thing I would put on the end of a song and we'd solo over that, instead of the actual end of the song. You can hear it on "So Many Roads" or "High Time"—there's a totally new part of the song. Since I found it organically and serendipitously, I thought, "It is what it is. If you're true to it, it's going to come out that way. So don't overthink it or stop it from happening."
I heard the beginning figure on this version of "Days Between" with Dead & Company and I started using it there. Then we extrapolated on that, and it's where I accidentally found the other chord that's technically wrong, but sounds so amazingly good. I almost feel like Kofi pushed my finger. [Laughs.]
It's one of my favorites because I feel like that's one we made our own. There are differences to it, which will be glaring to a Deadhead. [Laughs.] I've approached it this way with Dead & Company, but unless I have control of the keyboard, the guitar and everything, it doesn't happen all the same way.
I really love this tune and it's something I would play for a jazz musician like myself who really slept on this music. Friends of mine have heard it, and been like, "Wow, I didn't know that was the Grateful Dead."
I'm proud of that one, and it scares me more than the others. I spent a lot of time talking to Jerry about it in my head or just hoping he'd like this. We felt very strongly about it in the studio, but you can never know.
Also, being in Iceland and singing the lyrics to that song, just took my breath away. There were times I felt I couldn't even sing it.
It was hard for me to cut a lot of these because of the lyrics. There were plenty of times when I was breaking down and crying. It was crazy.
Mission in the Rain
I was talking to Dennis McNally about the record, and he asked me what songs I was going to do. I told him what I was working with and mentioned that I had learned "Mission in the Rain" but that I was going to save it for the next album because there are so many others that I'm more known for, like "Comes a Time" and "If I Had the World to Give." Dennis said, "That's a shame because one time Garcia told me that he couldn't even play that song unless he was feeling strong enough, since it just was too much for him emotionally." Then I was like, "Well, shit, now I've got to do it." [Laughs.]
You hear the story of Garcia facing his amp and crying as he's playing "Morning Dew." Well, this album is about getting to that place.
This album is for people to process their pain. It was extremely cathartic for me, learning and arranging it. There were so many tears as I sat at the piano looking up at Kofi and so many tears as I cut these vocals in Iceland. I processed the pain from losing my dad, Kofi, Col. Bruce and Jim Barnette.
Then I realized that's what this is for. Everybody's been through so much from the pandemic to now. The longer you live, the more stuff you're going to go through that your intellect cannot help you with. Your spirit is the only thing that can help you with those emotions. Your intellect can help, but it can only go so far. You need to get down in there and that's what this record is for—to help people process whatever they've been through.
It was super cathartic for me making it. I still feel that catharsis when I listen to it. I feel the pain move. It doesn't sit there, fester and then kill you emotionally, mentally, spiritually and physically. It moves through. That's what I hope for this album to do.
So Many Roads
I think I took the most liberties with "So Many Roads." I put a whole new section on the end. There are also all these layered background vocals. Then I did this thing that we call the subway—I am so indebted to Phil Lesh for giving all future bass players of this music the permission to do that. For any given chord, there are seven or more other bass notes that you could use for that same chord. The classic one is to take a major one and then go down a minor third so it's a minor chord. That way the soloist can play the same thing, but this gives it a different color.
They're called bass substitutions and the substitution part is where I get the subway from because it's underneath the ground and it's changing lines. [Laughs.] Phil does this all over the place. Depending on who you're playing with, they'll either love it or hate it. Most jazz guys that I play with love it. Other people are not always into it. Of course, coming into Dead & Company, I was like, "Well, nobody's going to bitch about my six-string and nobody's going to bitch about my bass substitution." [Laughs.]
I can't wait for Phil to hear this because the chords stay the same, but the bass notes change so much. Sometimes it'll be one bass note that pedals over four or five chords. It all depends on where the lyrics are. It's to build more tension.
So there's a lot going on in the song, but you can sing along even if you think it sounds different.
Believe It or Not
This one was recommended to me by Kraig Fox. I listened to it, I liked it and I learned it. Then a funny thing happened. I'm really deep into theology and my mentor, Dr. Jim Barnette died very early and suddenly. He had a very rare brain disease and it took him quick. This was when we hadn't gotten all the way open again from the pandemic.
I got to see him before he passed. He was having a little trouble speaking, but you could tell he was coherent. It was hard for him to form the words in his mouth, but he was thinking fine. So we actually could reminisce and it was a beautiful time. Before I left, the pastor at his church brought over a keyboard and I played and sang him this song. His wife recorded it on her phone.
When Jim was about to pass, his wife said he was very fitful and they could tell it was getting close to the end. He had been calm, but he was disturbed and that's a hard thing to watch. So she put the phone on his chest and played me singing "Believe It or Not." She said he calmed all the way down, and then he passed.
It still blows my mind that's the last thing he heard on earth.
He changed my life. He's the one who married Jess and I. In many ways, he saved my life. I wasn't raised in any church or spiritual tradition, and he helped me sort through what my spirituality is. He was a white Southern Baptist preacher, the most unlikely of cats I would've thought to do that. But he was the best guy in the world.
So I definitely wanted to do "Believe It or Not" and dedicate it to him. It's why "If I Had the World to Give and "Comes a Time" are not on there. I had to do "Mission in the Rain" and I had to do "Believe It or Not"— that tune couldn't be more meaningful to me.
China Doll
"China Doll" was the first Garcia-Hunter ballad that I sang with Dead & Company. Bob had been singing all of his own stuff and most of the Jerry and Hunter ballads, but there were a couple that I think Bob just didn't feel comfortable with. When it came up in the early rehearsals, no one stepped to the mic, so Bob finally said, "John, why don't you take this one?" John told him: "I can't. Since I had my vocal surgery, it's right in that range where it's really hard for me to sing." He would have had to sing falsetto because the whole song kind of lives there.
I said, "That one's right in my range. I'd be happy to sing it." But no one said anything. It was crickets. [Laughs.] It was an embarrassing moment, for sure. Then, Matt Busch told me: "The way to get them to hear you sing the song is to step up to the mic and sing it. That's how they do it in this band. You just go up and start." I was like, "I can't just sing 'China Doll' and play bass, it's not gonna sound good." So I asked Jeff Chimenti: "When they take a break, can you play through this?" He was like, "Sure."
So when they took a break, I grabbed Jeff and we just started playing it. Then, all of a sudden, here comes Bill and he hops behind the kit. Here comes Bob, he hops on guitar. Here comes Mickey. Jeff was already playing. I don't know if John knew it at that time, but we got through pretty much the whole song. Then after that, Bob goes, "Well Oteil, I guess you're singing that one." [Laughs.]
I have to thank Matt Busch. After that, Matt was like, "'Comes a Time' would be a great song for you to try." I did not know that one, so I went and learned it next. It all continued from there.
I love "China Doll" so much. The original version will be played at my funeral. There's no question in my mind. [Laughs.]
Standing on the Moon
This was when it all came together. We had Tom Guarna's 12-string guitar sent to Iceland just for this song. It has the ECM sound, the quintessential vibe I was going for. If you think about Ralph Towner records, when he plays the 12-string and the six-string classical guitar—along with Pat Metheny, Jaco and Bob Moses on Bright Size Life—that's how I was approaching this record. Maybe some John Abercrombie, as well.
It felt like this one was an emotional bullseye. I remember I burst out crying.
That's why it's last on the record. It was a hard one, too. Some of these songs, the way Bob sings them, it's just unbelievable when you look at him and you consider the people that he's lost and the things he's been through. I didn't know if I could deliver that song with anywhere close to the authenticity that Jerry did back then and that Bob does now. But I kept messing around with it, and I felt like we were onto something.
I said to myself: "Look, if you listen to the vocals and you end up not liking it, you can shelve it. No one will ever know that you tried and failed." But the musical track was so strong, I was like, "No, you've got to find it, man."
I am so grateful to the group of musicians—the group of human beings—who joined me, aside from how they played. They really helped me find it. I'm not sure it would have happened if I hadn't been in Iceland and in that setting with those people. But I think we hit it.