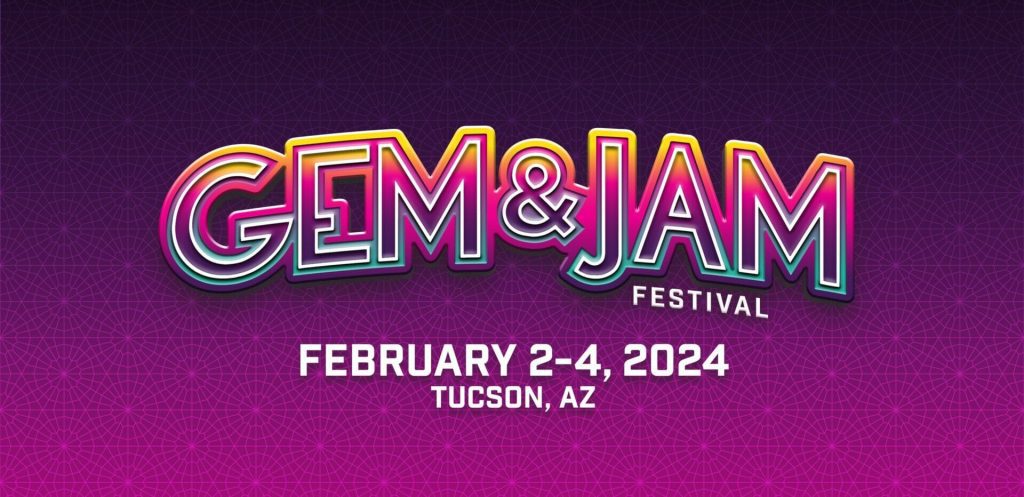 Hana Gustafson on September 22, 2023
Gem & Jam Festival has delivered its complete artist lineup for the 16th annual gathering, slated to take place over three days, February 2 through 4, at Pima County Fairgrounds in Tucson, Ariz. The Disco Biscuits have already signed on to headline the event and will now be joined by an onslaught of other talented acts.
Apart from the aforementioned Philadelphia-bred jamtronica outfit, the festival will also feature headliners such as the genre-blending bass act Of The Trees, two sets from bass producer/multi-instrumentalist Boogie T (one solo and one with his band Boogie T.RIO). LP Giobbi will make her Gem & Jam debut, while veteran festival players, Lettuce intend to return to their old stomping grounds. 
Hometown favorites Spafford and electro-soul artist Daily Bread make up the remaining headliners. Moreover, the event intends to boast a plethora of Gem & Jam newcomers, such as Andy Frasco and The U.N., The Main Squeeze, Sam Grisman Project, TRUTH, Gone Gone Beyond, Too Many Zoos, Yheti, Booka Shade, Mr. Carma, lespecial and many others. Scroll down for a complete list of artists. 
The event is located on 640 acres and 20 miles south of downtown Tucson, Ariz. The Pima County Fairgrounds is surrounded by nature and the distinct desert environment, creating an expansive and magical setting perfect for the annual occassion. The event will offer on-site camping, RV passes, glamping options, late-night music, daytime workshops, delicious food and drink, a world-renowned vendor bazaar and around-the-clock music and art. 
Tickets are on sale now and can be purchased here. Scroll down to view the complete 2024 artist lineup.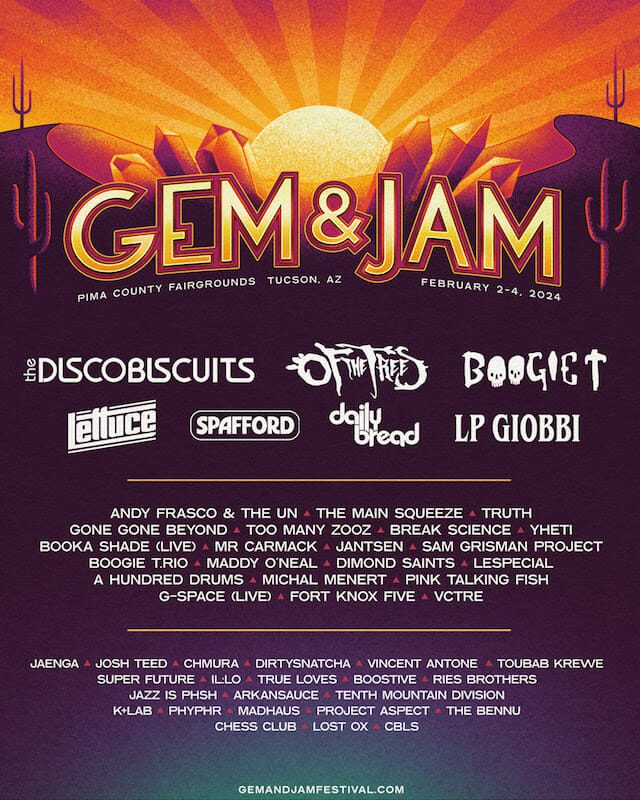 Gem & Jam Festival 2024 full lineup
The Disco Biscuits
Of The Trees
  Boogie T 
Lettuce
Spafford
LP Giobbi
Daily Bread
Andy Frasco & The UN
The Main Squeeze
TRUTH
Gone Gone Beyond
Too Many Zooz
Break Science
Yheti 
Booka Shade (LIVE)
Mr. Carmack
Jantsen
Sam Grisman Project
Boogie T.RIO
Maddy O'Neal
Dimond Saints
Lespecial
A Hundred Drums
Michal Menert
Pink Talking Fish
G-Space (LIVE)
Fort Knox Five
VCTRE
Jaenga
Josh Teed
Chmura
Dirtysnatcha
Vincent Antone
Toubab Krewe
Super Future
Il:lo
True Loves
Boostive
Reis Brothers
Jazz is Phish
Arkansauce
Teeth Mountain Division
Parkbreezy
Phyphr
MadHaus
Project Aspect
The Bennu
Chess Club
Lost Ox
CBLS