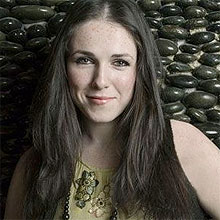 A couple of years ago, when Sandi Thom released her first hit single in a whirlwind of dodgy claims about webcasts from a Tooting basement, we stuck the single sleeve to the office wall as an example of terrible pop music and wrote a 'hilarious' guide to Sandi Thom's Tooting.
Anyway, in honour of the fact that Sandi's comeback single 'Devil's Beat' arrived in the office and was deemed 'quite good' by more than one person — plus the fact that we met her a few months ago and she turned out to be quite nice — we thought we'd get the real lowdown on what they're all calling 'the Monte Carlo of South West London'.
So now we present to you the Popjustice viewer Sandi Thom's real life guide to Tooting.
HOLD ON TO YOUR HATS!
DOWN THE TOOTING SIDE STREETS THAT SHE SLIPS DOWN
"If I cover up the 'B' in 'Broadwater' nobody will know that I live on Broadwater Road," Sandi muses, sadly for­get­ting that she is speaking 'on the record'.

WE'VE GOT TO PRAY JUST TO MAKE IT TODAY
This is not the actual church Sandi goes to — that one's round the corner, but nobody is of a mind to traipse around Tooting looking for it.

ALL THE THINGS SHE SEED
Sandi fre­quently visits this health store, which goes by the name of 'The Health Store'. She goes there to buy healthy items.

I WISH I WAS A PUNK ROCKER WITH FLOWERS IN MY HAND STANDING IN THE STREET IN TOOTING
Here's Sandi standing outside her favourite Tooting pound shop. These flowers look real but they are not.

BROOM! SHAKE THE ROOM
Still outside the pound shop, community-spirited Sandi sweeps up some litter from the streets. If everyone in London took this attitude to litter — and to CRIME — the streets would be a lot more safe. We can all learn something from Sandi.

WHEN I ARGUE I SEE SHOPS
Style, fashion, value. Three words to describe Primark, but also three words to describe Sandi Thom's new album.

YOU — I WANT TO TAKE YOU TO A GAY BRA
After much browsing in Primark, Sandi opts for a blue bra on her head. She decides against a white bra on her head, as that would just look ridicu­lous.
UNDERWEARING MY ROLEX
Some novelty musical knickers. The waistband reads "I'm with the band". Do you think real groupies wear these knickers? How dis­ap­point­ing to be a rock musician having dragged a young lady back to one's hotel room and to be grinding away, only to look over her shoulder and notice an "I'm with the band" waistband. Not a problem Sandi will encounter — she's not a lesbian.

I KNOW YOU GOT SOLE
Sandi simply can't believe the bargains to be had in this cutprice shoe emporium.

THE GREATEST LOVE OF MARKET STALL
Sandi is hoping to get some bargains at Tooting Market. Sadly, it is closed.

JUST LIKE ME THEY LONG TO BE CLOSE TO THE TUBE
Sandi's house is a short, two-minute walk from Tooting Broadway tube station, with fast con­nec­tions to Balham, Clapham North and beyond.

I'VE GOT THE KEY, I'VE GOT THE SECRET TO GETTING SHOES RE-HEELED WHILE I WAIT
Sandi has used this keycut­ting place more than once.

WISHING I HAD A PHOTOGRAPH OF YOU IN UNDER ONE HOUR
Sandi is a keen amateur pho­to­grapher and will fre­quently get her prints developed at the Tooting branch of Snappy Snaps.

PARK THE HERALD ANGELS SING
Until very recently Sandi parked her car in this car park for a nominal fee, but things have since changed and she has been forced to purchase a parking permit. On the up-side, she can now park outside her house. "My car hasn't been broken into yet," Sandi notes.
YOUR KISSES ARE CHARITY SHOP
Visiting her local charity shop, Sandi discovers that clothes she donated a few weeks ago are now actually ON DISPLAY. Sandi seems pleased with this outcome. And for you, the reader, this is an oppor­tun­ity to speed down to Tooting and pick up what is essen­tially a piece of rock and roll history. Get there fast, though — the team from the Hard Rock Cafe, desperate for some genuine Sandi Thom mem­or­ab­ilia to place in a cabinet, might beat you to it.

SECOND HAND JEANS ARE NOT MY LOVER
Sandi pretends to browse some jeans in the charity shop but really she's just posing for a pho­to­graph.

EVERY LITTLE THING SHE DOES IS FABRIC
Here's Sandi standing outside a material shop.

AIN'T TOO PROUD TO VEG
A fruit and vegetable place where Sandi can occa­sion­ally be found.

HAPPINESS IS A WARM BUN
Sandi eats an apple and poses for a pho­to­graph — a true mul­ti­task­ing artist for these modern, 360-degree-deal times.

CARLESS WHISPER
This is where Sandi parks her car these days. We had a look in the footwells when she wasn't looking and we can report that she treats that car like a dustbin on wheels.

SINCE U BIN GONE
Here's an actual dustbin. We're not sure what Sandi's doing in this pho­to­graph. Any ideas?
Thank you very much, Sandi Thom.
» Sandi Thom's official site
» 'The Devil's Beat' on iTune