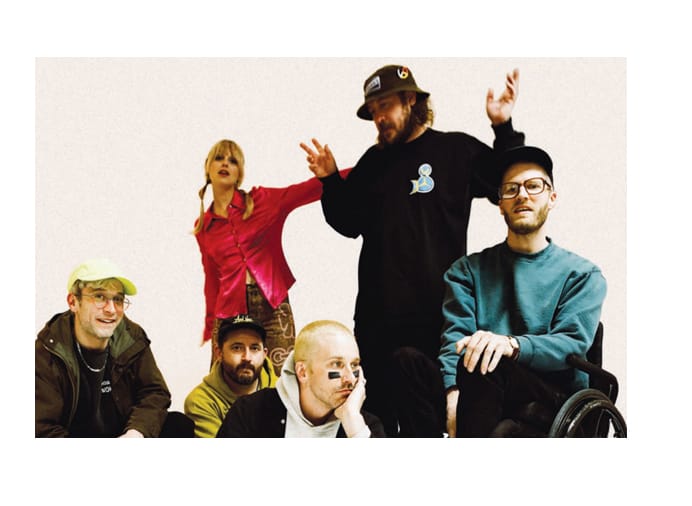 photo: Maclay Heriot
***
Zachary Carothers can pinpoint the exact moment he knew Portugal. The Man's story was about to take a left turn.
"In the same day, I got three text messages from people," the bassist says, thinking back to the indelible period shortly after the release of his band's 2017 crossover single, "Feel It Still." "One was somebody saying that Hoda, from Kathie Lee & Hoda, called it her song of the summer. Then, someone else texted me to say that Lars Ulrich from Metallica said that it was his song of the summer. And then my friend who was a first-grade teacher made a video of a bunch of her kids playing hopscotch and jumping rope while singing 'Feel It Still.' I was like, 'That's a pretty wide net we just cast. If we can get a couple of people in the middle, then this thing will just be ridiculous.'"
As he traces his Alaskan-bred, Pacific Northwest-based psych-rock group's unexpected breakthrough almost 15 years into their career, the fully bearded Carothers is relaxing on a sofa at home in Portland, Ore. Portugal. The Man have just completed a key leg of a tour supporting their new release, Chris Black Changed My Life—their ninth full-length set and first since 2017's Woodstock. It's a compact, 34-minute dayglo mix of psych, funk, hiphop and Beatles-inspired pop that could easily soundtrack a post-apocalyptic, or at least post-pandemic, dance party. It's also the group's first studio project since "Feel It Still" expanded Portugal. The Man's profile from unofficial Bonnaroo house band and jam-adjacent indie favorites to official KIDZ BOP material.  
But, rather than simply enjoying an extended victory lap, Carothers and his bandmates spent much of the past six years sorting through some pretty heavy darkness. Band founder John Gourley's daughter was diagnosed with DHDDS, a rare neurodevelopmental disorder; Carothers, guitarist Eric Howk and keyboardist Kyle O'Quin all entered rehab; and Chris Black, the band's MC and DJ, unexpectedly passed away.  
"The making of this new album started in a psycho way," Carothers says. "I had a mental breakdown right when we went in because we had gotten off tour after about three years—just catching up with the 'Feel It Still' run. We got home and, two days later, we went into the studio. I freaked out a little bit. In hindsight, it was good because we all got a lot of stuff out. We've all been through a lot, emotionally. And it forced us into making an album that was far more real than we've ever done— and far more personal, especially for John. He has never been the greatest at showing people who he really is and what he's really dealing with. But that's what people want to hear.
"Even in this day and age, with just having no idea what's real or not, we all still have that barometer in us," he continues. "We all still have that compass; we know when we hear something real and when we see something real. But it's getting harder and harder to find."
"When something like 'Feel It Still' presents itself, you just need to get out of the way," Gourley says, while checking in before Portugal. The Man are scheduled to make their headlining debut at New York's Radio City Music Hall. "You gotta let it be what it is. It was really interesting seeing the fan reaction."
The famously introverted singer, songwriter and guitarist has been the group's primary creative force since the beginning. In certain ways, he is the quintessential modern psych-rock auteur, delivering mystical, other-worldly gems that feel simultaneously guarded and mind-expanding. Yet, from his love of hip-hip to his band's decision to sign with Atlantic at a time when many fuzzed out post-jam rockers were playing DIY venues, Gourley has long seemed destined for stardom.    
"There were fans saying we sold out but so many random things needed to happen to get to this point," he says. "It was perfect timing. It went to alternative radio when we weren't competing with Tame Impala, Arctic Monkeys, Queens of The Stone Age or Foo Fighters."  
"When you start getting videos from people doing a piano-bar version of 'Feel It Still,' you're just like, 'This is weird shit.' This is bigger than like, 'Oh, it's getting radio play,'" Carothers says. "It went deeper. Trey [Anastasio] did a rendition of it, but so did some kid on Instagram or TikTok. The stars just aligned. It was the right time, it was the right beat, it was the right lyric. And there's also a bit of dumb luck. The universe allowed it to happen. It wasn't us. We're just stubborn."
The band still had fun with their success, selling T-shirts with the slogan, 'I liked Portugal. The Man before they sold out," and even playing "Feel It Still" twice in a set. And the musicians embraced their newfound popularity, appearing at a mix of award shows and radio-sponsored promo events their younger selves may have callously brushed off. Portugal. The Man won a Grammy and, in April 2022, they even co-headlined Madison Square Garden with fellow indie-crossover act alt-J. However, as their profile increased, things were actually falling apart behind the scenes.
"I had a very hard time," Carothers says. "I have been living my whole life for other people. And in the process of always trying to figure out who we are and doing things for the royal 'we'—the band—I realized that I didn't know myself at all. And I got hit with that. It is a classic midlife crisis. I just get to express it a little differently because I'm an artist. It made me think about a lot of things and, boy, did I have a doozy of freakouts. I had not charged my batteries for 20 years. I needed to go sit in a hotel room in the dark for a few hours or go fishing or get out in nature."  
"The pandemic was especially hard on extroverts—people who thrive on interaction and in social groups," Gourley says of several of his bandmates. "It caused an identity crisis for musicians who were used to being onstage and were now just staring at the mirror. We had a lot of stuff go down."
***
Portugal. The Man originally started crafting Chris Black Changed My Life back in 2017, when Woodstock and its single "Feel It Still" were both fresh, after they were invited to record at a Portland, studio started by Nike SB visionary Sandy Bodecker. The space, which, as expected, has its own skate park, served as an open canvas as the group started fleshing out some loose ideas. They received a bit of help from noted songwriter and "Rainbow Connection" author Paul Williams, who they had met at a Grammy party and bonded with on the internet, and The Decemberists' Chris Funk, a local hero.
"It was a childhood dream," Gourley says. "Skate films, snowboarding films informed so much of what we do today. It made me want to make art. Everything I knew up until that point was so traditional."  
While at Bodecker's studio, the ensemble completed a series of demos and early recordings, including the swampy, horn-heavy "Champ," which Gourley says set the template for what was to follow. From there, the group decided to cash in on their recent "Feel It Still" fame and do the rounds in order to find the right producer, before beginning their more formal sessions. They even agreed to several blind-date-like meetings.
"That song opened a lot of doors for us," Gourley says. "We went into a lot of rooms and brought our instruments with us. We went in and did so many sessions where we would just do a song in a day to see what it sounded like. It takes our band a minute between albums, and I hope to put some of this stuff out one day, but the entire process was really great."
The final producer the musicians ended up meeting was one of their idols—Jeff Bhasker, the former Lettuce keyboardist known for bringing a hip-hop and funk approach to acts like Kayne West, Bruno Mars and fun. Gourley says that he's been dreaming of working with Bhasker since he made 808s & Heartbreak with West, but the meeting didn't initially go as planned.
"When we showed up at his house with our instruments, it was the most humbling experience," Gourley says. "We walked up with our guitars, we looked down and he was like, 'What are you guys doing here?' And we were like, 'We're here to make some music, right?'"  
Though Bhasker wasn't really familiar with Portugal. The Man, he clicked with the musicians and, after doing a deep dive through their catalog, he agreed to work with them on their highly anticipated release.    
"Hearing him talk about his days playing Wally's in Boston, while he was at Berklee [College of Music], his schooling was brutal," Gourley says. "He'd be like, 'If you stepped on somebody's notes, the band stopped. And they would leave you hanging. And it doesn't matter who you are or how good you are. You gotta find your way out of that, and it's embarrassing.' And that comes through when you are in there with him. The notes don't matter as much as the feeling."
However, partway through their sessions with Bhasker, Black unexpectedly passed away in 2019, causing the musicians to shelve much of what they were working on and begin a very different album.  
"It flipped everything," Gourley says. "First of all, when you lose somebody like that, it's hard to process at first. It's difficult to understand what you just lost. I lost this protector. Chris was a big guy. People called him our hype man, but he was really just our friend. He was having a good time, grabbing the mic and dancing around the stage. And what he was doing was taking so much pressure off of me. I have a difficult time being onstage. There's a lot of anxiety. And he would be onstage making us laugh and interacting with the crowd. He brought so much life to the show. He got pneumonia in 2019 and couldn't tour with us, and you could just feel the difference onstage."   
The members of Portugal. The Man first met Black, a filmmaker by trade, after director AG Rojas invited him to a show. They all had a blast backstage, and Rojas suggested the group take Black out on the road—though, initially, Gourley wasn't quite sure they had a role for him.  
"We were like, 'What would he even do?'" he says. "He's a video director. But we loved being around him, and he had a great record collection so we had him DJ and introduce the show. He had the best banter; he was almost like the anti-rockstar. It's like, 'Here's this dude taking all the attention but doing it in a way that will make you laugh.'"  
"We had never had a frontman," says Carothers, who has also shouldered some of the band's MC responsibilities over the years, shielding Gourley from the spotlight. "We brought Chris on because he was so animated. I have really good social skills. I'm comfortable talking with people. But it takes a lot out of me. Chris let us know that it could be fun. With Chris, we just went out there and had a good time."  
Gourley quickly decided to dedicate their new project to Black, but his death turned out to be just the first of several roadblocks. The fall after Black's passing, Gourley started experiencing jaw pain and, when he went to get it checked out, he learned that he had unknowingly broken his jaw in high school.   
"This is the thing about Alaskans— we're idiots. We are not good at taking care of ourselves," Gourley says with a laugh. "We would jump off of tall buildings and snowboard. I'm not sure when I originally broke my jaw, but I had put all this pressure on it over the years and it snapped."  
The singer ended up playing his last few pre-pandemic shows with a broken jaw, until the 2020 shutdowns afforded him a chance to veer off the road and heal.  "It left me sitting in bed a lot," he says. "It left me thinking about Chris, my family and everything that has been happening. I couldn't make music. It was an intense period. My daughter would run and jump on me and it would be a shock-wave, a wave of pain. I'm lucky to have friends who gave me some great music. My friend Josué Rivas, who is this amazing photographer, gave me some Natalia Lafourcade music to listen to and we were blessed to have her join in on the album."  
As he healed, and once it was deemed safe, Gourley started traveling from Portland to Los Angeles to work with Bhasker and, as things opened up, they were joined by both the other members of Portugal. The Man and a mix of outside collaborators. They describe it as the "Tupac approach" of bringing in all your friends and passing around the mic. Nodding to their eclectic interests and wide social network, Portugal. The Man recruited everyone from The Last Artful, Dodgr to keyboardist Edgar Winter, Dap-Kings drummer Homer Steinweiss, Journey drummer Steve Smith, Electric Guest singer Asa Taccone, Roots MC Black Thought, former Michael Jackson backing vocalist Dorian Holley, Unknown Mortal Orchestra leader Ruban Nielson and dozens of others. Some tracks feature a choir while Ben Stiller is listed as a percussionist in the liner notes.
"We've always been like that, it's just a little bit clearer on the credits this time than it has been in the past," Gourley says. "Everybody gets a shot. And whatever lyric is the hottest, that's the chorus. Jeff was sort of my pod for much of it. Kyle and I would start writing a song the way we always have, Jeff would jump on it and what he did would inform the writing— even a little pinky movement. His jamband past really came through during the sessions. He made it feel alive. It was a lot of fun."  
The sessions progressed as the livemusic world started reopening. But, as Gourley continued making Chris Black with Bhasker, his bandmates were facing a variety of struggles behind the scenes. And, by mid-2022, Carothers, Howk and O'Quin had all entered rehab, limiting their availability.   
"The band went through a lot of things during that period, coming out of the pandemic," Gourley says, also noting the impact of his daughter's medical diagnosis. "And I had to keep things moving."  
"I got the chance to take myself on as a hobby [during the pandemic], which I'd never done," Carothers says. "I'd never cared about myself, my feelings, my mental health, my physical health. There were a few waves. I had that breakdown when we started and, after the pandemic, I realized that I was a completely different person than I thought I was. It turns out, I'm an introvert. I've always been the life of the party, the backstage mayor. Once all that stopped, I realized, 'I can just go into complete isolation. That's where I feel more comfortable.'"
The bassist ended up entering a rehab facility in Tennessee, where he made the decision to get sober. "I realized how much I had been using drugs and alcohol my whole life, and it was frightening," he says. "When I went to rehab, it was more for the mental side. I needed a break really badly. And in this business, the only way that you can get a break is rehab. It's the only way anybody will listen to you. I was definitely going apeshit because I spent a few years alone. And then I went back out on tour and there was all the old stress. I realized that I was going overboard with all this stuff. So, when I got done, we had a little bit of a break anyway, and I decided to go to rehab. I had no intention of stopping. But I did. I was like, 'Alright, shit. I do feel better.' And I'm starting to deal with a lot of my issues, not that they're that bad. Everybody's got it worse than I do. I had a great childhood, I have an amazing life. But no matter what, in context, you only have what you feel. And, for me, it was very dark. I was not OK. I realized that I was using all the booze and drugs to self medicate and to not pay attention to my actual issues. I've stopped and, since then, I've gained a lot of clarity."
***
On Aug. 6, Portugal. The Man wrapped up a high-profile run with a guest-heavy concert at the Hollywood Bowl. In certain ways, it served as a fitting summation of the Chris Black roll out. The group's friends Chicano Batman shared the bill, Bhasker added some keys during the night and Williams made an appearance onstage. "Weird Al" Yankovic—who famously sat in with Portugal. The Man at Bonnaroo and has worked with them in the studio—also took part in the festivities and actor Charlie Day, who, like Carothers, has some choice Phish shows under his belt, sang his own "Day Man." (Funk has also been serving as the tour's musical director.)
The show felt like an exclamation mark after a busy few months that included the aforementioned Radio City gig, appearances at major events like Lollapalooza, a collaboration with the Colorado Symphony at Morrison, Colo.'s Red Rocks and some underplays that let the group lean into their punky past. They also returned to Bonnaroo—the first mega-fest to take them under their wing—for both a marquee set and a pirate-radio Chris Back listening party.  
"My mom came out on this whole tour," Carothers says with a laugh. "She just recently retired and was like, 'I'm just gonna come on tour with you guys.' They didn't do anything, and they're tired as hell." 
From the band's perspective, the LP's release has been a huge success, allowing them to bond on the road and expand their creative palette, thanks to a mix of touring musicians and extra effects. Though Gourley and Carothers are the only two members of Portual. The Man's founding lineup still involved in the project—with several past contributors moving on over time—they still note that the family vibe is strong. In fact, Gourley is married to vocalist Zoe Manville. Throughout their promo run, the band has also been using their fame to do some good, raising awareness about Alaska's Indigenous communities and honoring Black at each stop.
"It's been really nice to get back on the road," Gourley says. "Our drummer stayed back with his son, just to be around family, but working with a lot of new musicians was an opportunity to say, 'I wanna learn all of that stuff again. I wanna get all of that back. I wanna talk about Chris. I wanna be able to talk about our daughter and the history of this band.' I'm excited to get back out and be able to play again."
As the group approaches their 20th anniversary, Gourley also sees Portugal. The Man reaching a "classic period," where they have the bandwidth and fanbase to explore their entire canon through more dynamic setlists.
"You can do deep cuts if you want," he says. "You can have the garage set. You can have the pop set. I feel like this band is heading toward a really exciting era. I'm looking forward to it. Getting through a lot of that pain, and just moving out of that period, this feels like a really exciting time. And it's something that I've really been looking forward to. [The new album] means a lot to me. And just the way that my ADD works, if things are not moving, they become stagnant and start atrophying. And I can't do that anymore."
Carothers embraces the idea of shifting between the group's gritty and more radio-friendly sides on a dime. He likens it to flying economy and first class on different legs of the same trip, something else he enjoys.
"We got to have some fun this last run, and we forgot how to do that for a while," Carothers says. "We took ourselves too seriously for too long. We got to remember who we are, where we're from, what we're doing here. We're just having a good time. I know I technically own businesses and stuff like that. But I'm a professional teenager. I still like to skateboard, fish and play music with my friends. It's the same shit I was doing when I was 14. And that's another thing I should probably bring up in therapy. But you know what? It makes me happy.