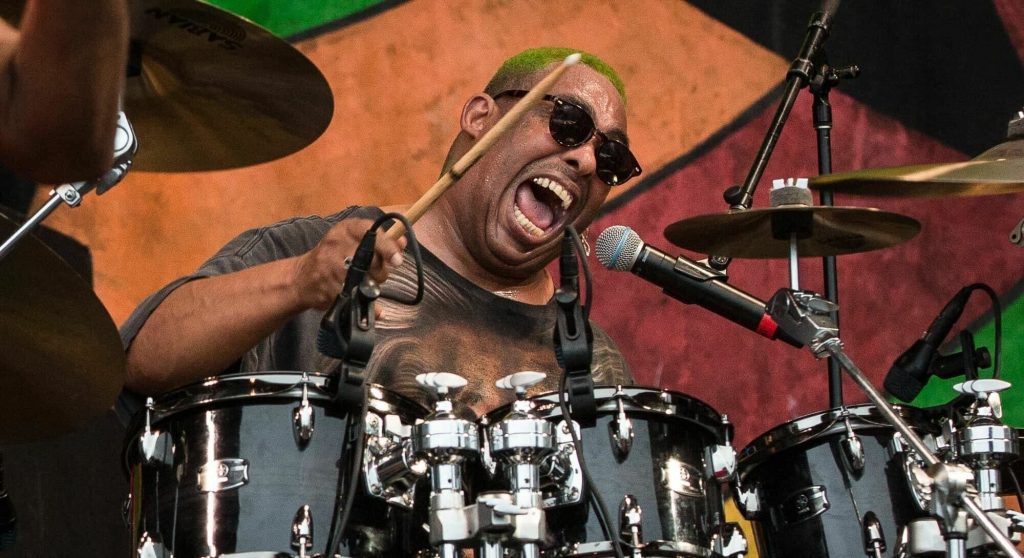 Photo Credi: Jim Brock
Legendary drummer and New Orleans musical prodigy Russell Batiste Jr., known for providing the backbeat in such groups as The Funky Meters, Papa Grows Funk, Vida Blue and other well-known Crescent City bands, passed away on Sunday, October 1. According to the artist's family, the cause of death was a heart attack. Batiste was 57.
Batiste was raised in a musical household and started behind the drum kit at the tender age of 4. He also learned to play the keyboards, saxophone, guitar, and bass, officially taking a slot in the family band when he was only 7. The artist eventually embarked down the higher education route, ultimately dropping out after two years and joining Charmaine Neville's band. 
The artist debuted at the New Orleans Jazz & Heritage Festival in 1978 alongside the Young Gifted & Black group, launching a saged career that eventually unfolded into a spot with the Funky Meters, the reincarnation of the original New Orleans funk band, The Meters, featuring George Porter Jr., Brian Stolz and Art Neville. 
As a solo artist, Batiste Jr. and the Orkestra from 'Da Hood released two full-length albums, including the 2000 self-titled set and 2003's The Clinic. In time, the musician climbed the musical ranks, performing with everyone from Phish keyboardist Page McConnell and receiving saged praise from Rolling Stones frontman Mick Jagger. 
The musician also frequently joined organ player Joe Krown and guitarist Walter "Wolfman" Washington, performing as the Krown Washington Batiste Trio and ultimately delivering a live album, Live at the Maple Leaf, in 2008. Batiste carved out a legacy performing alongside Papa Grows Funk, Harry Connick Jr., Maceo Parker, Champion Jack Dupree, and the late Robbie Robertson and other celebrated groups. 
Until the musician's passing, he was known for participating in weekly gigs each Sunday in September at Le Bon Temps Roule. Just last week, Batiste returned to his former high school to watch the football game, along with other members of the class of 1983. Prior to the tragic news, Batiste was scheduled to perform three impending sets at NOLA Funk Fest with his band, the Gladiators, and Leo Nocentelli. 
Following the artist's passing, family, friends, collaborators, and others shared memories of admiration for Batiste. Included was the musician's brother, Damon Batiste, who wrote in part, "It's a Very Sad Day, I lost a Brother, A Friend and a Bandmate For Life. We will share all details but remember fame and fortune means nothing without having the ones that means the most to share in your Success." 
Oteil Burbridge shared, "If you knew @russell_batiste then you know there are no words to describe his talents or his insanely funny personality. Some people live with their knobs turned to 11. I'm pretty sure that I never laughed any harder than when we shared these times you see in these pictures." The sentimental message also included thanks to Phish's McConnell for bringing them together in a jam setting. 
Cyril Neville chimed in via Facebook, writing: "RUSSELL BATISTE IS A NEW ORLEANS ROOT CULTURE ORIGINATOR FROM ONE OF THE MOST PROLIFIC MUSIC FAMILIES NEW ORLEANS EVER PRODUCED. THE ONLY WAY TO POSSIBLY BE FUNKIER THAN RUSSELL IS TO BE BORN A SKUNK! ONE OF A KIND!"
Jon Batiste shared a heartfelt message: "He spoke his mind with conviction and didn't ever hold his tongue but somehow, in equal parts, with swagger and compassion. He could be both demanding and magnetic all at once, leaving an impression wherever he was. I've never had stories of a family member relayed to me by strangers more than about Russ. He could always see the best in people and brought the best out in them, especially in other musicians. Every musician I've ever seen him on a stage with was in awe of him. It was the Russell Batiste University and class was always in session. I didn't fully realize it until later on in my life but he was a flat out genius. It's only because as a kid I just saw him as family. Also, you don't assume that you'll ever be up close to that kind of genius, let alone within your own family."