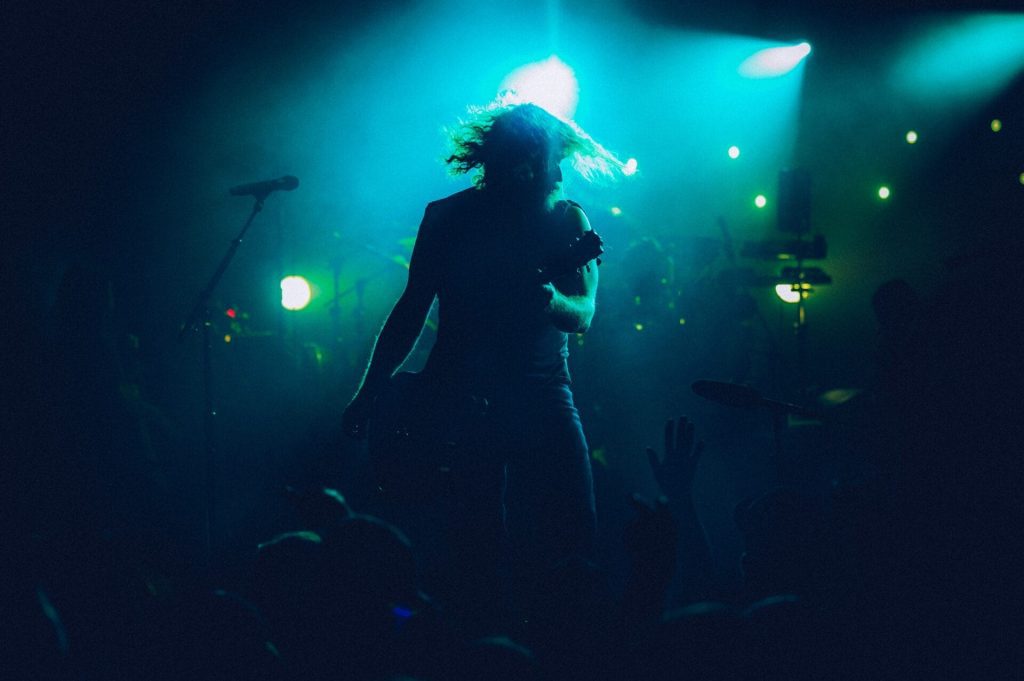 Photo by Rich Fury / MSG Entertainment
Last night, My Morning Jacket celebrated the 20th anniversary of their studio album It Still Moves at the Beacon Theatre in New York City. In a convergence of energy, music and time, they gilded the already aureate venue by playing the album in full and followed by a seven-song encore that included a bust-out solo rendition of "I Need it Most" by Jim James, and the debut performance of It Still Moves outtake "Grab a Body."
After an opening showing by singer-songwriter Madi Diaz, My Morning Jacket walked on stage with boundless energy and ripped into the opening chords of "Mahgeetah." James' vocals immediately permeated over the seated crowd, who in turn rose to their feet. The steady bass from Tom Blankenship and winding guitar from Carl Broemel locked in with the breezy croonings from James with ease, and they continued to do so throughout the entirety of the evening.
It Still Moves unfolded with grace. After "Mahgeetah," they expectedly moved to the LP's second track, "Dancefloors." James' smooth acoustic guitar began to climb as they moved to "Golden." The song deepened the connection between the crowd as eyes were closed and voices in the theater harmonized, echoing back, "What does it mean to feel/ Millions of dreams come real?/ A feeling in my soul/ I'd never felt before."
Next came "Master Plan," a breezy, steady breather before another major standout from the LP, the unmistakable "One Big Holiday." The transition from heavy percussion to feathered tapping by Patrick Hallahan tethered the songs together, and from their shared roots, "One Big Holiday" took flight. Next came the telling "I Will Sing You Songs," which was followed by "Easy Morning Rebel."
My Morning Jacket continued to unleash lush, intense sound as they reached what may be considered the core of the album "Run Thru." After an opening bass solo, Hallahan again came into focus. With clock-like timing, he led the ensemble through several tempos over each of which the band harmonized collectively and shined individually.
After the demanding song, and just in the nick of time, they welcomed another breather, "Rollin Back." The album's penultimate song, "Steam Engine," followed, which saw gorgeous slide guitar from Bo Koster and allowed ample space for the guests of the Beacon Theatre to reflect on the beauty they'd just witnessed. Finally, My Morning Jacket performed "One in the Same," a testament not only to the consistency in quality found on the album but also to the unifying power of their live show.
After stepping off stage–for only a moment–My Morning Jacket returned for their encore. First, James shared a solo rendition of "I Needed It Most," marking the first time he's done so since 2018. The rest of the band rejoined him for "Old Sept. Blues," which was followed by "Feel You." A pulsating "It Beats 4 U" came next, which preceded "Compound Fracture." From there, the band turned towards one another in an almost secretive formation as they performed "Grab a Body," an outtake shared on the 2016 deluxe reissue of It Still Moves, for the first time in their illustrious and extensive career.
For one last treat, My Morning Jacket played their 2001 track "Phone Went West," which gave way to George Harrison's "Give Me Love" before the crowd of satisfied fans exited the theater; as they flowed out, James reminded them that this was just night one of three – and what's better than a "see you later" instead of a "farewell"?
My Morning Jacket
Beacon Theatre – New York
Oct. 19, 2023
It Still Moves
Set: Mahgeetah, Dancefloors, Golden, Master Plan, One Big Holiday, I Will Sing You Songs, Easy Morning Rebel, Run Thru, Rollin Back, Just One Thing, Steam Engine, One in the Same
Enc.: I Needed It Most (Jim solo; first time since 2018), Old Sept. Blues, Feel You, It Beats 4 U, Compound Fracture, Grab a Body (1st Time Played), Phone Went West ("Give Me Love" George Harrison)