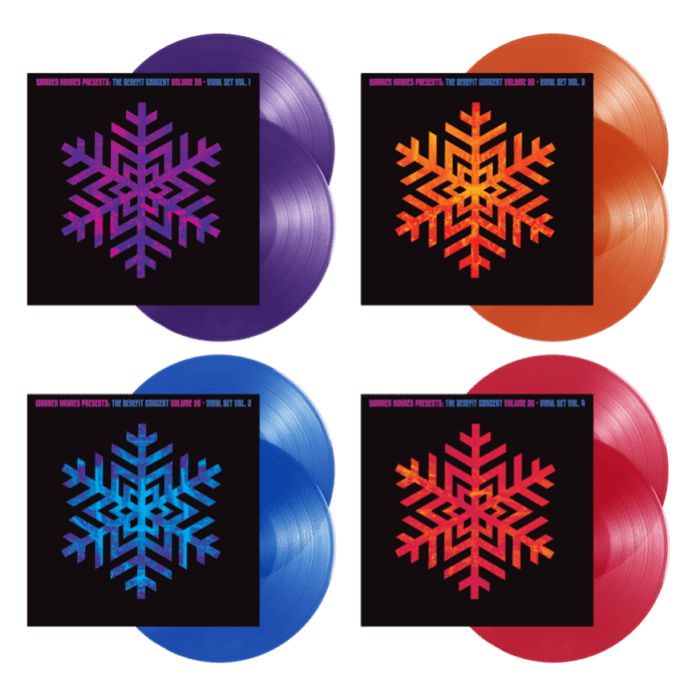 Photo Credit: David Sullenger
Warren Haynes unveiled the first single off The Benefit Concert Volume 20, due Dec. 8, 2023. The set was recorded during the 30th annual Christmas Jam on December 7 and 8, 2018, today's choice number, shared via YouTube, finds Haynes playing alongside My Morning Jacket's Jim James and powerhouse Grace Potter during a collective rendition of the Fleetwood Mac Rumours cut, "Gold Dust Woman." 
"Gold Dust Woman" was performed by the aforementioned group of musicians during the live event in Asheville, N.C. The recording presents evocative harmonies and gritty guitar riffs to procure the essence of the historical show–highlighting the joy of live music and the dominant power of collaboration. 
The release aims to pay tribute to the celebrated roots of "Gold Dust Woman" and its creators, spotlighting the synergetic relationship between past performers and the distinct chemistry that makes this particular live cut so unique and applicable for lovers of the original and newcomers alike. The musicians' voices meld together across the cover, with Haynes' masterful guitar work serving as the energetic backbone. 
As a complete set, The Benefit Concert Volume 20 is an anthology of unforgettable live moments sourced from concerts past. The sonic journey through the evening's most memorable performances summarizes the holistic spirit of giving steeped in community and a shared admiration for the power of music.  
The event's long-standing charitable commitment to aid the local community is at the heart of the yearly coming together, having raised over $2.8 million for the Asheville Habitat for Humanity and stroked Haynes' three-decade-long commitment to delivering unforgettable live shows, which also uplifts and unites audiences. 
Apart from Haynes, James, and Potter, the forthcoming album includes fellow contributors such as Dave Grohl, Eric Church, Joe Bonamassa, Mike Gordon, Marco Benevento, Jamey Johnson, Edwin McCain, Kevn Kinney, Tyler Ramsey, and more sitting in with Gov't Mule. The Benefit Concert Volume 20 will be available in four different double vinyl volumes (in other colors: purple, orange, blue, and red), a 2-CD + DVD set, and a 3-CD + 2 Blu-ray set, along with a digital-only format. Bundles are available now to pre-order.
The 2023 iteration of the Warren Haynes presents Christmas Jam will occur on Dec. 9, 2023, at the Exploreasheville.com Arena, with featured guests Slash, Myles Kennedy, Billy F. Gibbons, Gov't Mule, Jason Bonham's Led Zeppelin Evening, and many more. A very limited number of tickets remain on sale. Get them before their gone at www.xmasjam.com.
Scroll down to view a breakdown of The Benefit Concert Volume 20 tracking list. 
Listen to "Gold Dust Woman below.
Vinyl Volume 1 (2LP Purple)
A1. Greenpoint (Marco Benevento)
A2. Pepper (Marco Benevento)
A3. In Color (Jamey Johnson)
A4. I Think I'll Just Stay Here And Drink (Jamey Johnson)
B1. Medicine (Grace Potter & The Nocturnals)
B2. The Lion The Beast The Beat (Grace Potter & The Nocturnals)
B3. A New Life (Jim James)
B4. State Of The Art (A.E.I.O.U.) (Jim James)
C1. Sweet Emotion (Mike Gordon)
C2. Pendulum (Mike Gordon)
C3. Record Year (Eric Church)
C4. Ain't Wastin' Time No More (Eric Church)
D1. Spanish Boots (Joe Bonamassa)
D2. SWLABR (Joe Bonamassa)
D3. Tea For One > I Can't Quit You Baby (Joe Bonamassa)
Vinyl Volume 2 (2LP Orange)
A1. Play pt 1 (Dave Grohl)
B1. Play pt 2 (Dave Grohl)
C1. Thorazine Shuffle (Gov't Mule)
C2. Million Miles From Yesterday (Gov't Mule feat. Machan Taylor & Mini Carlsson)
C3. Dreams & Songs (Gov't Mule feat. Machan Taylor & Mini Carlsson)
D1. Revolution Come Revolution Go (Gov't Mule)
D2. Rockin' In The Free World > Machine Gun > Rockin' In The Free World (Gov't Mule feat. Dave Grohl)
Vinyl Volume 3 (2LP Blue)
A1. Just Before The Bullets Fly (Warren Haynes)
A2. One (Warren Haynes)
A3. Paris (Ooh La La) (Grace Potter & The Nocturnals feat. Ron Holloway)
B1. I've Seen A Love (Edwin McCain)
B2. Ray Ray's Juke Joint (Jamey Johnson)
B3. Victim (Mike Gordon)
B4. Smoke A Little Smoke (Eric Church)
B5. The Weight (Eric Church)
C1. Here In Spirit (Jim James)
C2. Red Baron (Gov't Mule feat. Ron Holloway & Mike Barnes)
C3. Soulshine (Warren Haynes)
D1. Us And Them (Gov't Mule feat. Jim James)
D2. Any Colour You Like (Gov't Mule)
D3. Welcome To The Machine (Gov't Mule)
Vinyl Volume 4 (2LP Red)
A1. Glory Road (Warren Haynes feat. Ray Sisk)
A2. I'm Telling You (Planet of the Abts)
A3. Underground Umbrella (Kevn Kinney, Jamey Johnson & Christmas Jam Band)
A4. Straight To Hell (Kevn Kinney, Jamey Johnson & Christmas Jam Band)
B1. 1000 Black Birds (Tyler Ramsey)
B2. The Nightbird (Tyler Ramsey)
B3. If Heartaches Were Nickels (Warren Haynes & Joe Bonamassa)
B4. Crazy Sometimes (Mike Gordon & Scott Murawski)
C1. Captured (Warren Haynes & Jim James)
C2. Gold Dust Woman (Warren Haynes, Jim James & Grace Potter)
C3. Times Like These (Dave Grohl & Warren Haynes)
C4. Everlong (Dave Grohl)
D1. Time > Breathe (Reprise) (Gov't Mule)
D2. Money (Gov't Mule)
D3. Comfortably Numb (Gov't Mule)
2CD + DVD
CD 1:
1. Greenpoint (Marco Benevento)
2. Pepper (Marco Benevento)
3. Ray Ray's Juke Joint (Jamey Johnson)
4. In Color (Jamey Johnson)
5. The Lion The Beast The Beat (Grace Potter & The Nocturnals)
6. Good Times Bad Times > Paris (Ooh La La) (Grace Potter & The Nocturnals feat. Ron Holloway)
7. Sweet Emotion (Mike Gordon)
8. Pendulum (Mike Gordon)
9. A New Life (Jim James)
10. State Of The Art (A.E.I.O.U.) (Jim James)
11. Record Year (Eric Church)
12. Ain't Wastin' Time No More (Eric Church)
13. The Weight (Eric Church)
CD 2:
1. Spanish Boots (Joe Bonamassa)
2. Tea For One > I Can't Quit You Baby (Joe Bonamassa)
3. Play (Dave Grohl)
4. Revolution Come Revolution Go (Gov't Mule)
5. Million Miles From Yesterday (Gov't Mule feat. Machan Taylor & Mini Carlsson)
6. Rockin' In The Free World > Machine Gun > Rockin' In The Free World (Gov't Mule feat. Dave Grohl)
DVD:
1. Greenpoint (Marco Benevento)
2. Ray Ray's Juke Joint (Jamey Johnson)
3. In Color (Jamey Johnson)
4. Medicine (Grace Potter & The Nocturnals)
5. The Lion The Beast The Beat (Grace Potter & The Nocturnals)
6. Sweet Emotion (Mike Gordon)
7. Pendulum (Mike Gordon)
8. A New Life (Jim James)
9. State Of The Art (A.E.I.O.U.) (Jim James)
10. Record Year (Eric Church)
11. Ain't Wastin' Time No More (Eric Church)
12. Spanish Boots (Joe Bonamassa)
13. SWLABR (Joe Bonamassa)
14. Play (Dave Grohl)
15. Revolution Come Revolution Go (Gov't Mule)
16. Million Miles From Yesterday (Gov't Mule feat. Machan Taylor & Mini Carlsson)
3CD + 2 Blu-ray
CD 1:
1. Greenpoint (Marco Benevento)
2. Pepper (Marco Benevento)
3. Ray Ray's Juke Joint (Jamey Johnson)
4. In Color (Jamey Johnson)
5. The Lion The Beast The Beat (Grace Potter & The Nocturnals)
6. Good Times Bad Times > Paris (Ooh La La) (Grace Potter & The Nocturnals feat. Ron Holloway)
7. Sweet Emotion (Mike Gordon)
8. Pendulum (Mike Gordon)
9. A New Life (Jim James)
10. State Of The Art (A.E.I.O.U.) (Jim James)
11. Record Year (Eric Church)
12. Ain't Wastin' Time No More (Eric Church)
13. The Weight (Eric Church)
CD 2:
1. Spanish Boots (Joe Bonamassa)
2. Tea For One > I Can't Quit You Baby (Joe Bonamassa)
3. Play (Dave Grohl)
4. Revolution Come Revolution Go (Gov't Mule)
5. Million Miles From Yesterday (Gov't Mule feat. Machan Taylor & Mini Carlsson)
6. Rockin' In The Free World > Machine Gun > Rockin' In The Free World (Gov't Mule feat. Dave Grohl)
CD 3:
1. Captured (Warren Haynes & Jim James)
2. Gold Dust Woman (Warren Haynes, Jim James & Grace Potter)
3. Underground Umbrella (Kevn Kinney, Jamey Johnson & Christmas Jam Band)
4. Honeysuckle Blue (Kevn Kinney, Jamey Johnson & Christmas Jam Band)
5. 1000 Black Birds (Tyler Ramsey)
6. I've Seen A Love (Edwin McCain)
7. I'm Telling You (Planet of the Abts)
8. Times Like These (Dave Grohl & Warren Haynes)
9. Everlong (Dave Grohl)
10. Us And Them (Gov't Mule feat. Jim James)
11. Any Colour You Like (Gov't Mule)
12. Comfortably Numb (Gov't Mule)
Blu-ray 1:
1. Just Before The Bullets Fly (Warren Haynes)
2. One (Warren Haynes)
3. Soulshine (Warren Haynes)
4. Greenpoint (Marco Benevento)
5. Pepper (Marco Benevento)
6. Ray Ray's Juke Joint (Jamey Johnson)
7. In Color (Jamey Johnson)
8. I Think I'll Just Stay Here And Drink (Jamey Johnson)
9. Medicine (Grace Potter & The Nocturnals)
10. The Lion The Beast The Beat (Grace Potter & The Nocturnals)
11. Good Times Bad Times > Paris (Ooh La La) (Grace Potter & The Nocturnals feat. Ron Holloway)
12. Victim (Mike Gordon)
13. Sweet Emotion (Mike Gordon)
14. Pendulum (Mike Gordon)
15. Here In Spirit (Jim James)
16. A New Life (Jim James)
17. State Of The Art (A.E.I.O.U.) (Jim James)
18. Record Year (Eric Church)
19. Smoke A Little Smoke (Eric Church)
20. Ain't Wastin' Time No More (Eric Church)
21. The Weight (Eric Church)
22. Glory Road (Warren Haynes feat. Ray Sisk)
23. Spanish Boots (Joe Bonamassa)
24. SWLABR (Joe Bonamassa)
25. Tea For One > I Can't Quit You Baby (Joe Bonamassa)
26. Play (Dave Grohl)
27. Thorazine Shuffle (Gov't Mule)
28. Revolution Come Revolution Go (Gov't Mule)
29. Million Miles From Yesterday (Gov't Mule feat. Machan Taylor & Mini Carlsson)
30. Dreams & Songs (Gov't Mule feat. Machan Taylor & Mini Carlsson)
31. Red Baron (Gov't Mule feat. Ron Holloway & Mike Barnes)
32. Rockin' In The Free World > Machine Gun > Rockin' In The Free World (Gov't Mule feat. Dave Grohl)
Blu-ray 2:
1. If Heartaches Were Nickels (Warren Haynes & Joe Bonamassa)
2. 1000 Black Birds (Tyler Ramsey)
3. The Nightbird (Tyler Ramsey)
4. Underground Umbrella (Kevn Kinney, Jamey Johnson & Christmas Jam Band)
5. Straight To Hell (Kevn Kinney, Jamey Johnson & Christmas Jam Band)
6. Captured (Warren Haynes & Jim James)
7. Gold Dust Woman (Warren Haynes, Jim James & Grace Potter)
8. Crazy Sometimes (Mike Gordon & Scott Murawski)
9. I've Seen A Love (Edwin McCain)
10. I'm Telling You (Planet of the Abts)
11. Times Like These (Dave Grohl & Warren Haynes)
12. Everlong (Dave Grohl)
13. Time > Breathe (Reprise) (Gov't Mule)
14. Money (Gov't Mule)
15. Us And Them (Gov't Mule feat. Jim James)
16. Any Colour You Like (Gov't Mule)
17. Welcome To The Machine (Gov't Mule)
18. Comfortably Numb (Gov't Mule)
Digital Release
1. Greenpoint (Marco Benevento)
2. Pepper (Marco Benevento)
3. Ray Ray's Juke Joint (Jamey Johnson)
4. In Color (Jamey Johnson)
5. The Lion The Beast The Beat (Grace Potter & The Nocturnals)
6. Good Times Bad Times > Paris (Ooh La La) (Grace Potter & The Nocturnals feat. Ron Holloway)
7. Sweet Emotion (Mike Gordon)
8. Pendulum (Mike Gordon)
9. A New Life (Jim James)
10. State Of The Art (A.E.I.O.U.) (Jim James)
11. Record Year (Eric Church)
12. Ain't Wastin' Time No More (Eric Church)
13. The Weight (Eric Church)
14. Spanish Boots (Joe Bonamassa)
15. Tea For One > I Can't Quit You Baby (Joe Bonamassa)
16. Play (Dave Grohl)
17. Revolution Come Revolution Go (Gov't Mule)
18. Million Miles From Yesterday (Gov't Mule feat. Machan Taylor & Mini Carlsson)
19. Rockin' In The Free World > Machine Gun > Rockin' In The Free World (Gov't Mule feat. Dave Grohl)
20. Captured (Warren Haynes & Jim James)
21. Gold Dust Woman (Warren Haynes, Jim James & Grace Potter)
22. Underground Umbrella (Kevn Kinney, Jamey Johnson & Christmas Jam Band)
23. Honeysuckle Blue (Kevn Kinney, Jamey Johnson & Christmas Jam Band)
24. 1000 Black Birds (Tyler Ramsey)
25. I've Seen A Love (Edwin McCain)
26. I'm Telling You (Planet of the Abts)
27. Times Like These (Dave Grohl & Warren Haynes)
28. Everlong (Dave Grohl)
29. Us And Them (Gov't Mule feat. Jim James)
30. Any Colour You Like (Gov't Mule)
31. Comfortably Numb (Gov't Mule)