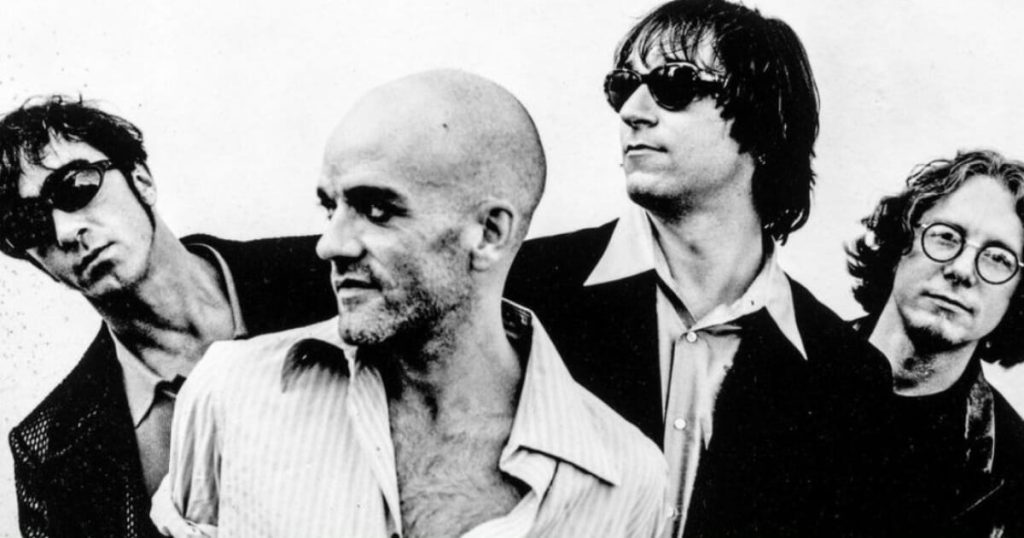 To mark the launch of the second season of the FX series, The Bear, R.E.M. has pulled together a list of 40 favorite songs from their self-written music catalog after the television show integrated multiple tracks off their classic album Monster (1994) into the program. NME exclusively shared the selections, picked by the core four. 
The 40-track playlist is comprised of each member's top 10 tracks, beginning with material picked by frontman Michael Stipe: The 1988 Green cut "World Leader Pretend," followed by an emotive "Country Feedback," "Stranger Currencies," "The Lifting," "Electron Blue" and more material from albums like Accelerate, Collapse Into Now, Lifes Rich Pageant, among others. 
Selects (songs 11-20) from guitarist Peter Buck follow Stipe's picks. His list of songs reflected the group's diverse catalog, ranging from fan favorites, like "All The Way to Reno," alongside deep cuts like "You're In The Air." In addition, bassist Mike Mills went with classic material such as "It's The End of the World As We Know It (And I Feel Fine)," "Orange Crush," and "What's The Frequency, Kenneth?" Mills' picks are reflected on the playlist as tracks 21-30. 
Rounding out the list are songs selected by backbeat Bill Berry, who paired favorites like "Daysleeper" and "Leaving New York" with tracks from 1987's Dead Letter Office, 1992's Automatic For The People, and more. Scroll down to stream the playlist via Spotify, and view a breakdown of each member's selections.
Michael's Picks (1-10)
1. World Leader Pretend
2. Country Feedback
3. Strange Currencies
4. The Lifting
5. Electron Blue
6. Supernatural Superserious
7. Oh My Heart
8. We All Go Back To Where We Belong
9. Flowers of Guatemala
10. Half A World Away
Peter's Picks (11-20)
11. Feeling Gravitys Pull
12. So. Central Rain (I'm Sorry)
13. Walk Unafraid
14. You're In The Air
15. Discoverer
16. All The Way To Reno (You're Gonna Be A Star)
17. Try Not To Breathe
18. Undertow
19. Electrolite
20. Finest Worksong
Mike's Picks (21-30)
21. Wolves, Lower
22. Pilgrimage
23. I Believe
24. It's The End Of The World As We Know It (And I Feel Fine)
25. You Are The Everything
26. Orange Crush
27. What's The Frequency, Kenneth?
28. How The West Was Won and Where It Got Us
29. Living Well Is The Best Revenge
30. Every Day Is Yours To Win
Bill's Picks (31-40)
31. Beachball
32. Daysleeper
33. Leaving New York
34. These Days
35. We Walk
36. I Remember California
37. I Don't Sleep, I Dream
38. Rotary 10
39. Voice of Harold
40. Find The River