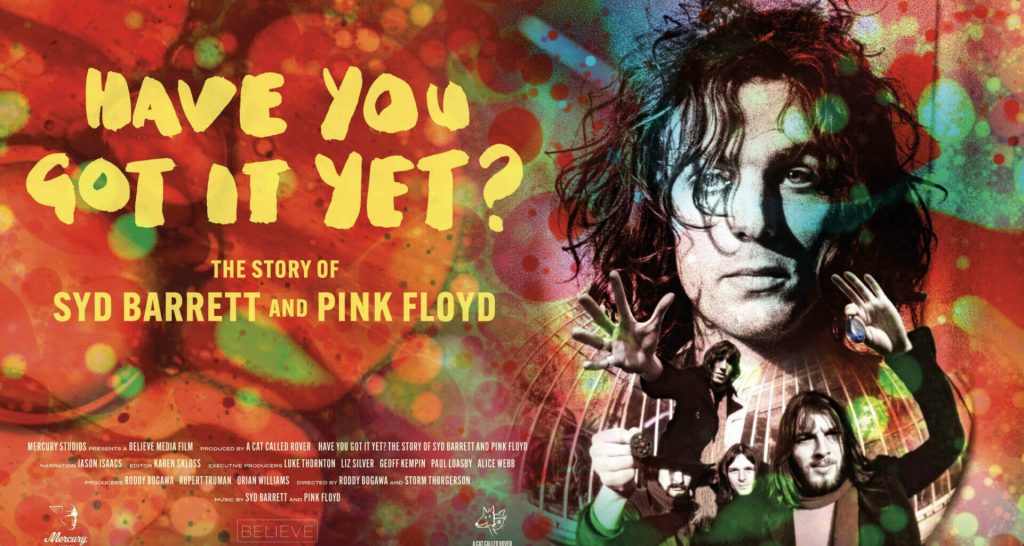 The first feature-length documentary on Pink Floyd founder Syd Barrett Have You Got It Yet? The Story of Syd Barrett and Pink Floyd has dropped its first trailer. The project–in cooperation with surviving bandmembers Roger Waters, David Gilmour, and Nick Mason–is set to premiere tomorrow, Thursday, April 27, at Everyman King's Cross in London, with a wider U.K. release scheduled for May 15 – Abramorama will distribute the film in the U.S. and Canada sometime in June.
 Have You Got It Yet? The Story of Syd Barrett and Pink Floyd–directed by Roddy Bogawa and late Hipgnosis co-founder Storm Thorgerson, who created album covers for Wish You Were Here, Animals, and The Dark Side of the Moon–will shine a light on a small pinhole of iconic music history where Syd Barrett and his music were out in public. Barrett famously co-founded and fronted Pink Floyd and wrote much of their debut material on 1967's The Piper at the Gates of Dawn. However, the group's sophomore effort, 1968's A Saucerful of Secrets only had one song by the guitarist who had been replaced by Gilmour.
After leaving Pink Floyd, Barrett released two solo albums both in 1970, which became cult classics over time: The Madcap Laughs and the eponymous Barrett. As Pink Floyd continued to grow and become one of the most successful and impactful bands of all time, Barrett withdrew into relative obscurity, living a solitary life until his death in 2006. His genius and departure baffled scholars and fans for years, but he no longer desired to be a pop star; the questions of whether his decision was due to mental health, drug use, or the pressures of commercial success remain unanswered, though ever fascinating.
Notably, the Jason Isaacs narrated film's title comes from a song Barret brought to his final practice session with Pink Floyd. As Waters recalls, Barret shared a relatively simple composition, but the band had a hard time learning it. However, before long, they realized Barrett kept changing the song's pattern, slyly altering the track and each time ending the song with "Have you got it yet?" an act which Waters called "mad genius."
Famously Pink Floyd's connection to the mystic of their founder was immortalized with "Shine On You Crazy Diamond" off 1975's Wish You Were Here – and the new documentary will further his mythic status while attempting to answer some of the lingering questions that have never lost their glint.
In addition to the surviving members of Pink Floyd, the documentary will feature insight from musicians Barrett impacted, including Pete Townshend, Blur's Graham Coxon, Andrew VanWyngarden of MGMT, and more, along with playwright Tom Stoppard, Pink Floyd's former managers Peter Jenner and Andrew King, and Barrett's sister Rosemary Breen.
Learn more about the film and screening information here.
Watch the trailer for Have You Got It Yet? The Story of Syd Barrett and Pink Floyd below.