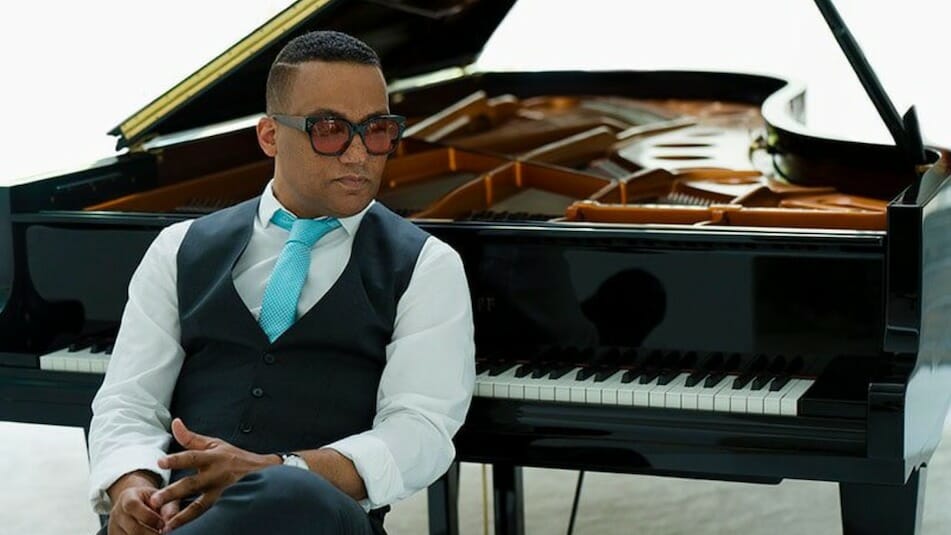 According to the New York Times, a quarter of a million Cubans—some 2% of the island's total population—have migrated to the United States within the past year for various reasons, an exodus not seen since the Cuban Revolution in 1959.
It wasn't always so easy. In order to circumvent a Cold War-era trade embargo still in effect in the early 1990s—just when his reputation was spreading far beyond his homeland—the gifted, Havana-born jazz pianist Gonzalo Rubalcaba realized that he needed to establish residency outside of Cuba if he hoped to eventually settle in the United States. Rubalcaba began that process in 1991, relocating to the Dominican Republic. Finally, five years later—only four years before the embargo would ultimately be lifted—he was able to head north and call the U.S. his home.
By the time he made that move, Rubalcaba, now 59, was no stranger to the jazz community in the United States. Having performed extensively in Europe, Africa and Asia since the early '80s as a sideman, a member of Cuba's famed Orquesta Aragón and as a leader of his own outfit, he'd already found champions in such high-profile players on the American jazz scene as Dizzy Gillespie, Charlie Haden and then-Blue Note Records president Bruce Lundvall, who signed him to a recording contract in 1990. Rubalcaba had also turned in a handful of gigs in the U.S. while still living outside of its borders, but it wasn't until he was able to interact directly—and more frequently—with his American audience that he became widely heralded as a musical force.
"My records were already released in the United States when I came here," Rubalcaba says. "But you have to develop yourself inside the United States, and that's a totally different experience [than playing as a visiting foreigner]. People coming from Cuba are totally disconnected from the real world. And when I say totally, it's literally like that. We were not conscious at all about anything that had to do with the economy or business or investments or any capitalist way to produce. It was like starting from zero."
Since his arrival in the States, Rubalcaba has released more than 20 albums as a leader and has racked up an impressive 10 Grammy nominations. He received the Best Latin Jazz Album Grammy in both 2002 and 2005—for records cut under Haden's name that he produced—and the Best Jazz Instrumental Album award last year, for his 2021 set, Skyline. The latter, the first in a trilogy of trio albums, finds the pianist accompanied by two of the most renowned names in jazz history, bassist Ron Carter and drummer Jack DeJohnette— ages 85 and 80, respectively.
"We are talking about two legends," Rubalcaba boasts about his chosen rhythm section for that project. "But the reason for calling them to do an album goes beyond the professional. For a long time, I was looking for the moment and the space to call those people. At the beginning of my career, they were around me and they helped me in many aspects, musically and just humanly. They helped me understand my new life in the United States—my new life as an American. Listening to someone on an album is different than sharing a moment with those people. Then you have the possibility not only to play with them, but also to talk to them—not only about music, but about life in general."
For last year's Turning Point/ Trio D'été, the second entry in the trilogy, Rubalcaba took a different approach, teaming with two players younger than he is, bassist Matt Brewer and drummer Eric Harland. Rubalcaba had worked with both musicians on a number of occasions prior to cutting the set, going back several years, but the recording sessions marked the first time the three musicians worked together as a group. Rubalcaba praises the energy and vitality they brought to the music.
"They had a lot to add," he says of the pair. "They bring a new vision to any music that anybody puts in front of them. This music [that we recorded] was complex in terms of the rhythm, and I called them not only because I knew them, but also because I had the feeling that Matt and Eric would have an amazing and an exclusive way to play that music."
In addition to the new compositions on Turning Point, Rubalcaba chose to revisit three cuts that premiered on earlier releases to see what the new Trio D'été might bring to those tunes. "If I desire to take music back again, it's because I found out that the music is still offering new opportunities," he says. "It could be a harmony, the melody, the structure, the tempo or any factor of the music that I consider. It's not only to play that music but also to transform it into something else. I'm always looking for different experiences with different people. It's not about the place we want to arrive; it's about the process."
Rubalcaba plans to move on to the final installment in his trio trilogy at some point in the near future, while adding that he is "not ready" to do so quite yet. First, he explains, there will be a duet recording this summer with French saxophonist Pierrick Pédron, followed by a quartet set recorded live at New York's Dizzy's Coca-Cola. Whatever he embarks on, he'll keep in mind something he learned from collaborating with a wide variety of players. "It's about connections," he says. "That's the way I see every event, every piece of music. People that really are in love with what they do put their lives totally into what they do. And this is what I do."