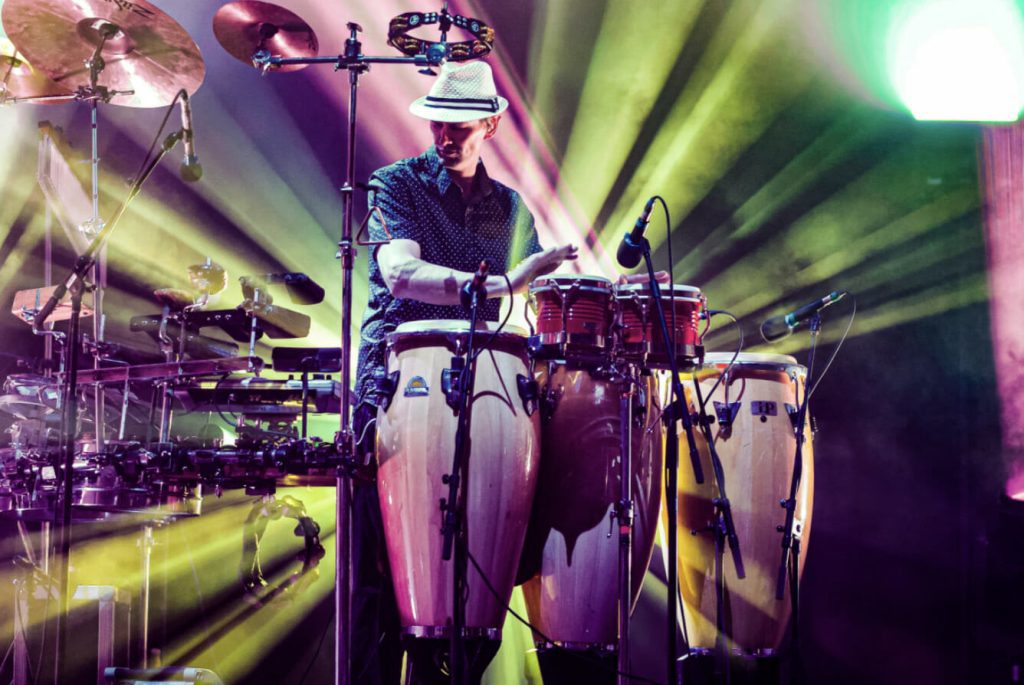 Today, the members of Lotus made official statements after the search for percussionist Chuck Morris and his son–who disappeared on Thursday, March 16–was shifted from a search and rescue to recovery. After a statement from the band that described the logistical challenges of the search and collectively shared gratitude for words, stories, and emotional and financial support, the individual members have now made statements.
Lotus bassist Jesse Miller wrote, "We spent over 20 years in a band with Chuck. We lived together for parts of that, traveled the country and across oceans, felt the joy of performing in front of thousands of fans and pains of sleeping on floors and trying to repair a broken trailer in the middle of nowhere in a snowstorm. It was a journey, and it wouldn't have been the same without Chuck bringing his unique mind, energy, spirit and smile to it."
Fellow percussionist Mike Greenfield added, "One of the highest achievements of a musician is to find your own voice on an instrument. Chuck's distinct personality was so strong that it shined through in his musicianship, as it did in all elements of his life. I can easily say that Chuck was the most unique person I have ever met, and it was fascinating to witness how his dynamic energy created opportunities for him at everyturn. As a percussionist, comedian, computer programmer, family man, repairer of anything that was broken, and of course as our beloved 'wildcard'- no one did it quite like him." Greenfield went on to say, "Chuck was my drumming brother. Over the past few days, I have been listening to a few recent shows when Chuck and I explored rhythmic banter together in exciting and unhinged ways. The profound level of connection that we had could only be manifested through years of touring and living together. Over the past two decades, we have watched each other's families grow. Chuck, you are a wonderful father and friend. I will always treasure our time together."
Lotus guitarist Luke Miller said of Morris, "Chuck was a beast on percussion and in life. He brought an energy every night that fed so many people's souls. He joined Lotus back in a small Indiana town – Goshen. Our little group from the rural Midwest ventured out into the world to play music. If our touring van broke down, for if our shared band house needed to be fixed Chuck was always the first to jump in on the work." Miller went on to talk of his Morris family. "I was there when Jenny and Chuck brought Charley home from the hospital. And we saw him grow up to be an incredibly smart and talented young man. I traveled with Chuck to all the corners of the US, to Japan, Amsterdam, Dominican Republic, Mexico, and so many other places. He was always ready to have fun, make new friends, and play music. He brought a bright-eyed adventurous spirit wherever he went. Chuck was truly a one-of-one. He and Charley are incredibly dearly missed. Rest in Percussion / Rest in Power / Rest In Peace."
There has been little information shared since the father and son went missing, as there was little to report. However, the outpouring of support from friends and fans of Morris has been consistent since the news of his disappearance broke. A vigil took place at Lost Bridge on March 18, and online communities have planned other virtual gatherings as well.
Former Lotus guitarist Michael Rempel wrote a letter to Morris days after his appearance that queried what Morris would advise: "I imagine that you would wish us to be comforted rather than contorted in pain. I imagine that you would wish something like, 'Just be there for each other. Let this moment be a heart-centered moment. May this moment remind you of the preciousness of life. May your fears and your tears bring you more deeply into your humanity and clarify your vision such that you clearly see the beauty that is your existence.' That's how I imagine your wish for us – all of us that love you."
Morris' wife, Jenny Thompson, made a statement that read, "Please know how grateful our family is for all the outpouring of support. Chuck absolutely loves the Lotus family and fans and was so inspired after coming home from this last tour. You make his life so meaningful, and we are thankful for that. Please continue to hold my lovely husband and son in your hearts and prayers."
Morris and his son are currently presumed dead; the recovery is still ongoing.
Donate to the Morris family here.