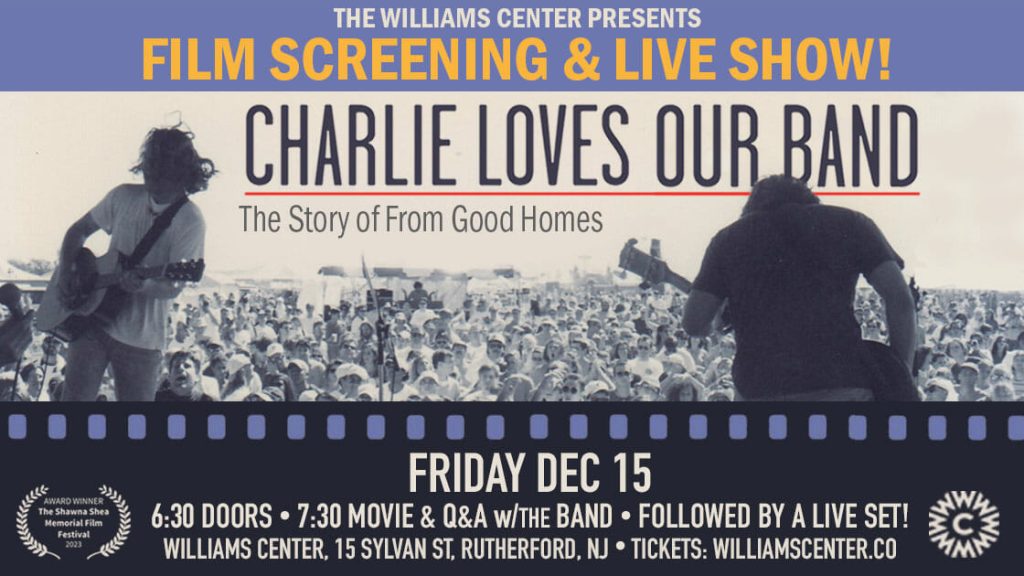 The Williams Center in Rutherford, N.J., is set to host the first public screening of the feature documentary, Charlie Loves Our Band: The Story of From Good Homes on Friday, Dec. 15. The evening promises a unique blend of storytelling through film, a live Q&A session and a performance by the film's subjects From Good Homes, themselves.
Charlie Loves Our Band is a captivating feature-length documentary examining From Good Homes's journey. The band's roots trace back to the 1980s in Sparta, N.J., an hour's drive from New York City. Comprising three childhood friends–Patrick Fitzsimmons, Brady Rymer, and Todd Sheaffer–they fused influences from the rock-and-roll of the '60s and '70s, the cultural energy of the '80s, and the essence of American storytelling and folk music. In the early 1990s, the addition of Jamie Coan and Dan Myers further shaped their unique musical style, originally labeled "Hick-Pop," which remained the core of multiple albums, including two with RCA Records.
Renowned filmmaker and former tour manager Vic Guadagno spearheaded the creation of the documentary. He meticulously curated approximately 300 hours of video footage and thousands of audio recordings dating back to the late 1980s. The clips were seamlessly blended with recent concert footage and insightful interviews featuring the band members, devoted fans and music industry professionals. The result comprehensively portrays one of New Jersey's most beloved bands of the 1990s.
Although From Good Homes disbanded in 1999, each of its five members continues to excel in the music industry. Notably, Sheaffer serves as a singer-songwriter for Railroad Earth, while Rymer has earned three Grammy nominations for his children's music. The band itself maintains a loyal following, marked by annual reunion concerts and the release of their sixth album, Time and the River, in 2019.
Through their extensive catalog of music and yearly reunion performances, From Good Homes has cultivated a dedicated community of ardent fans. These are individuals who transcend the traditional notion of fandom and find themselves deeply entrenched in a shared love for the band's music. As Jay Lustig of njarts.net puts it, these are "devoted fans who don't just see an occasional show, but see every show possible, and become friendly with other diehards, and basically live for the music in a way that goes way beyond traditional fandom."
The Williams Center, a renowned cultural hub located at 15 Sylvan Street in Rutherford, will open its doors for this exclusive event, with tickets priced at $60. Attendees are encouraged to arrive at 6:30 p.m. to soak in the ambiance, with the movie and Q&A session commencing at 7:30 p.m., followed by a live performance by From Good Homes.
For those eager to secure their seats, tickets are available at The Williams Center here. Additional information about the film can be found here.