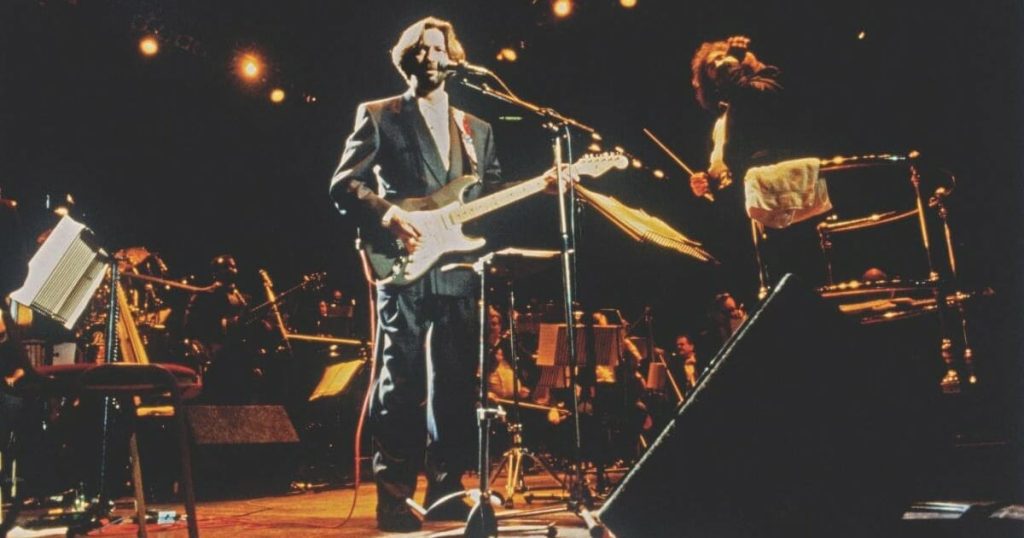 Photo Credit: Carl Studna
Today, Eric Clapton and Warner Records teamed up to drop the artist's previously unreleased 1991 performance of "Knockin' On Heavens Door," which occurred at The Royal Albert Hall and included Phil Collins on drums. The number previews Clapton's forthcoming LP, The Definitive 24 Nights, due on June 23.
The Royal Albert Hall was Clapton's home away from home in London. The artist performed at the location over 200 times, more than any other artist. He also holds the record for the longest run of concerts at the venue, having performed 24 of his most ambitious shows there in 1991. 
Each evening featured Clapton performing a set of career-spanning music with one of three lineups–a rock band, a blues band, or an orchestra conducted by Michael Kamen. Previously, Kamen worked with Clapton on the Lethal Weapon soundtracks, as well as on the T.V. show Edge of Darkness.
To commemorate Clapton's record-setting run at The Royal Albert Hall in London, he released 24 Nights in October 1991. The double live album and home video delivered only a small amount of the memorable performances that took place. As a follow-up, Warner Records will expand upon the original drop by following up with The Definitive 24 Nights. 
The Definitive 24 Nights was restored and upgraded by Clapton's team of Simon Climie (audio production and mixing), producer Peter Worsley and director David Barnard. The revisited performances will be available as limited-edition boxed sets and come with three Blu-ray discs of video content, a hardbound book and an individually numbered lithograph featuring a photograph of Clapton by Carl Studna.
Also included are nearly six hours of live music paired with 36 unreleased performances. In addition, the collection distills Clapton's 1990 through 1991 Albert Hall residencies using the best of the live footage and recordings to present fans with a unique look at this stage of the musician's storied career. 
During the residencies, Clapton recruited assistance from fellow musicians, including greats like Johnnie Johnson, Jimmie Vaughan, Chuck Leavell, Phil Collins, Robert Cray, Buddy Guy, Albert Collins, Nathan East, Greg Phillinganes, Steve Ferrone, Ray Cooper, and Jerry Portnoy.
Moreover, Across 24 Nights hits cinemas globally today. Additional information about the companion piece for the new record set can be found at ericclaptoncinema.com. Watch the trailer now. 
To accompany the news of the newly restored set of live performances, Clapton has shared the video and audio for fan favorite "Knocking On Heaven's Door," listen below. Pre-order the LP here.  
Scroll down to view the tracking list.
The Definitive 24 Nights Track Listing:
24 Nights: Rock
1.       "Pretending"
2.       "Running On Faith"
3.       "Breaking Point" *
4.        "I Shot The Sheriff" *
5.       "White Room"
6.        "Can't Find My Way Home" * (Feat. Nathan East on lead vocals)
7.       "Bad Love"
8.       "Before You Accuse Me" *
9.       "Lay Down Sally" *
10.    "Knockin' On Heaven's Door" *
11.    "Old Love" *
12.    "No Alibis" *
13.    "Tearing Us Apart" *
14.    "Cocaine" *
15.    "Wonderful Tonight"
16.    "Layla" *
17.    "Crossroads" *
18.    "Sunshine Of Your Love" *
24 Nights: Blues
1.       "Key To The Highway" *
2.       "Worried Life Blues"
3.       "You Better Watch Yourself"
4.       "Have You Ever Loved A Woman"
5.       "Everything's Gonna Be Alright" *
6.       "Something On Your Mind" *
7.       "All Your Love (I Miss Loving)" *
8.       "It's My Life Baby" *
9.       "Johnnie's Boogie" *
10.    "Black Cat Bone" *
11.    "Reconsider Baby" *
12.    "My Time After A While" *
13.    "Sweet Home Chicago" *
14.    "You Better Watch Yourself" (Reprise) *
Note: "Sweet Home Chicago" segues into "You Better Watch Yourself (Reprise)" and is listed as one track on the Blues vinyl. 
24 Nights: Orchestral
1.       "Crossroads" *
2.       "Bell Bottom Blues"
3.       "Lay Down Sally" *
4.       "Holy Mother" *
5.       "I Shot The Sheriff" *
6.       "Hard Times"
7.       "Can't Find My Way Home" * (Feat. Nathan East on lead vocals)
8.       "Edge Of Darkness"
9.       "Old Love" *
10.    "Wonderful Tonight" *
11.    "White Room" *
12.    "Concerto For Electric Guitar" * (composed by Michael Kamen)
13.    "A Remark You Made" *^ (A tribute to Jaco Pastorius)
14.    "Layla" * 
15.    "Sunshine Of Your Love" *^
*Previously Unreleased
^Not on vinyl