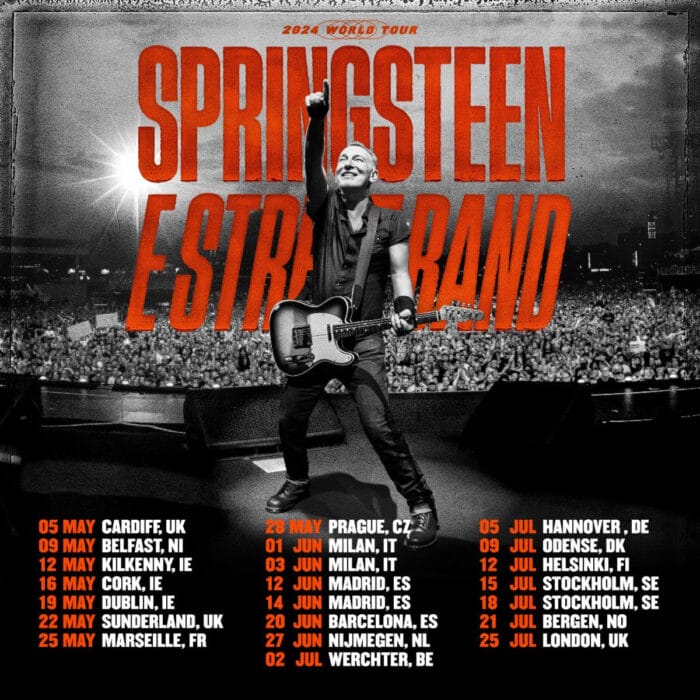 Photo Credit: Rob DeMartin
Bruce Springsteen and The E Street Band have announced a 22-stop European run as part of their overarching 2024 World Tour. News of the added dates arrives after a series of postponements from the artist, who has been experiencing symptoms related to peptic ulcer disease. With health concerns at bay, the group and their namesake will commence the impending jaunt on May 5 at Principality Stadium in Cardiff, Wales. 
After concluding their first stop, the veteran players will take a few days off before resuming their tour on May 9 at Boucher Road in Kilkenny, Ireland. The tour will continue with additional appearances in Ireland, followed by a lone Sunderland, England date on May 22. From there, they will take the stage at Orange Vélodrome in Marseille, France, on May 25.
Springsteen and company will participate in a Prague, Czech Republic stand next before picking up two dates at San Siro Stadium in Milan, Italy, and another pair of shows in Madrid, Spain. Remaining in the aforementioned country, the group will drift over to Barcelona on June 20, just before a tight run of dates through the Netherlands, Belgium, Germany, Denmark, and Finland.
With much of the early summer behind them, the Springsteen and The E Street Band will participate in two shows at Friends Arena in Stockholm, Sweden, on July 15 and 18. The remaining dates will unfold in Bergen, Norway, on July 21, and the final stop of the tour on July 25 at London's  Wembley Stadium. The newly added tour dates arrive after a successful 2023 European outing, resulting in over 1.6 million tickets sold.
To learn more about Springsteen and The E Street Band's impending tour, visit their official website.
Bruce Springsteen 2024 European Tour Dates:
May 5  –  Cardiff, Wales  –  Principality Stadium 
May 9  –  Belfast, Northern Ireland  –  Boucher Road 
May 12  –  Kilkenny, Ireland  –  Nowlan Park 
May 16  –  Cork, Ireland  –  Páirc Uí Chaoimh 
May 19  –  Dublin, Ireland  –  Croke Park
May 22  –  Sunderland, England  –  Stadium of Light 
May 25  –  Marseille, France  –  Orange Vélodrome
May 28  –  Prague, Czech Republic  –  Airport Letnany 
June 1  –  Milan, Italy  –  San Siro Stadium 
June 3  –  Milan, Italy  –  San Siro Stadium 
June 12  –  Madrid, Spain  –  Cívitas Metropolitano 
June 14  –  Madrid, Spain  –  Cívitas Metropolitano 
June 20  –  Barcelona, Spain  –  Estadi Olímpic 
June 27  –  Nijmegen, Netherlands  –  Goffertpark
July 2  –  Werchter, Belgium  –  Werchter Park 
July 5  –  Hannover, Germany  –  Heinz von Heiden Arena
July 9  –  Odense, Denmark  –  Dyrskuepladsen 
July 12  –  Helsinki, Finland  –  Olympic Stadium 
July 15  –  Stockholm, Sweden  –  Friends Arena
July 18  –  Stockholm, Sweden  –  Friends Arena
July 21  –  Bergen, Norway  –  Dokken 
July 25  –  London, England  –  Wembley Stadium