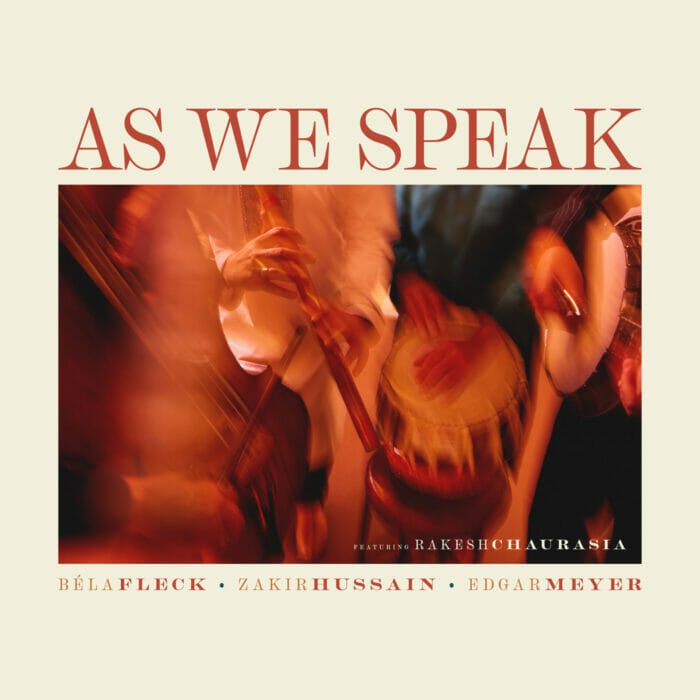 Photo by Jeremy Cowart
Today, renowned tabla player Zakir Hussain, banjo legend Béla Fleck, double bassist Edgar Meyer and bansuri player Rakesh Chaurasia announced a new album titled As We Speak, which will release May 12 via Thirty Tigers. To celebrate the announcement project that unites bluegrass, Western classical and Indian classical, the quartet released an animated video for a composition penned by Meyer titled "Motion."
As We Speak, showcases their breathtaking abilities as instrumentalists, underscoring the wide range of influences at their command. Over the 12 tracks on the project quartet effortlessly flows between the erudite complexity of Indian rhythm, the core-shaking funk on percussion and the resonant plunking of bluegrass.
The video–illustrated and directed by Maya Sassoon– showcases flowing abstract images mirroring the pacing of the masterful percussion, flute and strings. The connections between the illustration's movements and the instrumental capture a glimpse of nature and the feeling of the soul.
The core trio first met when Fleck and Meyer were looking for a third partner for a triple concerto they had been commissioned to write. They thought of Hussain, who was quite interested in orchestral writing. "We thought we could learn a whole lot from this guy!" said Fleck. The result was The Melody of Rhythm (2009), recorded with the Detroit Symphony Orchestra under Leonard Slatkin.
During the subsequent tour they released their shared gift for improvisation, and while touring in India Hussain, who knew Chaurasia through his uncle, invited the flutist to sit in, and the chemistry was clearly there. "I think we wanted to see if we could do something a little more organic with just a small group," said Meyer. "And to have somebody who plays as beautifully as Rakesh join us really opened it up to a more lyrical and melodic situation." 
"What I think is good about this quartet is that everybody has to stretch in the direction of the other people," Fleck shared. "To me, a collaboration where nobody changes is not a collaboration. It's a mashup. And there's nothing wrong with that. But I like a collaboration where I have to learn a bunch of new things from the other people. And in this case, I'm learning like crazy."
The quartet will be touring the US in April and May, including May 4 at The Town Hall in New York City, with a November U..S tour to follow. Tickets are on sale now and can be found here.
Listen to "Motion" below.