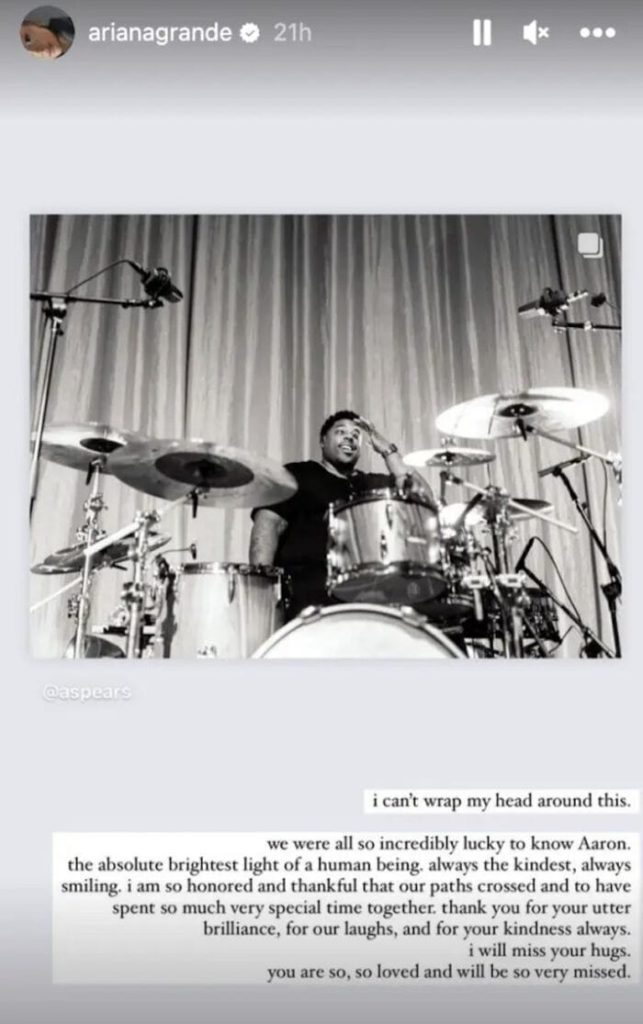 The music world is mourning the loss of Aaron Spears, a prolific drummer known for his work with music luminaries, including Usher, Lady Gaga, Ariana Grande, Britney Spears, Miley Cyrus, and more. The artist celebrated his 47th birthday last week, and his passing was confirmed yesterday.
The news of his death was shared by his wife, Jessica Spears, on an Instagram post, which was co-signed by their son August. The statement did not provide specific details about the time, place, or cause of his death.
Spears, a Grammy-nominated drummer, achieved acclaim in 2004 as a producer for Usher's chart-topping album Confessions, which sold over 15 million copies worldwide. His musical journey continued as he drummed during the Grammys in the following year, captivating audiences with a medley performance that included Usher's "Caught Up" and James Brown's "Sex Machine."
Over the years, Spears contributed his remarkable talents to an array of musical icons, including the aforementioned Ariana Grande, Miley Cyrus and Lady Gaga. "You've seen Aaron drum prolly 5-10 times in your life if you attend concerts & sometimes without knowing," Questlove wrote in a tribute post to Spears. "That's how much in demand his services were."
Spears was born on Oct. 26, 1976, in Washington D.C., and grew up in the Pentecostal faith, where he first developed his passion for drumming. As a child, he would sit on someone's lap in church, playing "the stuff up top" while they handled the pedals.
His professional journey commenced as a drummer in Gideon Band, a group renowned for their diverse style spanning jazz, rock, and R&B. His distinctive approach to drumming, characterized by never repeating a "chop," earned him accolades and admiration from fellow musicians and fans.
Transitioning from the local music scene in Washington to a national stage was daunting for Spears. He once confessed, "The level of musicianship had me questioning if I belonged there." However, he not only belonged but thrived. Following his memorable Grammy performance, Spears embarked on a two-decade-long journey. He further displayed his versatility by performing on Late Night with Seth Meyers and taking on the role of music coordinator and drummer for a season of the television show The Masked Singer.
Spears was not just a performer; he was also an educator. He conducted drum clinics and master classes worldwide, generously sharing his knowledge and passion for drumming. Earlier this year, during an educational visit to Southern University in Baton Rouge, La., he joined the school's marching band, the Human Jukebox, for a memorable performance.
Despite his success, Spears remained humble, emphasizing that his achievements were a result of the connections he had forged with other musicians.
The legacy of Spears, both as a musician and as a person, will endure through the rhythms he created and the love he shared. The music industry, as well as his family and friends, have lost an exceptional talent and an exceptional human being.
Since his passing, colleagues and friends from the music industry have flooded social media with tributes, expressing their love and gratitude for the incredible person he was. Justin Bieber, Ariana Grande, Stanton Moore, Nikki Glaspie and Travis Barker are just a few of the artists who have shared their thoughts and condolences.
Questlove poignantly added, "The world lost a legend today. Husband, father, producers music director, leader drumgod & just a Cotdamn BEAST in Aaron Spears…Condolences to his wife, family, community and all who loved him and were given joy through his musical contributions. This is devastating…rest in melody brother."