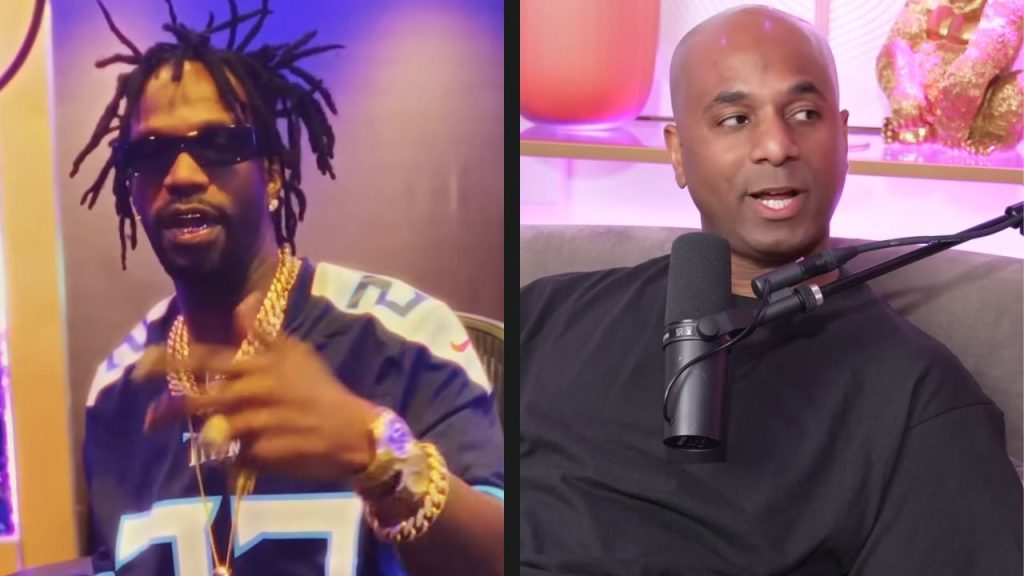 Juicy J took to his Instagram story to address a concerning issue in the rap industry: a 40% decline in sales. Joining in on the conversation, podcast host Wallo267 expressed concerns about the industry's over-reliance on flashy aesthetics and gimmicks, highlighting the importance of authentic, high-quality music over attention-grabbing antics.
'Let's Talk About This!'
In a video shared on his Instagram story on Sunday, October 8, Juicy J pointed out that rap sales have experienced a 40% decline:
"I know a lot of people don't want to hear this but I'm being real," he began. "Rap music is down 40 percent this year. I'ma say it again. Rap music is down 40 percent. Check the charts, check the math. I don't make the rules. I do not make the rules. It's down 40 percent. What are we as rappers, producers, composers, etc, gonna do about this shit? 'Cause it's down 40 percent this year. Check the charts! Do your research. This is a fact."
The Three 6 Mafia founder continued:
"We gotta figure some sh*t out. We gotta sit down and talk. Let's have a meeting. Let's meet up somewhere… Let's talk about this sh*t, how we can turn this sh*t around." 
Users on Twitter (X) reacted to Juicy J's video, with one stating, "Because they all sound the same. Lol. No originality." Another user commented, "A lot of these new rappers don't put effort into making a good album anymore. Rap has been going downhill for years."
Wallo267 Chimes In
Following Juicy J's sentiments, Million Dollaz Worth of Game co-host Wallo267 also voiced his concerns about the current state of hip-hop. In an Instagram post titled "Dear Rap Game," Wallo267 criticized the over-reliance on flashy jewelry, fashion choices, drug references, and firearms to capture attention:
"The era of relying solely on flashy jewelry, ostentatious fashion choices, references to drugs, and flaunting firearms to capture attention is fading into obscurity. What truly resonates with audiences now is not the gimmicks but rather the power of authentic, high-quality music."
The podcast host further lamented that the genre tends to follow trends and resort to attention-grabbing antics, rather than focusing on creating good music.
'Too Repetitive' & 'Lacking Originality'
These statements from Juicy J and Wallo267 shed light on the struggles faced by rap music in recent years.
 In fact, it has been over a year since a rap song topped the Billboard Hot 100 chart, with Doja Cat's "Paint The Town Red" being the first to achieve this feat in September 2023 after Nicki Minaj's "Super Freaky Girl."
The concerns raised are not new to the industry. Various artists, including Bow Wow, have previously criticized the repetition and lack of originality in today's rap music. The actor/rapper commented on today's rap on the red carpet of the BET Awards in June 2023. Bow Wow, real name Shad Moss, also expressed that current hip-hop is too repetitive and lacks originality. 
Another concern within today's hip-hop community is the perception that rappers are over-sampling and lacking originality. Some fans believe that too many artists and producers are going overboard with sampling, leading to a sense of creative exhaustion.
Is The Superstardom Era Over?
While Juicy J and Wallo267 primarily focused on rap music, their concerns highlight broader issues within the music industry as a whole. This discussion extends to the question of whether superstardom is still attainable, with Beyoncé's Renaissance World Tour being the only female artist to earn $300 million for a tour. Many fans attribute the decline in superstardom to the oversharing of artists' lives on social media and the rapid rise of overnight fame.