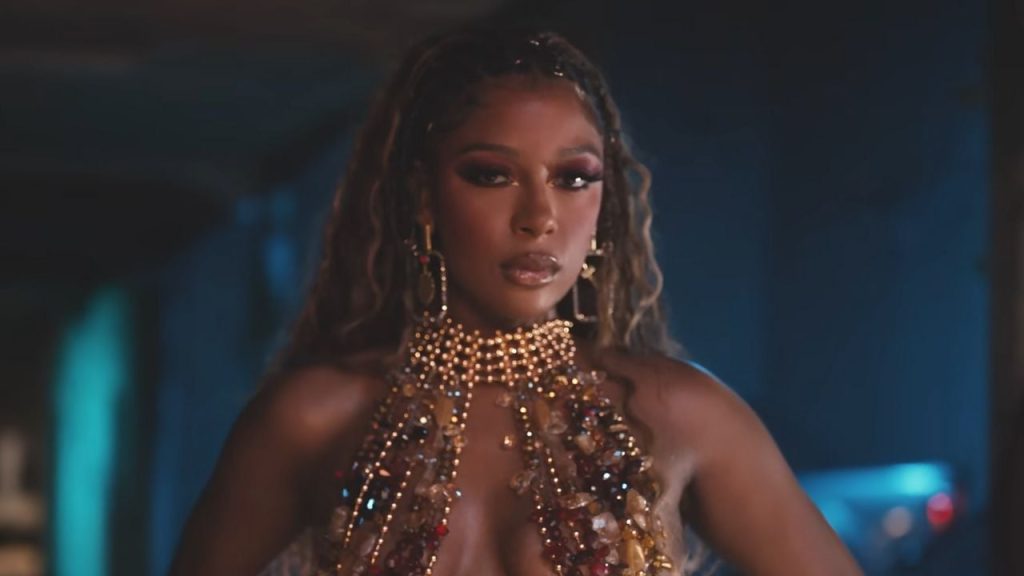 Victoria Monét has released her highly anticipated sophomore album, Jaguar II, and it has quickly become a sensation among fans. Featuring collaborations with renowned artists and paying homage to early 2000s culture, Jaguar II is a follow-up to Monét's successful debut album, Jaguar, released in 2020.
'Jaguar II'
Victoria Monét has finally released her highly anticipated sophomore album. With 11 tracks written by Monét herself and produced by top-tier producers, Jaguar II showcases Monét's signature soft vocal style and resonates with listeners on a deep emotional level.
The release marks a significant milestone in Victoria Monét's blossoming career. As a singer/songwriter, Monét's unique blend of R&B, soul, and pop has garnered critical acclaim and a dedicated fan base. With the help of notable producers such as Deputy, KAYTRANADA, and D'Mile, Monét has crafted an album that showcases her exceptional songwriting and vocal abilities.
Who's On It?
Jaguar II features a star-studded lineup of collaborations, adding depth and variety to the album. Joining Monét on this musical journey are talented artists, including Lucky Daye, Earth, Wind & Fire, Buju Banton, and even her daughter Hazel Monét. These collaborations highlight Monét's ability to harmonize with other artists and provide a fresh perspective on her music.
One of the standout tracks on Jaguar II is "On My Mama," which pays homage to early 2000s culture. The song samples the hit track "I Look Good" by Chalie Boy, infusing it with Monét's unique style and captivating vocals. 
The accompanying visuals, choreographed by Sean Bankhead, further enhance the nostalgic atmosphere, taking listeners down memory lane.
Fan Reactions 
The release of "Jaguar II" has ignited a wave of excitement among fans, who have flooded the internet with their enthusiastic reactions. One fan expressed their love for the album, stating:
 "How Alright Got Me Feeling," while another raved about the seamless transition from "Smoke Reprise" to "Party Girl" by saying "OH GIRLLL THAT TRANSITION FROM SMOKE REPRISE TO PARTY GIRLS WAS NASTYYYYYYY." 
Victoria Monét Sells Out "Jaguar Tour" & Teases Highly Anticipated Album 
Victoria Monét has reached a sellout milestone with her upcoming Jaguar Tour, sparking excitement among her fans. Her collaboration with Ariana Grande and impressive Grammy nominations have solidified her position in the music industry. Monét is now ready to captivate audiences again with her highly anticipated album Jaguar II.
Victoria Monet "Blown Away" By Tour Sellout
Victoria Monét, born Victoria Monét McCants in Atlanta, recently expressed her gratitude to her fans as the tickets for her upcoming Jaguar Tour were sold out within minutes. She wrote:
"Ya'll my mind is BLOWN!!! you sold out this entire tour in minutes I'm gonna cryyyyy! You are the absolute best!! I did not expect all this but I'm so happy you really like me. I love you and I absolutely can't wait to see you/meet you all in person cheers to the tribe we sold out our first tour babyyyyy… thank you God thank you Team thank you YOU!!!" 
Victoria Monet Unveils "Jaguar II" Tracklist
In addition to her tour announcement, Monét unveiled the tracklist for her forthcoming album Jaguar II. With numerous features, the album promises a dynamic and diverse collection of songs that have already piqued the curiosity of her fans. 
Eager to share her creative vision, Monét wrote to her followers on Instagram saying:
"I present to you: The JAGUAR II TRACKLIST!!!!" I'm so happy to finally share this with you!! Look at these FEATURES screaming.. what is life? from the titles alone, which songs do you will be your favorites? I'm so curious"
Victoria Monét's journey in the music industry began as a gifted songwriter, collaborating with artists like Ariana Grande, Kendrick Lamar, Chris Brown, Brandy, and more. Monét's collaboration with Grande earned her nominations at the 62nd Annual Grammy Awards. 
Monet's Past Collaborations
The song "7 Rings" was nominated for "Record of the Year," and the album Thank U, Next received a nomination for "Album of the Year." In the following year, she received a nomination in the Best R&B Song category for co-writing Chloe x Halle's single "Do It." 
As her solo career blossomed, Monét released her debut album Jaguar, which earned critical acclaim and showcased her remarkable vocal prowess.
On April 1, 2019, Victoria Monét and Ariana Grande collaborated on the single "Monopoly," released while Grande was on her Sweetener World Tour. The song debuted at No. 70 on the Billboard Hot 100 chart, marking Monét's first entry as a solo artist. Additionally, Monét appeared at No. 16 on Billboard's Emerging Artists chart in the same week, further highlighting her growing recognition in the music industry.
A Journey To Success
Later that year, Monét released her single titled "Ass Like That," which served as the lead single for her debut project Jaguar. In early 2020, she followed up with the release of "Moment" and the promotional single "Dive." Monét's talent and potential were recognized when she was announced as Apple Music's Up Next artist in February 2020, further highlighting her rising career in the music industry.
Following her previous work as a songwriter, the "On My Mama" singer has now embarked on her artistic journey as a solo act, writing for herself. She released her debut album, Jaguar, which she describes as a trilogy. Building upon the success of the first installment, Monét took to Twitter to announce the release date of the highly anticipated sequel, Jaguar II, which is set to be released on Aug. 25, further establishing her place as a rising force in R&B. 
Fans can now pre-save and pre-order the album to ensure they are among the first to experience Monét's latest musical offering. Meanwhile, Victoria Monét continues to make waves with her music, including her vibrant single "Party Girls," which showcases her versatile talent and Caribbean influences. 
Coco Jones Snags "Best New Artist" Award
Among the emerging talents in the R&B scene, Coco Jones has been garnering attention for her soulful vocals and captivating performances. Jones is poised to make her mark as the music industry sees a rise in up-and-coming artists.