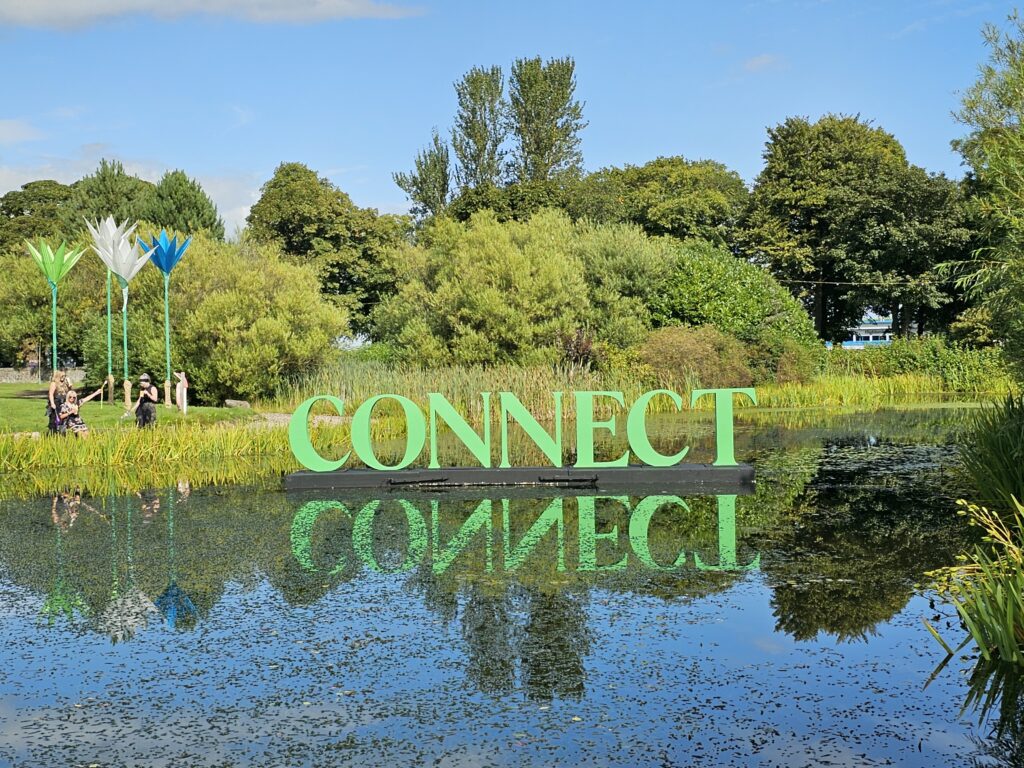 When: 25 – 27 August 2023
Where: Royal Highland Showground, Edinburgh, Scotland.
Scotland's Connect Festival had its second edition at its current home, the Royal Highland Showground in Edinburgh, after previously being held at Inveraray Castle on the banks of Loch Fyne in Argyll in 2007 and 2008. Not only does Connect have a diverse music programme but it also highlights the importance of wellbeing with a schedule featuring yoga, cold water therapy, life coaching, breathworks and motivational talks. Community is also evident throughout the event with a melting pot of comedy, spoken word, visual arts, plus locally sourced food and drink with vegan and non-alcoholic options, and a makers market. Organisations such as Greenpeace and the social enterprise Music Broth had stands with an opportunity to learn more about these organisations. The layout was open and spacious making it easy to move between stages. Lavender beds and apple trees at the Gardeners Cottage were a pure joy to see, and unexpected for a festival site. Glasgow's Yardworks had six hoardings up and local street artists were working over the duration of the festival bringing them to life.
Saturday saw the music focus shift more towards dance and beats on the main stages but the day began with the offbeat unique brand of post punk supplied by Glasgow's Humour and it was heartening to see a good crowd in for the 12.30pm start. They were followed by Edinburgh based Redolent on the Guitars and Other Machines stage. Their stage includes a neon strip light board which replays the lyrics and it's amusing to see words such as "radge" written out while they play. The Tiny Changes charity had a stage at the Gardeners Cottage. This is a charity set up in the memory of Scott Hutchison of Frightened Rabbit. Tiny Changes aims to support young people with their mental health and it was a beautiful space. I saw PAWS who are returning from a hiatus of a number of years, followed by Haiver, the project created by Frightened Rabbit's Billy Kennedy. It was obviously an emotional set. The Tiny Changes volunteers provided support for anyone who may have needed it.
Moving to the main stage, The Grand Parade, the indie-pop of American MUNA was drawing the crowd in, followed by a dash back to the Guitars and Other Machines stage for a set by Taahliah, the Glasgow-based DJ and producer who has risen through the underground queer scene. Roisin Murphy is simply entertainment personified. The joy of the crowd dancing to her music was wonderful, and we were rewarded with a Moloko track, 'Sing It Back' of course.
There was also a DJ stage called Unknown Pleasures which had music on all day. Highlights included J Wax, Joy (Anonymous) but especially Optimo (Espacio). For the latter the field was packed and to see so many people dancing and smiling was fantastic.
The band of the day were Edinburgh's own Young Fathers. No doubt about it. Their return after five years with album Heavy, Heavy is one of the highlights of the year to date. They played for an hour and never stopped. The energy they generate onstage is infectious but they must be mellowing as I spotted the odd smile and even a brief attempt at audience participation which was met with "That was shite". Hilarious.
A scamper back over to the Guitars and Other Machines stage to see Friendly Fires, obviously totally thrilled to be greeted by a crowd who was delighted to see them. It was a huge singalong as the light faded, and lead singer Sam MacFarlane looked like he was having the time of his life. And all too soon it was the headline act Fred Again. Perhaps the man of the moment in terms of DJing, the record producer, singer, songwriter, multi-instrumentalist as well as DJ gave the crowd what they wanted. A set full of energy and music to lose yourself to end the day.
In terms of the important practical elements of a festival, there were plenty of loos, bars and water stations throughout the site, meaning queues were not as excessive as elsewhere. The atmosphere was relaxed and friendly and there was a campsite this year, an addition since 2022. The size was perfect and the addition of the makers market, street art and space to chill created a day for all to enjoy.
To summarize: Highly recommended. And I'll see you next year.
For more information on Connect Festival please check out their facebook.
Credit: Julia Mason
Related