The infamous murder of rap legend Tupac Shakur remains a mystery, but recent developments indicate that the case is far from closed. Las Vegas police executed a search at a residence in Henderson, Nevada, as part of their ongoing homicide investigation into the tragic death of the "California Love" rapper.
Lack Of Cooperation From Witnesses
Tupac Shakur's life was cut short on September 7, 1996, when he fell victim to a drive-by shooting at the age of 25 while stopped at a red light in Las Vegas. Despite intensive efforts by law enforcement over the years, no one has ever been arrested or charged in connection with the shooting. 
The lack of cooperation from witnesses has significantly impeded progress in the investigation.
In a brief statement, the Las Vegas police shared, "We will have no further comments at this time," leaving the public eager for any updates that may come in the future.
Tupac's Legacy Lives On
The murder of Tupac Shakur sent shockwaves through the music industry and beyond, and his legacy continues to be celebrated even decades after his passing. He posthumously received a star on the Hollywood Walk of Fame. 
He was honored by the city council in Oakland, where a stretch of MacArthur Boulevard was renamed "Tupac Shakur Way" as a testament to his profound impact on the hip-hop genre.
Tupac's influence on music and culture cannot be overstated, with over 75 million records sold worldwide and six Grammy Award nominations during his relatively short recording career. His lyrics and messages still resonate with fans, making his untimely death all the more tragic and perplexing.
An Unsolved Puzzle
Despite allegations in the past that the case had already been solved, the reality remains that Tupac Shakur's murder has remained an elusive puzzle for nearly three decades. The recent search at a suspect's home shows that the investigation is still active, and law enforcement authorities are not giving up on finding answers.
As fans and admirers of Tupac's artistry, the hope for justice and closure in his murder case remains steadfast. Until then, the world continues to remember and honor the legend who left an indelible mark on the music industry and the hearts of millions worldwide.
Updated by Kelci Brown on July 19th, 2023
---
2Pac (Allegedly) Knows Who Killed Him, New Murder Details Revealed [Video]
Music icon 2Pac reportedly knew the person responsible for taking his life in September 1996. New details have surfaced following the late rap god's unsolved murder.
According to reports, an upcoming 2Pac TV special will dig into the hip-hop mogul's death.
Tupac Shakur knew who killed him but his murder remains unsolved because the Las Vegas PD never wanted to solve it … according to a new 2Pac special, and TMZ has the exclusive first clip. Pac's getting his own 'Snapped: Notorious' documentary on Oxygen airing September 10. It'll run 2 hours with in-depth interviews from people who were the last to see him alive before he was fatally shot dead in a drive-by in 1996. (TMZ)
A separate document is slated to premiere later this month called "Who Shot Biggie & Tupac?"
The special will feature interviews with former private investigators, police officers, informants and hip-hop insiders, including Doug E Fresh, Funkmaster Flex and former Death Row Records executive Suge Knight. For the first time ever, the best friends of Tupac and Biggie, Lil' Cease and E.D.I. Mean, will reunite on camera to talk about the friendship between the two rappers, their untimely deaths and the East Coast/West Coast fallout. Additionally, an exclusive, never-before-released audio recording of Biggie talking about the shooting of Tupac will be unveiled. (TV Guide)
NBA superstar John Wall recently showed off a Lil Wayne and Tupac Shakur tattoo.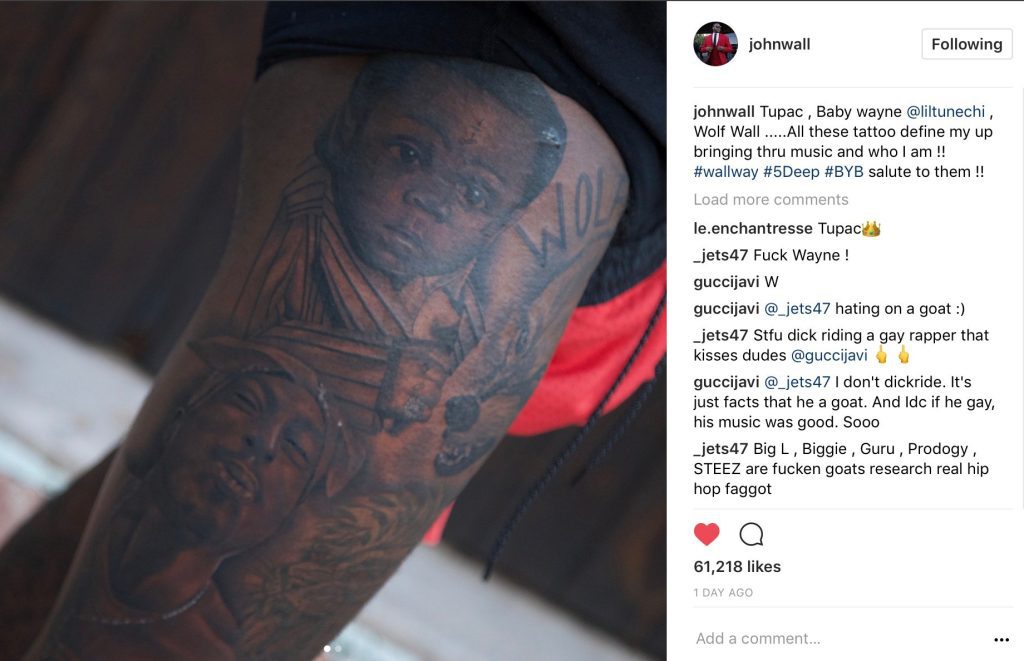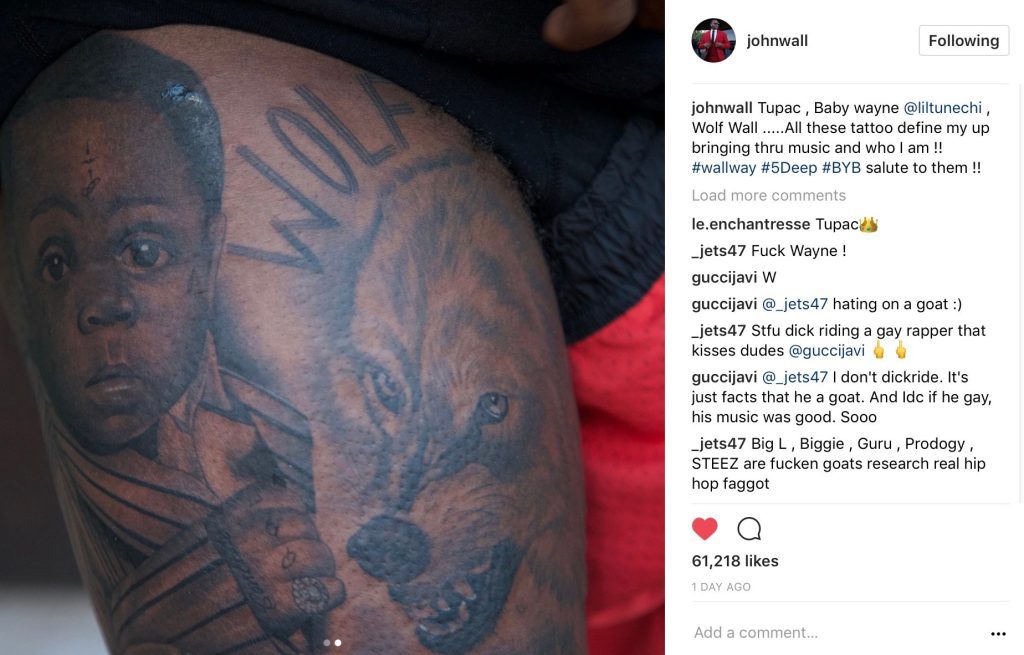 Over the past few weeks, hip-hop veteran Game has flooded his Instagram with Pac-inspired posts.