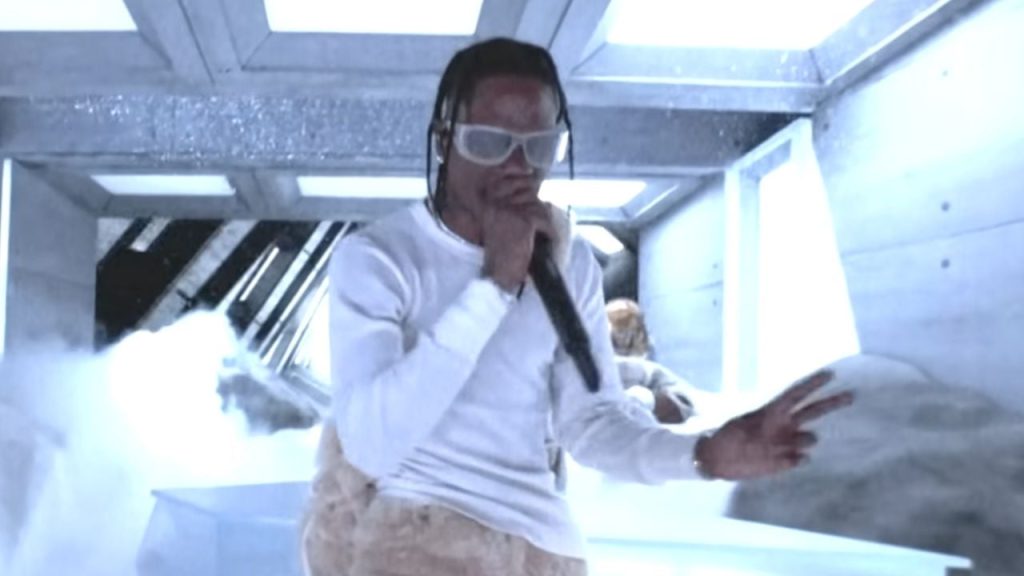 Travis Scott has released his film Circus Maximus for free on his YouTube channel. The film is a visual accompaniment to Scott's latest album, UTOPIA. Through collaborations with acclaimed directors Nicolas Winding Refn, Gaspar Noe, and Valdimar Johannsson, Scott aims to create a "surrealistic" and "psychedelic" journey into his vision of "Utopia."
Travis Scott Introduces "Circus Maximus" Film
Starting on a beach, the film, which has a runtime of one hour and fifteen minutes, takes viewers on a kaleidoscopic adventure, offering glimpses of Scott's personal life and musings about utopia. One segment features Scott engaging in a profound conversation with legendary producer Rick Rubin, reflecting on how his perception of the home has changed. 
As the film progresses, transitions are accompanied by tracks from UTOPIA, including "HYAENA," "SIRENS," and "DELESTO." Scenes vary from Scott riding in a taxi with a masked driver to pretending to be a DJ at a nightclub. Locations such as Iceland and Pompeii, Italy, provide settings for Scott's performances of "THANK GOD," "MODERN JAM," and "MY EYES."
Originally planned to be performed at Egypt's Pyramids of Giza, Scott's Circus Maximus live show occurred in Rome, Italy, on August 7. The film was released in select AMC theaters on July 27th, a day before the album's release, and is also available for streaming on Apple Music. 
With Circus Maximus, Travis Scott offers fans a captivating visual experience that complements the sonic journey of UTOPIA.
Updated By: Chris Samuel (8/15/23 at 4:43 pm)
Travis Scott Collaborates With A24 For New Movie, Directed By Harmony Korine
Travis Scott is making waves in the film industry as he takes on a new role in collaboration with acclaimed production company A24. Known for his chart-topping hits, Scott has ventured into the realm of cinema by writing and starring in a movie that promises to align with his upcoming album UTOPIA. However, the project faces uncertainty as Scott has yet to approve its release, leaving fans eagerly awaiting further updates.
Travis Scott x A24
The collaboration was announced in June 2022, with Scott signing a production deal with A24. Reports from The Film Stage suggest that acclaimed filmmaker Harmony Korine secretly directed the movie. The film garnered attention after an image of a script bearing the word Utopia (partially obscured by marker) was shared on both Travis Scott and A24's Instagram pages in 2022. 
Described as an action-oriented feature shot entirely in infrared, the movie recently underwent a test screening at the Metrograph Theater in New York, fueling the anticipation surrounding its eventual unveiling.
On July 16, Metrograph took to Instagram, teasing "the only ever screening of a very special filmmaker's secret new project," accompanied by a black and white image with the words "Secret Screening." However, the post failed to provide specific details regarding the movie's content or release date. 
A24, known for its diverse range of content production, has been behind notable films such as NBA superstar Stephen Curry's Underrated, Talk To Me, and the popular television series Euphoria. Harmony Korine, the acclaimed director linked to Scott's film, has previously collaborated with the rapper on artistic projects, including providing artwork for Travis Scott's Cactus Jack's JACKBOYS and making an appearance in Gucci Mane's music video "Last Time," featuring Travis Scott.
The release date for Travis Scott's eagerly anticipated film remains to be determined, leaving fans eagerly speculating about the project's future. While Scott continues to captivate audiences with his musical endeavors, his foray into cinema showcases his versatility and ambition, adding another dimension to his artistic repertoire.
In recent news, Travis Scott has announced an extraordinary event for his highly anticipated album, UTOPIA. The Grammy-nominated artist will perform in front of the Pyramids of Egypt in Giza, live-streaming the event in July 2023. Additionally, Scott has sparked speculation about a potential collaboration with rapper Sexyy Red.
Ye Unveils Trailer For Donda Documentary
Travis Scott isn't the only rapper exploring the intersection of music and film. In recent news, Kanye West unveiled his Donda documentary, coinciding with his DONDA album release. Both Scott and West demonstrate the growing trend of musicians venturing into cinema, further blurring the boundaries between these art forms.