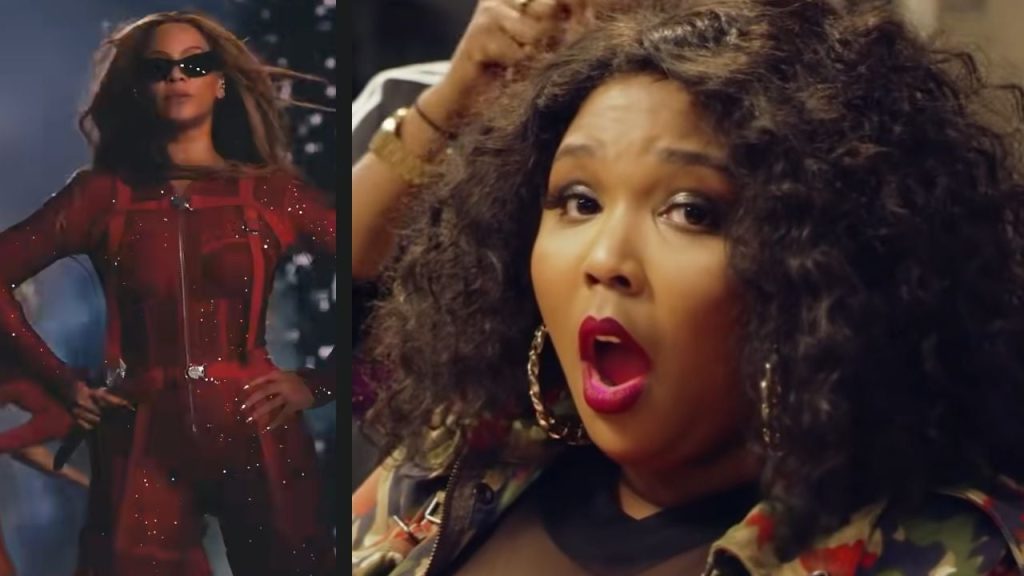 Beyoncé recently voiced her support for Lizzo amidst the sexual assault and fat-shaming allegations that have recently surfaced. These allegations have also recently caused the pop singer to be removed from the 2024 Super Bowl Lineup. However, during the Renaissance World Tour, Queen Bey publicly supported Lizzo, showing solidarity with the embattled musician.
Queen Bey Temporarily Removes Lizzo's Verse From "Break My Soul" Remix
Lizzo is currently facing serious allegations of sexual assault and fat-shaming from former dancers and employees. These accusations shocked the music industry, tarnishing the rising star's reputation. 
The controversy escalated with the "Rumors" singer's removal from the highly anticipated 2024 Super Bowl Lineup, further adding to her professional setbacks. Amidst these troubling events, Beyoncé also temporarily removed Lizzo's verse from the remix of their collaboration, "Break My Soul." 
"I Love You, Lizzo!"
During her performance on Monday, August 14, 2023, as part of her esteemed Renaissance World Tour, the "CUFF IT" singer publicly expressed her love and support for Lizzo. In a powerful moment, Queen Bey name-dropped Lizzo while performing the Queen's Remix of "Break My Soul," saying, " I Love You Lizzo," showing solidarity with the pop singer.
In response to the allegations and subsequent removal from the Super Bowl lineup, Lizzo enlisted attorney Marty Singer's expertise. Known for his work with high-profile cases involving celebrities such as Bill Cosby, Johnny Depp, and Chris Brown. 
However, neither Lizzo nor Beyonce has made any further statements regarding the ongoing lawsuit or the allegations raised against her.
Updated By: Kynedei Iman Hobbs (8/15/23 at 4:15 pm)
Lizzo Dropped From 2024 Super Bowl Halftime Show Amidst Harassment Claims
Lizzo has been dropped from the 2024 Super Bowl Halftime lineup following recent sexual harassment and fat-shaming allegations made by former dancers. The hostile work environment allegations have caused the NFL to remove the pop singer from the lineup swiftly.
Lizzo Dropped From The 2024 Super Bowl Halftime Lineup
In early August 2023, Lizzo found herself amidst controversy as her former dancers, Crystal Williams, Noelle Rodriguez, and Arianna Davis, filed a lawsuit against the singer, claiming she created a "hostile work environment." These allegations have caused significant backlash and have resulted in the pop singer's removal from the highly anticipated Super Bowl Halftime performance in 2024. 
The NFL quickly distanced themselves from the singer and addressed the claims against her.
"Sinking Ship"
Lizzo's team stated that they are "desperately trying to come up with a strategy to save her sinking ship" amidst the growing number of accusations against her. An undisclosed music executive from Lizzo's team expressed:
"It is becoming more and more difficult with more people coming forth accusing her of extremely inappropriate acts."
Amidst the backlash, there have been various reactions from industry insiders and fans. Music executive and internet personality Wack 100 defended Lizzo on Instagram, stating:
"Way to much heat on the sista. @lizzobeeating your courage got you to where your at. Use your courage to fight through these dilemmas . Woman has done nothing wrong . We all have a right to make decisions. Entertainers take note to this. I rather your circle not like you for not inviting them than try to destroy your career for allowing them to be there .. Be responsible for you . Let them find their own way after the business is done. #Jigga #Lizzo needs to be placed back on that #SuperBowlShow."
Lizzo has yet to speak publicly on the matter.
Foot Locker Declines Yeezys
In related news, Foot Locker recently faced a similar situation as they declined to carry Kanye West's shoes due to concerns about potential backlash. ​​The decision came after Adidas relaunched the Yeezy brand in the early summer of 2023.
Originally Written By: Yasmine Duhé