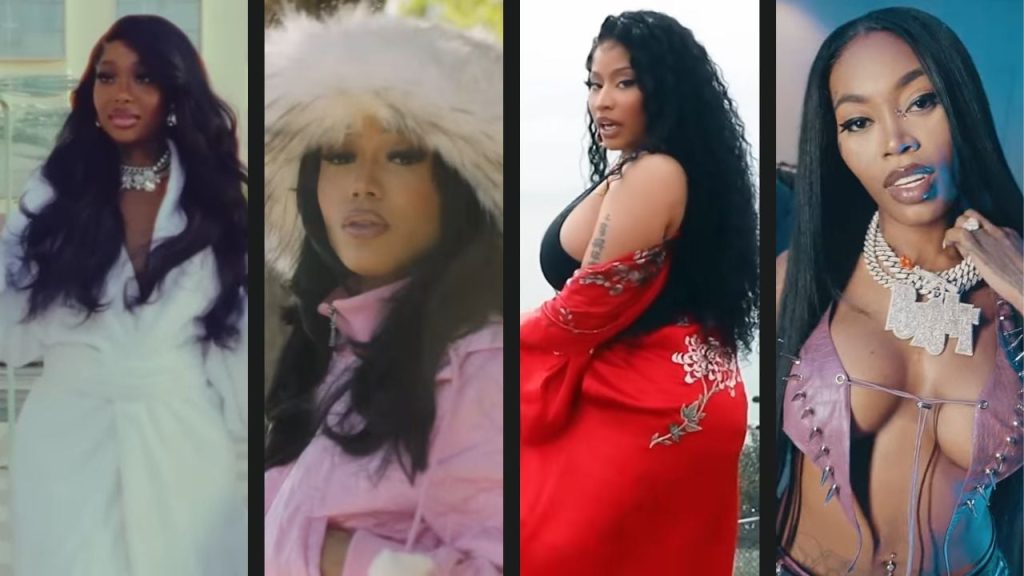 Single Ladies, the women ruling the music scene, continue to make their mark. This week, Nicki Minaj releases her much-anticipated music video and partners with a plastic surgeon for a charitable cause. Rihanna outpaces Eminem in certified units, and Summer Walker thrills fans with her new EP. The ladies are making waves, and we're here to give you all the exciting details.
Nicki Minaj and the Power of Change
Nicki Minaj finally dropped the highly-anticipated music video for RRDS feat Brooke Bailey. The Barbz have been gagging ever since. Plus, the fantasticness doesn't fall too far from the tree. Nicki Minaj's mother, Carol Maraj, has partnered with a prominent New York plastic surgeon to provide free plastic surgery to victims of domestic violence. Maraj, a survivor of domestic abuse, believes reconstructive procedures can give new life to victims disfigured at the hands of their abusers.
Rihanna Overtakes Eminem
According to reports, Rihanna now has 166.5 million certified units following a slew of new certifications between March to May. This including her first diamond-certified record in the form of her Calvin Harris collab "We Found Love," a five-time platinum plaque for her album Anti and other platinum singles. Riri has a total of 57 gold units, 44 platinum units, 34 multi-platinum units, and one diamond unit.  With this feat, the bad gal and Mama of baby RZA overtakes Eminem's record of 166 million certified units.  And have you seen her nude drop on the gram from her RZA pregnancy?
Summer Walker's Exciting Release
Summer Walker generated excitement among her fans when she revealed the tracklist for her highly-anticipated project, The SOFT LIFE EP with a trailer, featuring Summer, Sukihana, and SexxyRed talking about the one thing they refuse to put in their mouths. The "Girls Need Love" singer dropped the official music video for "Pull Up" and the entire EP on May 19th.  What's your fav track?
Coi Leray Narrates For The WNBA Players
Coi Leray narrates a new WNBA commercial, "More Than Game." The petite Player's Anthem rapper can be heard in the background giving props to the "sisterhood" of the "fearless" women's basketball empire.  Plus, Coi's going for another round, promising her that her new album "COI," is dropping June 23rd."
Kim Kardashian To Provided Support On Mother's Day
Kim Kardashian joined forces with Michael Rubin's REFORM Alliance to provide financial support to more than 50 mothers on Mother's Day. The collab aimed to alleviate the burden of restitution, fines, and fees imposed on these women trapped within the probation and parole system.
Beyoncé is hyping up fans about a new haircare product, inspired by her mother, Tina Knowles, a former hairstylist.  
And on the subject of looks, when you see the mothers of Ice Spice, Teyana Taylor and Young Miami, you'll agree that 'the fruit doesn't fall far from the tree.'
Cardi B Stays Getting The Bag
Cardi B took to her Twitter account to share her new commercial with the Beats Studio Buds+. The video captures Cardi B using the earbuds while indulging in her favorite music and gabbing on the phone.  Get your bag, Cardi "Beats!"
Yung Miami x Not Black Chyna Anymore
Yung Miami drops a new episode of her CareshaPlease podcast with Angela White (formerly Black Chyna).  People are saying it was "like watching paint dry" because Angela is not "messy" anymore.  "This episode of #CareshaPlease wasn't giving," offered one fan.  "I'm happy for Chyna growth but this episode wasn't for her." What do you think?  The City Girl also took to her socials with some reveals – she has new music coming "Fr fr this summer fr fr" and her next guest is her "favorite female singer."  Who do you think it is?
Asian Doll Becomes First Lady Of Self Made
Speaking of new beginnings, congratulations to Asian Doll on becoming the first lady of Self Made Ent. The signing day was full of cheers as the artist sat behind a pile of money surrounded by family and friends. The event was documented in a tweet by Dee Brown, the CEO of Self Made Ent Tweet. It will be interesting to see where this new partnership leads and what fresh music will come from it.
Scar Lip Links Up Snoop Dogg
Remember when Scar Lip hit up Snoop for a collabo and he was like "hell yeah?" Well the track has dropped – "This is Cali."  Though fans are happy for Scar Lip, there's concern about her team "fumbling" her and moving too fast.  "Please be mindful of the decisions and path they're taking you on."
"You have the East coast f–king w you and if you immediately jump and make a west coast anthem you risk losing the momentum you gained with NY. You are a star in the making, make sure your team don't fumble the cards you have— they're good cards."  You feel that?
That's all for the Single Ladies this week! Catchup with us next Friday!