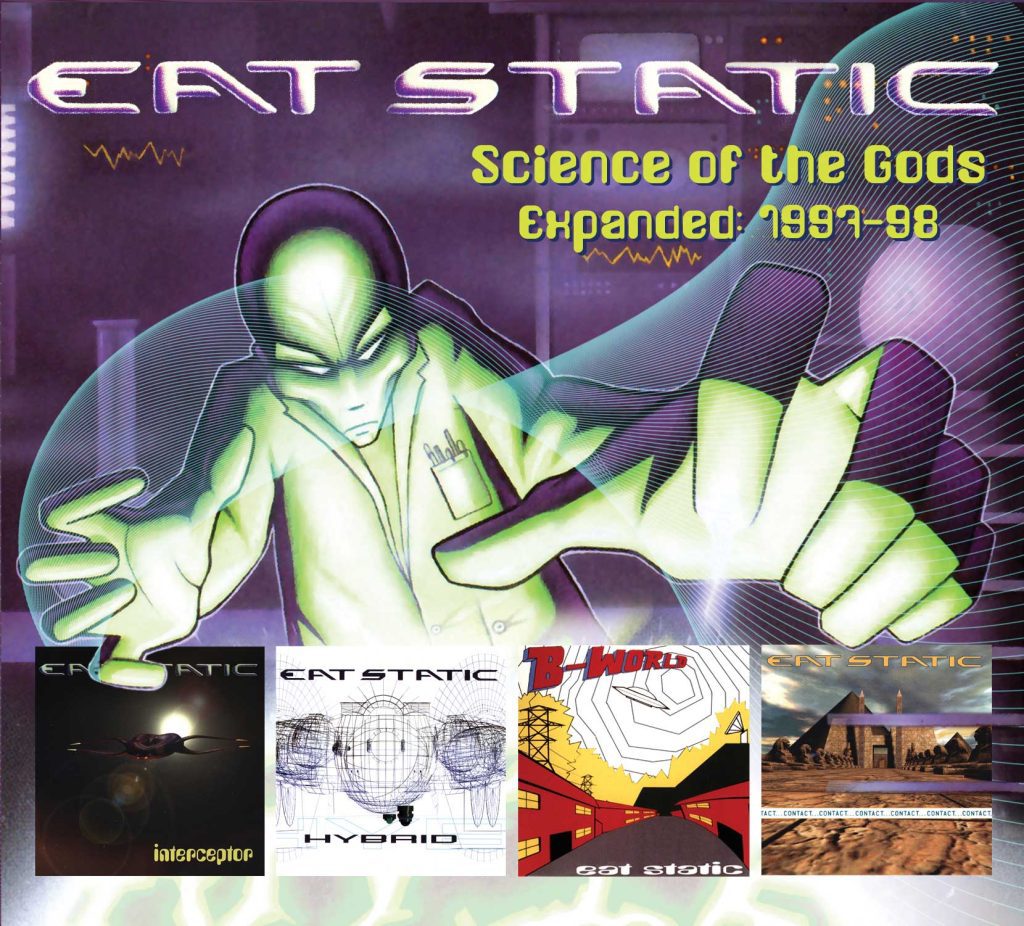 Love the way this collection launches. Starting with the eponymous track from the album 'Science Of The Gods', like the most horrific sci-fi movie, strange entities are introduced before the pace grows, and flushing the toilet may never be heard in quite the same way again. These beats are reduced before one again increases, but this time at a higher bpm. This continues at just short of 10 minutes, although with a changing pattern. Kitchen disco, pah! I'm raving, I'm raving and heading for a straight jacket at this rate, or at least this is what I'm told.
Eat Static, was born out of Somerset's Ozric Tentacles, where Merv Pepler and Joie Hinton went to explore the outer reaches of what music could produce. Unlike the sometimes psych-rock vibe, this band was producing, when the two split off to create this project, they were to join rave heads the likes of Orbital, Underworld, KLF, The Prodigy, and a host of other artists producing high-tempo electronic, or trance music. These were sounds whose beats were not only faster but harder and more menacing. This would see others ready to throw their hats into the ring, seeing this branch of alternative music laying its path to their own Optical Delusion, as Orbital said earlier this year. Or in this case, perhaps it should be audio perception, after all, "the truth is out there."
The tones, beats, and rhythm of this first disc, go along nicely, with the constant whir of my coffee machine when it's producing my morning fix. I may not be physically in a warehouse, field, or other open space, but the brown stuff proves to be my red pill of choice. This takes me into a headspace, that with the music proves as exhilarating, as if I were in a place with other like-minded individuals, I'm happy. (Referring to taking illegal substances is perhaps the wrong projection, but visiting the place beyond the looking glass and into one's own imagination, without pharmaceuticals, can be the perfect escape from the every day.) This album, first released over 25 years ago is proving every bit as deep as when I first encountered it. Its synthetic tones and repetitive passages are a perfect venue to take the imagination, clear of any vocal colouring, I'm completely immersed.
The second disc B-World, is a collection of live performances, between 1997 and '98, and as the set starts, the whistles and whoops coming from the audience might be considered a little distracting, but these soon subside and any interference is lost. This set of 75 minutes and 9 tracks, should soon submerge anything other than the performance. The beats, heavy bass and continuing motion provided by their "Static Sounds" and Roland kit does everything but remain static. By the time the original duo released this album, the act had released only four albums, but this set is enough to keep any party pumping. A performance that obviously spans different locations over the two years, these recordings are surprisingly well put together and become what seems a single performance.
Like any good collection, the remaining two discs feature remixes and extended plays that were otherwise found on 12" releases and these days are perhaps more difficult to find. So once again consider this a public service. A trance set worthy of any raver, although these days perhaps wind the tempo down, or is that just me?