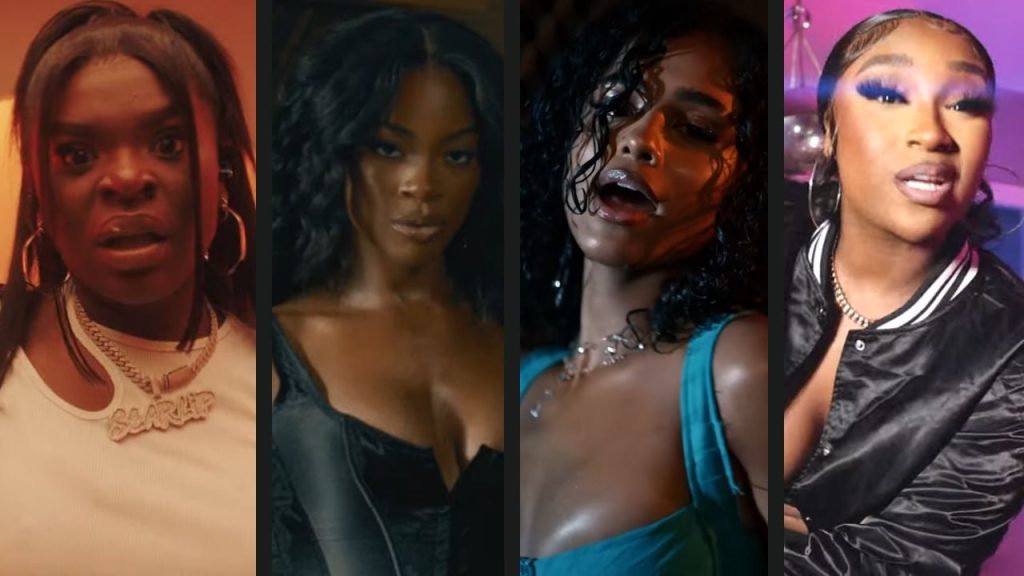 The hip-hop scene is buzzing with numerous exciting developments featuring female artists. Scar Lip takes the stage at VEVO's DSCVR Artists To Watch 2024, Sexyy Red offers a tantalizing glimpse of her upcoming deluxe album, Cardi B's family is set to make a splash in Nickelodeon's Baby Shark's Big Movie, and more. 
Scar Lip Gets Active 
On Wednesday, Nov.15, New York rapper Scar Lip took her talents and energy to VEVO's DSCVR Artists To Watch 2024 stage where she performed her songs, "BLICK" and " No Statements."
Erica Banks With A New Release 
On Tuesday, Nov. 14, the "Poppin' It: rapper revealed the cover art and tracklist to her new project, Real Rap Bitch. 
The project features other notable female rappers, such as Gloss Up and K Carbon. The album is set to be released on Friday, December 1st.
Ari Lennox With A New Banger 
The "Stop By" singer, Ari Lennox, has just released her newest single titled, "Get Close."
Up next for the singer will be the 2024 Dreamville Festival, which will be taking place in April 2023. Lennox's fans and supporters will be nothing short of fulfilled. 
Flo Milli To Collab With Lil Yachty 
On Thursday, Nov. 16,  Lil Yachty took to his Instagram story to share an exciting screenshot. 
The picture displayed an audio recording sent via iPhone text message to Flo Milli, in which she followed up with multiple audio recordings. Looks like there could be a track titled "Never Lose Me" for fans to enjoy in the near future.
Tyla x Travis 
The South African singer and songwriter, released her newest "Water" remix on Nov. 17. 
The remix features Travis Scott in which he inserted his dark undertones which gave a new twist and more sensual vibe to the song. Since the release of this remix, the song has garnered over 170,000 views on YouTube within 15 hours of its release.
Cardi B & Fam 
In a groundbreaking move, Cardi B and Offset and their children Kulture and Wave are making a splash in the entertainment industry. 
The Cephus family is joining Nickelodeon's cherished Baby Shark franchise for the eagerly awaited Baby Shark's Big Movie. The film promises to captivate audiences while showcasing the talents of hip-hop's favorite couple and their charming children.
Nicki Minaj Has Some News For The Barbz 
On Friday November 17th, Nicki Minaj released both new cover art and a city list in which she will be doing her upcoming Pink Friday 2 Tour. 
With her new album release date right around the corner, the "Since The Last Time I Saw You" artist has also dropped the presale sign up for fans to have early access to ticket purchases. To add to the excitement, also stated that she had one more cover to reveal to coincide with her Pink Friday 2 album which is also available for pre-order on her store.
Sexyy Red Teases New Project 
The "Lookin' For The Hoes" rapper, recently teased fans with a new hot pink cover art for her Hoods Hottest Princess album. The new album stands as the Deluxe album in which she will feature other artists on. The release date has not been confirmed by Sexyy Red, however, it does give fans something exciting to look forward to. Who would you want to hear on the Deluxe? 
Megan Thee Stallion Gets Fit 4 Fans
With the new year right around the corner, Meg has been giving the girls body and new workout plans. The rapper gave us a glimpse of her daily workout routine from diet suggestions, cardio, weight lifting, and an overall physique check for those looking to improve their physical health. To add more spice to the mix, Thee Stallion, was spotted at GQ's 2023 Men Of The Year event, wearing a chocolate mesh dress that complimented her shape like no other. 
SOHH fam, let's support these ladies and have a fun-filled weekend!