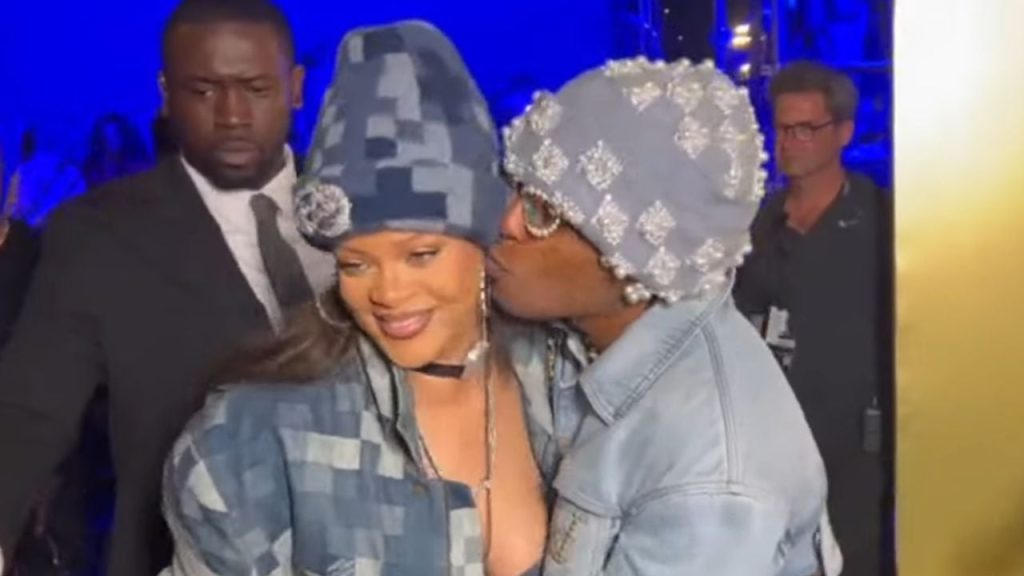 Rihanna and A$AP Rocky have kept quiet since the secret birth of their new baby boy. The gender has now been confirmed, and the couple has chosen a unique name that may sound familiar.
Welcome, Riot
Since the birth in early August, Rihanna and A$AP have remained relatively secretive about their new addition. Many wondered whether they had welcomed a baby girl or a baby boy. However, the news has now been confirmed – it's a baby boy.
Not only has the gender been revealed, but the name has also been leaked. The couple has chosen to name their son Riot Rose Mayers. 
The name choice has sparked curiosity among fans and media, as it appears to have a connection to Asap Rocky's newest single titled "RIOT." It is uncertain whether the song inspired the name or if it is a tribute to their baby boy.
Both Rihanna and Asap Rocky have a history of giving unique names to their children. The couple has not made any public statements regarding the inspiration behind the name choice. 
However, fans eagerly await the couple's thoughts on the significance of Riot Rose Mayers.
Updated By: Kynedei Iman Hobbs (9/8/23 at 5:19 pm)
Rihanna & A$AP Rocky Secretly Welcome Baby # 2
Rihanna and A$AP Rocky, the power couple adored by fans worldwide, shocked everyone by secretly welcoming their second baby in early August. While the name of their bundle of joy hasn't been confirmed, fans are eagerly awaiting the reveal. 
Rihanna & A$AP Welcome Baby #2
It appears Rihanna and A$AP Rocky, who previously welcomed their first child, RZA, in May 2022, are embarking on their journey as parents of two with no social media activity confirming the news. According to TMZ, the couple's new addition is a baby boy, born on August 3 in Los Angeles. 
An additional source close to the family tells PEOPLE that "Rihanna feels her family is now complete" and "it's something she's always wanted." While the name of their newest addition remains a mystery, sources have hinted that the name starts with an 'R,' following the pattern set by their first child, RZA.
Fans React
Fans are eagerly anticipating the couple's announcement and celebrating the arrival of their growing family. Despite the lack of official announcements, fans took to Twitter to express their excitement and share humorous reactions. Some fans were led astray by earlier leaks suggesting the second child was a girl. 
One fan exclaimed, "Now who lied and said she's having a girl," while another playfully suggested a vasectomy for A$AP Rocky, "Time for asap to get a vasectomy so fans can enjoy a new album after rih recovers." 
Nonetheless, the joyous occasion of expanding their family to four has left fans delighted and eagerly awaiting updates from their favorite couple.
The Big Announcement
In February 2023, the Bajan songstress delighted fans by confirming her second pregnancy during her Super Bowl LVII halftime show. The announcement came as fans saw her rubbing her belly bump, creating excitement and anticipation. 
NLE Choppa Welcomes Baby Boy With Ex-Girlfriend
Just weeks after Rihanna and A$AP Rocky welcomed their second baby, another artist, NLE Choppa, celebrated the arrival of his newborn son with ex-girlfriend Marissa Da'nae. The Memphis native shared the joyous news on Instagram, documenting the intimate moments of the birth process.
Originally Written By: Aveon Sims