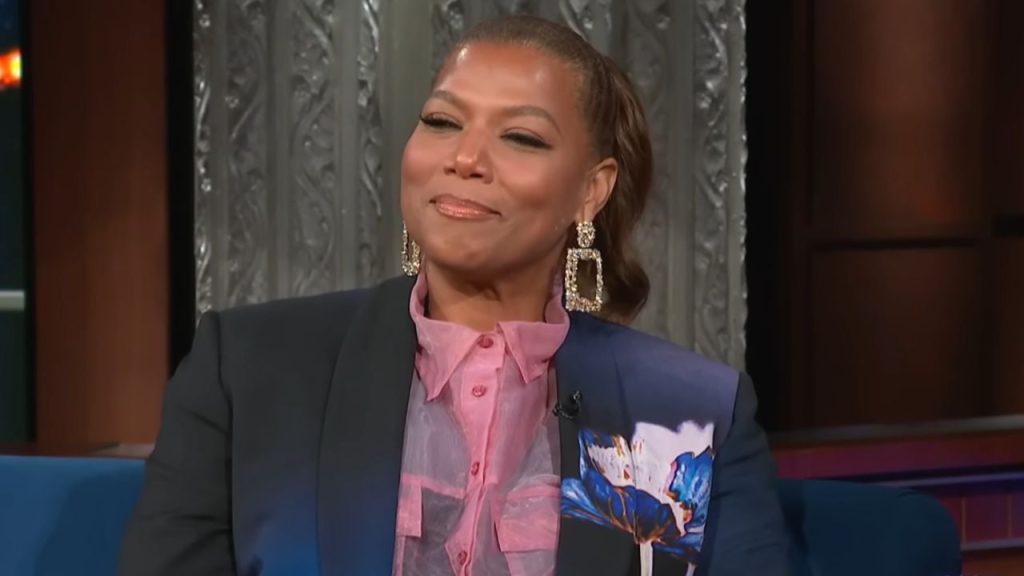 Queen Latifah recently captivated audiences with her remarkable rendition of the American National Anthem during Sunday night football. As the iconic artist showcased her musicality, her performance sparked a conversation about her vocal abilities. 
Queen Latifah Sings The National Anthem
On September 10, Queen Latifah impressively belted out the American National Anthem at the NFL Giants and Cowboys game at the MetLife Stadium in East Rutherford, New Jersey. 
Clad in an elegant all-white suit, Latifah delivered a powerful rendition of the classic Star Spangled Banner during the game, while also paying tribute to the victims of 9/11. The soulful performance showcased her vocal range and struck a chord with the stadium audience.
Fans React
While many expressed admiration for Latifah's talent and versatility, others seemed surprised and even skeptical about her singing abilities. One Twitter user dismissed her as not famous enough to warrant such attention, stating, "Ya'll dragging it lmao she is not famous enough for anything, especially singing, to do all this." 
In response, numerous fans defended Latifah, where one user wrote,"I wish ya'll would just admit ya'll are ignorant in regards to musical knowledge instead of trying to diminish a legends' career to make shady quips. Singing has been intertwined with Queen Latifah's artistry since the very beginning of her career."
More comments flooded in where another said, "I know that we all love Queen Latifah, but she really doesn't get enough credit for being one of the most multidimensional talents of our generation." Another user expressed genuine surprise, saying, "No, I'm legit mad folks ain't know Queen Latifah can sing. Like multiple folks lmao."
Queen Latifah: A Multi-Talented Artist
Queen Latifah's impact extends beyond her dynamic singing and acting career. The influential artist has also played a fundamental role in shaping the hip-hop genre. 
In addition to her critically acclaimed music, Latifah has managed other chart-topping hip-hop artists like OutKast, Monica, and Naughty By Nature. Her managerial contributions have been instrumental in propelling these artists to new heights of success.
Latifah's immense influence as a female artist in hip-hop is also celebrated in the new Netflix series Ladies First: A Story of Women in Hip-Hop. This groundbreaking series pays homage to Latifah's pioneering spirit and sheds light on women's significant impact on the genre. 
Latifah's contributions and efforts to uplift and empower fellow female artists continue to shape and inspire the future of hip-hop.
Lizzo Dropped From 2024 Super Bowl Halftime Show
In the realm of the NFL, the controversy surrounding singer Lizzo continues to unfold. The pop artist has recently been dropped from the 2024 Super Bowl Halftime show due to ongoing sexual assault allegations and lawsuits filed by her former backup dancers, one of which accuses her of fat-shaming and sexual assault.