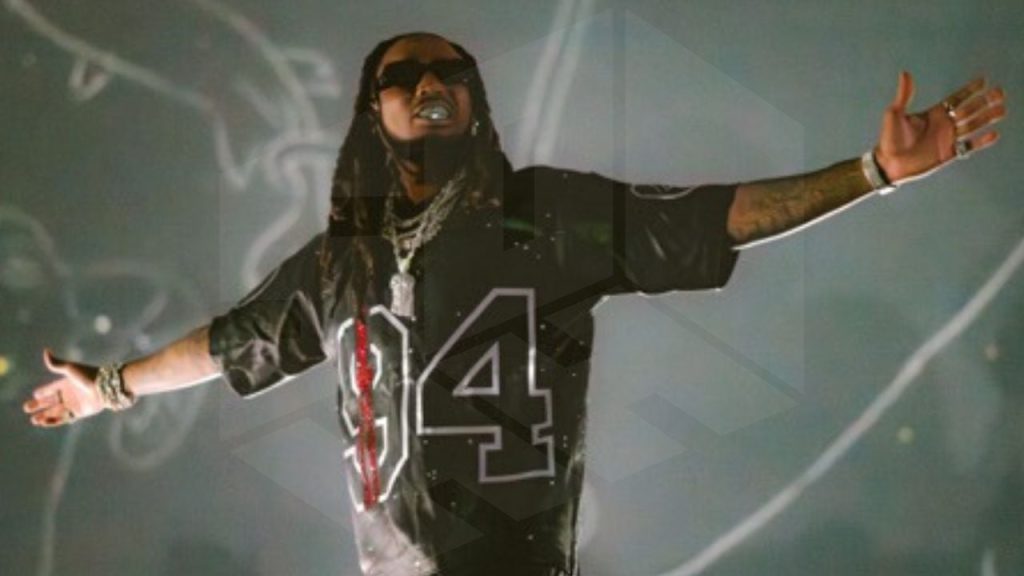 Quavo celebrated his late nephew, Takeoff, and the release of his album, Rocket Power, in spectacular style on August 17, in New York City. The event took place at The Hayden Planetarium and featured a mesmerizing intergalactic-themed laser light show, a fitting tribute to his nephew, Takeoff aka "The Rocket." Despite his recent loss, the former Migos member found the strength to celebrate and share new music with his dedicated fans and family beside him.
Rocket Power Release Party "Out of This World"
Just two days before the event, Quavo took to social media to build anticipation for the album's release. He posted an announcement with the caption "PRE SAVE #RocketPower Now! Link In Bio," giving fans the opportunity to save the album and granting them access to the exclusive pre-release listening session. 
This event, held in the Hayden Planetarium in NYC, offered attendees an out-of-this-world experience with laser lights.  Quavo appeared out of the darkness, surprising fans who stood on their feet and applauded at the sight of Quavo's entrance.
The rapper arrived with his entourage, alongside his sister and his mother.  Noticeably missing was fellow Migos, Offset, who he recently performed with in honor of Takeoff.  Upon arrival, Huncho gave a crowd-pleasing performance of his new hit single "Turn Yo Clic Up."
Quavo Shares Moment With Takeoff's Mom
In the midst of the celebration, Quavo took a moment to deliver a touching speech. Standing alongside his mother and sister, who is Takeoff's mother, he spoke about the challenges he faced in completing the album after the passing of Takeoff. 
Quavo expressed the difficulty of the situation, saying:
"Going through this right here, it was tough. It was super tough. It was super hard. We're just tryna get through it. But at the same time, we still gotta get these people music and make sure we stand here for y'all cause y'all going through the same thing. Everybody hurt. Everybody got problems."
Rocket Power is set to be a remarkable album, featuring 18 tracks with two posthumous verses from Takeoff on the songs "Patty Cake" and "Position." The album also includes collaborations with artists like Young Thug and HUNXHO, as well as previously released tracks such as "Honey Bun," "Greatness," and "Turn Yo Clic Up" featuring Future.
Additionally, fans can look forward to the release of a new music video for the album's focus track, "Hold Me."
"Rocket Power:" 18-Tracks w/Takeoff Features