NLE Choppa and Houston rap legend Mike Jones were engaged in a social media dispute over a sample used in Choppa's song, "C'mon Freestyle." The Memphis rapper alleges that Jones' team copyrighted his song despite initially clearing the sample. The back-and-forth between the two artists has sparked a heated debate among fans and followers.
'C'mon Freestyle' Vs. 'Still Tippin' 
On Oct. 25, NLE Choppa released "C'mon Freestyle" after allegedly obtaining clearance from Mike Jones and his representatives to use a sample from Jones' 2004 hit "Still Tippin'." 
However, on October 29, Jones posted an email from his representative dated July 5, 2023, revealing that Warner Chappell, Jones' publisher, had denied the sample clearing due to a financial agreement that Choppa's label and team had not fulfilled. The exact amount of money involved was not disclosed.
Taking to his Instagram story, Choppa called out Jones, expressing his disappointment in the apparent copyrighting of his song: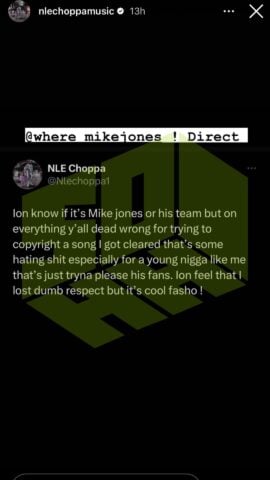 Despite this dispute, Choppa continued to promote "C'mon Freestyle" as being better than the original.
Sampling Gone Wrong
The clash between Choppa and Jones sparked reactions from users on Twitter (X). 
One user commented, "Create your own music and you wouldn't have this problem," and another sampled, "The new generation of rappers are the only ones that continuously think they can repurpose an entire instrumental with no pushback." 
On October 30, Jones posted a series of images on Instagram, including screenshots of his missed calls from the "SLUT ME OUT" rapper regarding the sample clearance. He also emphasized the need for Warner Chappell and Atlantic Records to handle the situation surrounding the sampling of his music more appropriately. 
Currently, the audio video for "C'mon Freestyle" remains available on YouTube, but the official music video has been taken down.
In early October 2023, NLE Choppa faced a copyright infringement lawsuit from 1980s rapper Rodney O for allegedly failing to credit him for sampling his 1987 song "Everlasting Bass" in Choppa's 2020 track "Who TF Up In My Trap."
Jay-Z, Timbaland & Others Win Copyright Lawsuit
Just like NLE Choppa and Mike Jones, other artists, including Jay-Z, Ginuwine, and Timbaland, have faced accusations of illegally using samples. In a previous case, soul singer Ernie Hines filed a lawsuit against Timbaland, claiming copyright infringement for sampling two of his songs in Jay-Z and Ginuwine's tracks.