Missy Elliott and Ginuwine are mourning the loss of fellow artist Magoo, who tragically passed away on August 13, 2023. Recently, Elliott paid tribute to Magoo and credited him for coining her iconic nickname "Misdemeanor." 
"So Many Emotions"
The loss has deeply affected Missy Elliott, as she expresses her sorrow and reflects on the impact Magoo had on her career.
Missy Elliott's heartfelt post on Instagram captures her emotions: "These are the kind of post I don't wish on anyone. At first, I was in shock, but as I sit, the reality kicks in, and so many emotions flood over me… I am so lost for words… 💔"
Magoo, whose real name is Melvin Barcliff, was a rapper known for his contributions to the hip-hop industry. Missy, one of the pioneering female rappers, shared a close bond with Magoo, which stretched beyond their musical collaborations. 
During this partnership, Magoo affectionately bestowed the nickname "Misdemeanor" upon Elliott, a moniker that would go on to become synonymous with her artistic identity. This endearment act exemplifies their mutual respect and admiration for each other.
Ginuwine Speaks Out
In addition to the Supa Dupa Fly artist's post, fellow artist Ginuwine also expressed his condolences for Magoo's passing through his Instagram account. The "So Anxious" singer spoke highly of Magoo and emphasized his admiration for his talent and determination.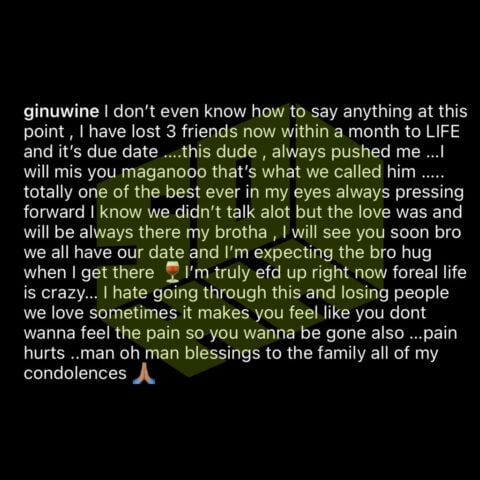 Updated By: Kelci Brown (8/15/23 at 6:14 pm)
Virginia Rapper Magoo Dead at 50: Timbaland Pays Tribute
Virginia rapper Magoo, whose real name was Melvin "Magoo" Barcliff, sadly passed away at 50. The news of his untimely death was announced on Sunday, August 13, 2023, although the location of his passing remains unknown.
R.I.P. Magoo
Shortly after the news broke, Timbaland took to Instagram to express his deep sorrow at losing his longtime friend. In a heartfelt post, he wrote:
"This one hits different. Long live Melvin aka Magoo! Tim and Magoo forever. Rest easy my king." Benjamin "Digital Black" Bush, one-third of the American R&B/hip-hop group Playa, also shared his grief on Instagram, saying, "Man can't believe this. RIH Magoo. Damn, big bro wasn't ready for this at all. #superfriends"
Magoo's Contributions To Hip-Hop
Magoo was best known for his partnership with fellow Virginia native and producer Timbaland in the hip-hop duo Timbaland and Magoo. Both artists, alongside Pharrell Williams and Larry Live, were members of SBI (Surrounded By Idiots), a collective that played a pivotal role in their careers.
Magoo's contributions to the music industry will always be remembered. He was a pioneer, and his unique style left an indelible mark on hip-hop. His passing has left a void in the hearts of his family, friends, and fellow artists.
No Cause Of Death Yet
The cause of Magoo's death has not been confirmed and remains an ongoing story.
In considering the loss of the late artist, we are reminded of the tragic passing of one of Magoo's collaborators, DMX, in April 2021, also at the age of 50. 
"Cha Cha Slide" Creator Passes Away
Furthermore, in August 2023, DJ Casper, the creator of the famous "Cha Cha Slide," succumbed to cancer at 58 after a long battle. As news of his death spread, fans took to social media to remember the impact of the "Cha-Cha Slide" on their lives, a testament to the lasting legacy of the late creator.
Originally Written By: Kynedei Iman Hobbs