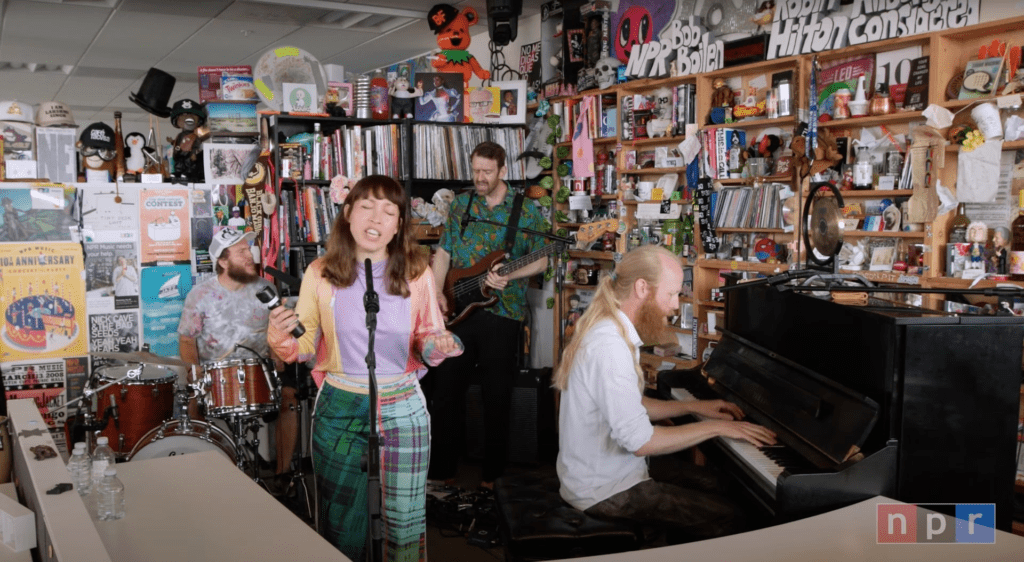 Beloved Grammy-nominated Swedish band Little Dragon, have returned to NPR's coveted Tiny Desk series, playing songs from their latest album Slugs of Love. The band's first in-person performance for the coveted series comes ahead of a full North American tour in September/ October and a ten-date European tour finishing at London's iconic Royal Albert Hall on November 22nd. The band made their first appearance at Tiny Desk's (Home) concerts in 2020. This time around sees the band play stripped-back versions of  'Tumbling Dice' and 'Gold' in person. They also revisit 'Where You Belong' and add a jazzy spin on their classic 'Ritual Union.' Watch here:
The band's Tiny Desk performance comes ahead of a full headline North American and European tour this Autumn where they'll be making stops in Hollywood, San Francisco, two nights at Brooklyn Steel, Kägelbanan (Stockholm) and many more, before finishing at London's iconic Royal Albert Hall on November 22nd. More details here: Upcoming shows – Little Dragon. (little-dragon.net)
Little Dragon's hugely popular and highly regarded live performances have spawned a decade-spanning touring career, including festival highlights including Cochella, Glastonbury, Lollapalooza, Bestival, Sonar, All Points East, Parklife, Lovebox and sold out two nights at London's Roundhouse and, recently, Koko.
Consisting of school friends ErikBodin (drums and percussion), Fredrik Wallin (bass), Håkan Wirenstarnd (keyboards) and Yukimi Nagano (vocals), LittleDragon have gone on to become one of the most consistent, respected and universally loved recent bands.  Recorded in the musical oasis of their Gothenburg Studio- the same studio they have worked in for almost 20 years- on Slugs Of Love' they bring their distinctive blend of soulful pop, electronics and R&B-all underpinned by lead singer Yukimi's instantly recognisable vocals-to the fore across eleven tracks that encapsulate the full range of their diverse individual musical influences. 
'Slugs of Love' features a guest turn from Damon Albarn on 'Glow', a "slow dripping glittery ride to a daydream in wonderland" and a collaboration with respected East Atlanta rapper JID (who is signed with J. Cole's Dreamville label) on the previously released single 'Stay', a song which charts the ups and downs of a relationship.
Describing the process behind the album, the band explain that "we've been exploring different ways to collaborate and communicate. Dissolving patterns and making new ones. Nurturing our ability to curiously press down keys, to bang — sometimes hard sometimes gently — on different things, strumming strings, recording sounds and investigating the limits for how much or little a sound can be tweaked… Together we have developed, replayed, danced to, cried and laughed to this music as it has evolved forwards, backwards, sideways and all around, but now finally as a complete masterpiece… This feels like our finest work yet. We are very proud." 
Follow Little Dragon here:
Little Dragon | Official Website – Little Dragon. (little-dragon.net)
Order Slugs of Love here:
Little Dragon – Slugs of Love (lnk.to)
Related