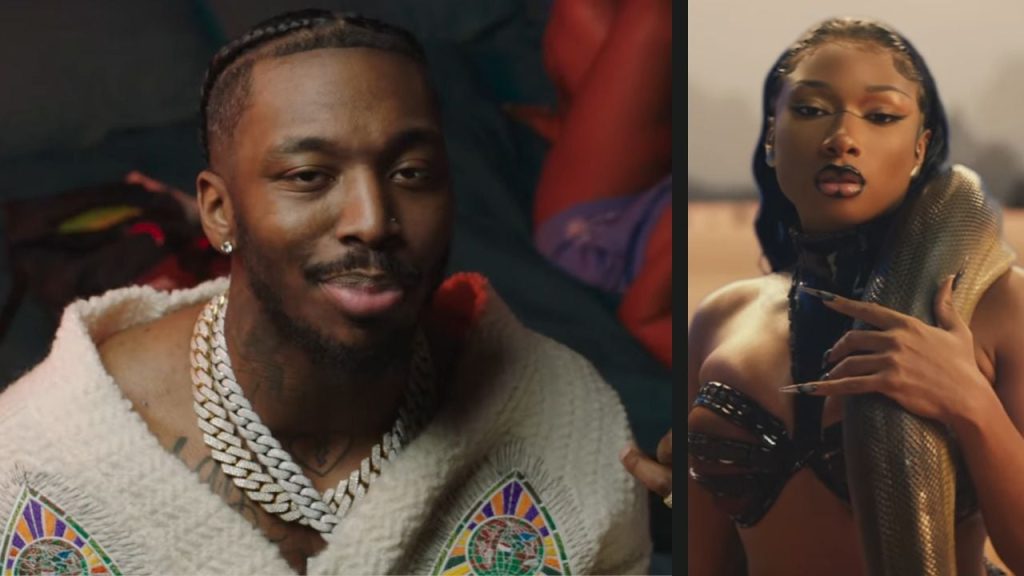 Megan Thee Stallion's ex-boyfriend, Pardi recently released a scathing diss track titled, "Thee Person," where he seemingly exposes the Houston native's alleged true colors. The track has since sparked controversy and raised eyebrows in the music industry.
'Megan Thee Person'
Pardison Fontaine, known as Pardi, recently released a diss track titled, "Thee Person," where he calls out ex-girlfriend Megan Thee Stallion. The rapper/songwriter accused the "Cobra" rapper of being attention-seeking and dishonest.
Amid the past legal battle between Megan Thee Stallion and Tory Lanez, there was one person who was impacted who hadn't said much of anything since the news of the 2020 December shooting.  On Friday, Nov. 17, Pardison Fontaine, the ex-boyfriend of the "Don't Stop" rapper, spoke on "Megan Thee Person." 
In his diss track titled, "Thee Person," Pardi accused Meg of becoming media and attention thirsty. In his song, he rapped: 
"God I treated you like a queen… whole time I'm a clown in your circus. You know the devil was a serpent. For some streams and views girl I hope it was worth it."
Pardi Calls Megan A Liar
In the new track, Pardi claims that Megan lied to him about the people she slept with, causing him to engage in unnecessary beef with individuals she had been involved with. 
The diss track gains traction as the Houston rapper previously attempted to defend herself against accusations of being romantically involved with Tory Lanez.  Pardison rapped: 
" Had me beefing with niggas you know you was fucking. Beautiful girl but your soul is disgusting. You got everything but still ain't happy… you lying to people you sick in the head."
In an April 2022 interview with Gayle King, Megan denied any intimate relationship with Lanez, asserting that their connection was solely based on grieving the loss of their mothers. To add fuel to the fire, her statements are met with skepticism, especially after rapper DaBaby's claim of sleeping with Megan in his song "Boogeyman." 
Megan Thee Snake? 
The New York native also addressed Megan's authenticity or lack thereof, criticizing her for talking negatively about her close friends and hairstylist while avoiding self-reflection. The music producer continued to state poetically: 
" Look, you talk shit about Kellon, shit about Jayla and Darren, you talk shit about everybody. Except for the person in the mirror that's staring. You talk shit like you Keisha, then cry like a Karen."
Pardi raises eyebrows by suggesting Megan may have gone through liposuction while posting gym pictures, questioning the sincerity behind her actions. He rapped: 
"Got lipo then you started posting gym pics. The things that you're doing is sadistic. Spent four hours doin' glam, not a blemish. But your foundation is off, you need to fix it. Clean up your spirit and not just your image."
Fans have been divided in their responses to the diss track. Many fans did not take this diss track very well. 
One user (@dezlking) stated, "Saying "you have everything, you should be happy" to someone who lost both their parents and grandma within 3 years, was shot, and had the media/men trashing her for years is wild." While another user  (@realprissygrl) stated, "Fire back at what?! her saying that you cheated on her?? like what r we talking about fr." 
Megan Stands Tall
Speaking of publicized clapbacks, Megan Thee Stallion recently took the stage at the Outside Lands Festival in San Francisco, California, and used her performance as a platform to address her haters. This comes amidst the recent sentencing of singer Tory Lanez to ten years in prison for shooting the Houston rapper in 2020.
Chrisean Rock Drops Blueface Diss Track
Chrisean Rock recently took aim at her ex-boyfriend, Blueface, with a controversial song that shed light on her experiences as a single mother and alleged neglect during her pregnancy. The ongoing saga of musicians using music to call out their former partners continues to captivate audiences.