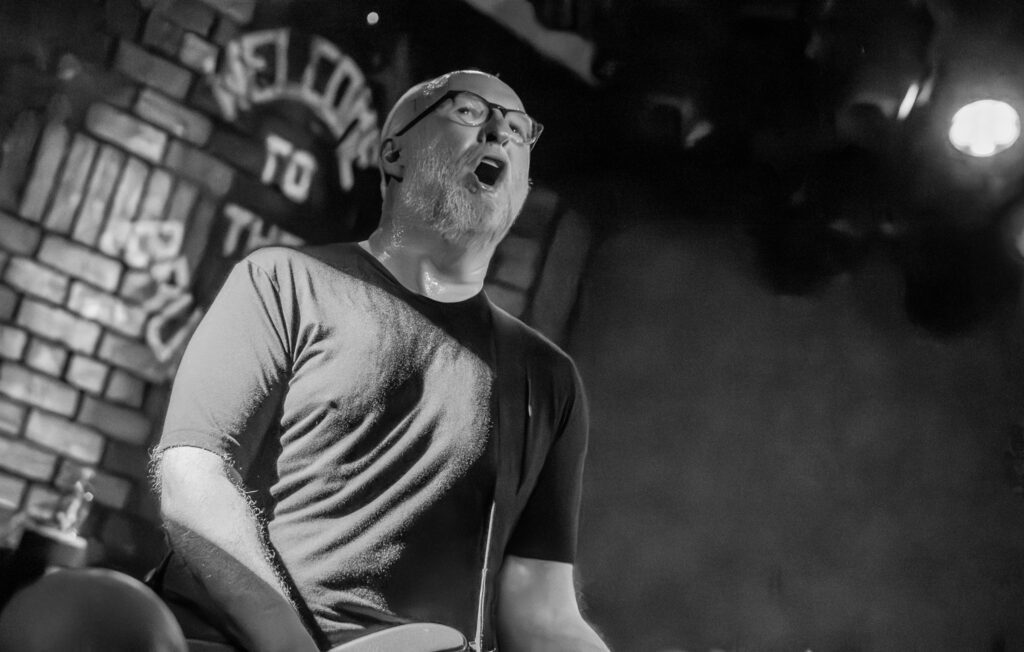 Bob Mould is someone who, ordinarily, would not need any introduction whatsoever. But just in case you've been in a coma for the past 45 years, he is an American musician whose career now stretches back for almost that entire period. He is perhaps best known for having been the singer, guitarist, and songwriter with the alternative rock bands Hüsker Dü in the '80s – their influence upon acts such as Nirvana, Green Day, and Pixies was immeasurable – and Sugar during the following decade. Both between and since his stints in those groups Mould has released some 14 solo albums, records that along the way have embraced a wide range of musical styles from punk to pop and electronics to rock and all of which have been imbued with his customary ferocity, fire, and undiluted rage.
And just in case anyone is still in doubt about Bob Mould's immense heritage, during the course of this evening's blistering performance he visits all corners of his back catalogue. In a setlist that extends well beyond the 20-song mark there is a very generous helping of Hüsker Dü tunes, a couple from his Sugar days, and a more than healthy double-handful drawn from Mould's solo material spanning his debut album Workbook in 1989 to his most recent offering Blue Hearts from three years ago. 
As if to affirm that he is not merely content to live in the past, Bob Mould also showcases three new songs here tonight – 'Breathing Room', 'Hard To Get', and 'When Your Heart Is Broken'. The wheels of his creative world are quite clearly still in motion. But this is not without the occasional delay. Following his previous show in Granada on this solo electric tour of the UK and Europe, Mould's flight from Madrid to London was cancelled last night. The 4.50am shuttle bus to the Madrid–Barajas Airport this morning was on time, though, and once he'd finally landed at Heathrow a 250 mile dash up the M1 to Leeds was then required.
But Bob Mould still manages to take to the stage at his scheduled time of 9.15pm. On the dot. You suspect he is someone who places a high value on punctuality. "How's it going?" he enquires, though after the day he has had we should really be asking the same question of him. Mind you, for a chap who turned 63 years of age only last month and has just faced all those travel travails he looks in remarkably good shape. And he wastes no time in tearing straight into 'The War' from his 2014 album Beauty & Ruin. It is fast, furious, and driven along at a relentless speed by the crashing buzzsaw chords he whacks out on his Stratocaster. 
He doesn't let up for the next 80 minutes. Two songs in and Bob Mould has already pressed the Hüsker Dü pedal, first with 'Flip Your Wig' and then by way of 'I Apologize'.  Sugar enter the fray by the fourth song courtesy of an equally electrifying 'Hoover Dam'. And so it goes as he zig-zags back and forth across the wonderful wealth of material he has at his disposal with nary a single pause for breath. The energy that Bob Mould produces is as unabated as it is intense, as powerful as it is defiant. He eventually signs off with a coruscating blast of the Hüsker Dü classic 'Makes No Sense At All.'  On the contrary, Bob Mould makes perfect sense. Let's just hope his journey up to Edinburgh tomorrow is far less troublesome for him. 
Photos: Simon Godley
More photos of Bob Mould at Brudenell Social Club.