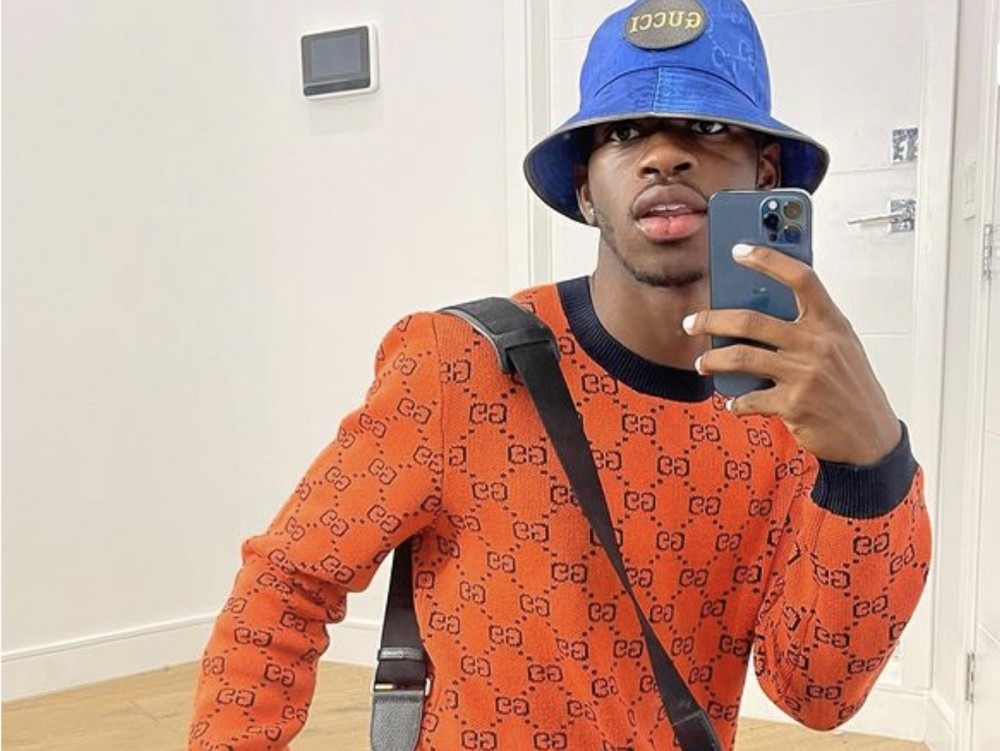 Grammy-winning rapper Lil Nas X is about the Gucci drip. The hip-hop superstar has lit up social media with an up-close look at himself draped in luxury stitches.
@sohh @sohhdotcom

149 Views
Comments Off on Lil Nas X Flexes Major Gucci Appreciation In New Drip
Lil Nas X Flexes Major Gucci Drip
X hit up his Instagram page to share a sneak peek at his fashion goals. Lil Nas also detailed his support for the brand's Gucci Aria film.
"Attending the digital screening of #GucciAria, a special film co-directed by @alessandro_michele and @floriasigismondi, featuring the new @gucci collection"
Earlier in the month, Gucci premiered its special film co-directed by award-winning photographer and director Floria Sigismondi and Alessandro Michele, Aria. The film highlights a collection of stunning outfits.
A singular voice, taking its turn in the spotlight; in the Italian language, 'air'. In his notes on the collection, the Creative Director calls it "a deep and ecstatic diving in everything we yearningly miss today… a jubilee of breath." In the year of Gucci's centenary, Alessandro Michele opens the locks of history, only to find a deeply personal vision of the mythology that surrounds the brand. Standing sentinel is the Savoy Club—a tribute to The Savoy Hotel in London where founder Guccio Gucci worked as a liftboy in his youth.
Lil Nas X Says Name 5 Gay Male Stars
This week, Lil Nas dared his followers to try to name at least 5 successful gay male artists in the last 10 years. The statement seemingly proved he would have no reason to fake his sexual orientation for profit.
"Ya'll love saying I'm being gay for success, but can't name 5 successful gay male artists in the last 10 years to save your life. … i'm not dissing anyone. i'm acknowledging the fact that we aren't usually as successful as our peers. what's not clicking starbucks spellman. … it's a million n*ggas in the industry that make nothing but songs about women and y'all don't complain. but i make my first song about a n*gga and now it's my entire artistry. y'all crack me up man."
Nike + Lil Nas X's Satan Shoes War Ends
Earlier this month, according to reports, Nike settled its lawsuit after a publicized war against Nas X and his sneaker collaborator. Despite things ending peacefully, part of the agreement is for the kicks to never see the light of day.
Nike tells TMZ … it's reached an agreement with MSCHF, the company producing the custom shoes based on Nike's Air Max 97. The so-called Satan Shoes were inspired by Lil Nas' demonic-themed music video for his new song, "MONTERO (Call Me By Your Name)." The footwear giant tells us the settlement calls for MSCHF to launch a voluntary recall to buy back all Satan Shoes it's sold for their original retail prices in order to remove them from circulation. (TMZ)
His Own MONTERO Video
In early April 2021, X went to YouTube to unload a nearly three-minute visual. The video is a collection of behind-the-scenes moments including studio moments and turning up around his recently purchased new home.
Lil Nas X – MONTERO (Call Me By Your Name) [Official Video except its not the official video at all]