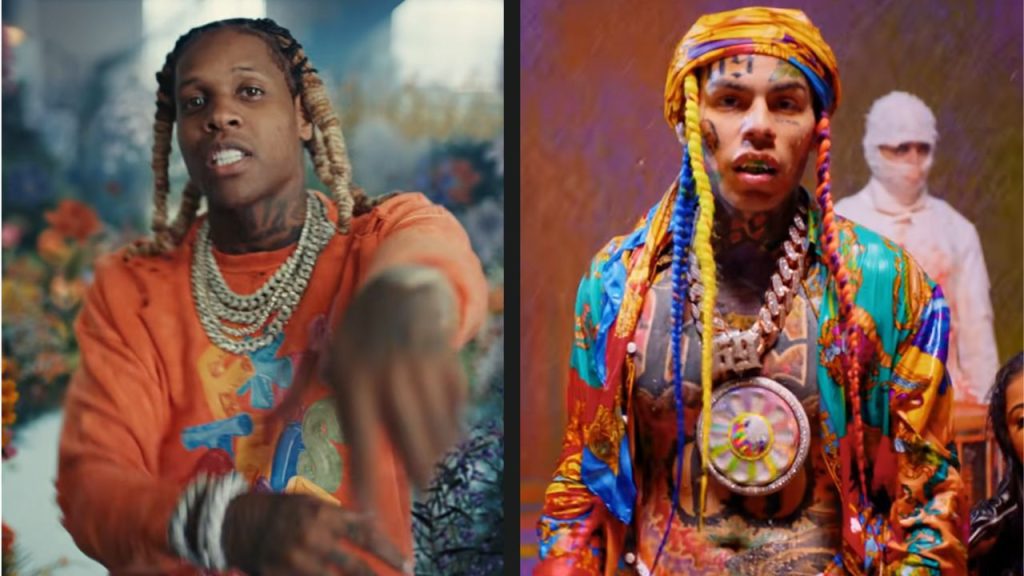 Lil Durk has issued a bold challenge to rapper 6ix9ine, proposing a high-stakes boxing match with a prize purse of $50 million. The challenge came after a back-and-forth between the two artists on Instagram, where tensions flared.  The boxing challenge is widely seen as a marketing move with Tekashi previously admitting his rivalry with Durk is fake and Lil Durk looking to build momentum for his upcoming album drop.
Lil Durk's Boxing Challenge
In a direct message exchange on Instagram, Lil Durk and 6ix9ine engaged in a heated conversation where Lil Durk challenged 6ix9ine to a boxing match with a staggering $50 million at stake. The proposal emerged as an alternative to the ongoing animosity between them.
Social Media Exchange
Following the Instagram conversation, Lil Durk took to his official Instagram account, urging an end to violence and gun-related conflicts. In response, 6ix9ine dismissed the monetary aspect and expressed willingness to engage in a fight without financial incentives.  Lil Durk suggested holding the boxing match in Dubai and offered to finance it himself. However, 6ix9ine proposed Miami as the venue and even suggested the strange idea of fighting in a hotel room.
Fans React to Boxing Challenge
Fans took to Twitter to express their opinions on the proposed boxing match. Some questioned the feasibility of the $50 million price tag, pointing out the unlikelihood of Dubai funding such an event. Others found humor in 6ix9ine's suggestion of a hotel room fight, highlighting the audacity of such a proposition given their ongoing rivalry.
Lil' Durk & Tekashi's Fake Beef
The rivalry between Lil Durk and 6ix9ine dates back to 2020, following the tragic death of Lil Durk's friend and collaborator, King Von. 6ix9ine has repeatedly made disrespectful comments about King Von's passing, fueling the animosity between the two artists.
However, Tekashi recently revealed that his beef with Lil Durk was fake and was a calculated move to resuscitate his rap career and avoid paying damages in a $1 million lawsuit. In an appeal to a judge, Tekashi's lawyers admitted that his "GINE" diss track was aimed at Lil Durk but that it was all for clout.
"Mr. Hernandez is attempting to dig his life out of the hole he has admittedly put himself into," Robert Meloni told a judge in 2022. "In order to succeed in the rap music industry, artists have to present a persona that is decadent and offensive.
Meanwhile, Lil Durk has pushed the release date of his album by two weeks, avoiding a head-to-head matchup with Soulja Boy and NBA Youngboy.  Buzz from this boxing challenge could serve to build momentum for sales of Durk's upcoming album, The Richest Opp.
In a similar vein, rapper Benzino recently challenged 50 Cent to a boxing match following multiple social media jabs by the rapper turned TV executive, including references to Zino's estranged relationship with his daughter, rapper Coi Leray.