Laurent Bourgeois, one-half of the celebrated Les Twins dance duo, faces a scandalous allegation after his ex-girlfriend used TikTok to shed light on his purported actions. The allegations have drawn significant attention as the Les Twins have gained fame for their collaboration with Beyoncé in recent years. Laurent's response, challenging the accusations and demanding proof, has fueled a broader conversation about the challenges artists face on social media platforms.
37 Children?!
Laurent Bourgeois, known for his incredible dance skills as part of the iconic Les Twins, is embroiled in a scandalous allegation. 
In a recent TikTok post, Les Twins' Laurent Bourgeois' ex-girlfriend aimed to shed light on his alleged actions. In recent years, Les Twins have gained recognition for their collaboration with Queen Bey. The dancers featured prominently in Beyoncé's groundbreaking Renaissance World Tour. She wrote:
"This person with a profile wears out women, even if it means accumulating several relationships a day by promising and acting in the same way with everyone in order to find a woman who will offer him twins. Her family and her entourage are accomplices of these actions." 
She further revealed that Laurent has 37 other children whom he has completely abandoned. 
Laurent Responds
As the news circulated on social media, Laurent addressed the allegations during an Instagram live session, demanding proof and expressing disbelief. He stated:
"Give me the baby mama's name, I want to see the babies, I want to see how they look like." 
He continued:
"This is where I realized the world is nuts. Now, I understand why people and big artists just talking less online." 
The shocking claim has sparked strong reactions from fans, with some expressing disbelief and others voicing their concerns. 
One fan wrote, "Let me see if I understand this correctly… some of y'all really thought one of the Les Twins had 37 kids?" Another fan shared their unease, saying, "Them Les Twins are weird, and I don't care what none of y'all say. Something just doesn't sit right with me when it comes to them."
More Allegations
Apart from the allegation of having 37 children, Laurent and his twin brother Larry, collectively known as Les Twins, have also faced allegations of alleged abuse. 
The same woman who brought forth the 37 children claim accused both Laurent and Larry Bourgeois of engaging in abusive behavior towards multiple women. Shockingly, she claimed that allegedly the twins would pretend to be each other to deceive and assault the women they were dating.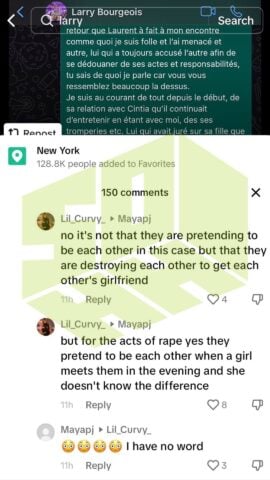 NBA YoungBoy & Nick Cannon Fathers Over 10 Children
In the realm of celebrities fathering multiple children, NBA Youngboy and Nick Cannon are known for the number of kids they have. The Louisiana native recently welcomed two new children, bringing his total to 12, while Nick Cannon currently has 11 children.