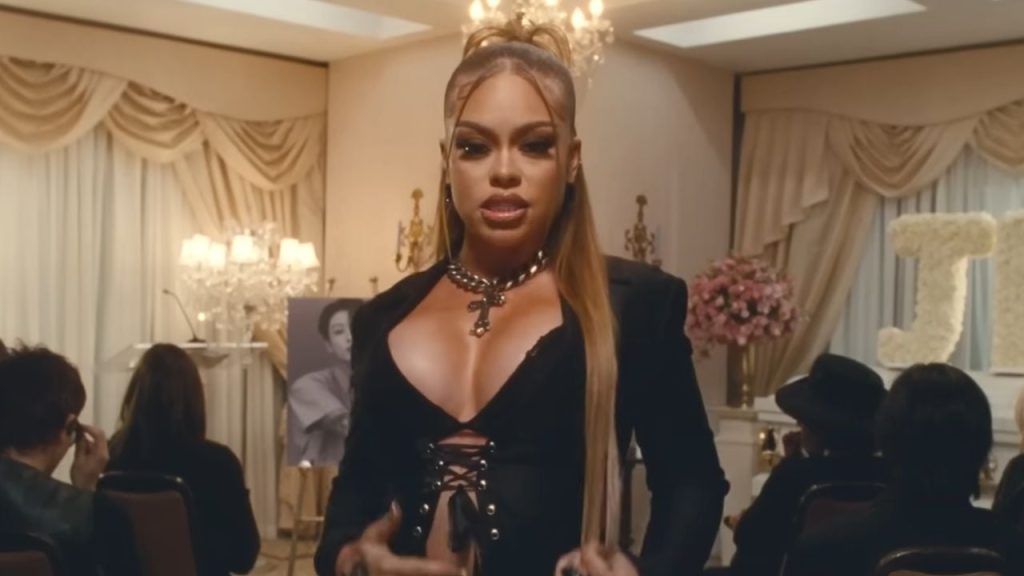 Latto has hit the jackpot, achieving an incredible milestone by claiming the No.1 spot on The Billboard Hot 100 list with the infectious track "Seven," a collaboration with South Korean singer JungKook. The cheerful and dancefloor-friendly song soared to the top, garnering an impressive 21.9 million streams, 6.4 million in airplay audience, and 153,000 combined digital and CD singles in its opening week.
Latto Goes No. 1
In celebration of her remarkable achievement, Latto took to Instagram, sharing photos of herself in a multi-colored crochet dress, proudly captioning it "#1." The "Put It On Da Floor" rapper was met with a flood of congratulations from her devoted fans and fellow music industry colleagues. 
Fellow rapper Lola Brooke couldn't contain her excitement, chiming in with a resounding, "Can I get a 'aww yeah' 🔥" in response to Latto's success. Rapper Yung Miami simply expressed her approval with four fire emojis, "🔥🔥🔥🔥" signaling the heat of Latto's chart-topping achievement. The Atlanta rapper's supporters praised her, acknowledging her talent and relentless work ethic.
Among the congratulatory messages, one Instagram user hailed her as a "young legend," recognizing her immense impact in the music scene at such a young age. Another fan enthusiastically expressed happiness for Latto, stating, "Congratulations on your first #1! This is definitely your year ❤️ ."
Latto's Wings
Beyond her chart-topping success, Latto continues to make waves in the entertainment world. She has recently made strides in the food industry, partnering with the popular food chain Wingstop to release her exclusive "Latto's Lemon Herb Mix" combo meal, which has caused a frenzy among foodies and music lovers alike.
What's even more remarkable is that the 777 artist has achieved all of this success as an independent artist, defying industry norms by managing her career without a manager for almost a year. Her ability to flourish and remain relevant in the music scene without traditional management support is a testament to her resilience and entrepreneurial spirit.
Jay-Z Makes History As First Black Artist To Score 10 Multi-Platinum Solo Albums
Just like iconic rapper Jay-Z, who has recently become the first Black artist to achieve 10 multi-platinum solo albums, Latto is breaking barriers and blazing her trail in the music world.