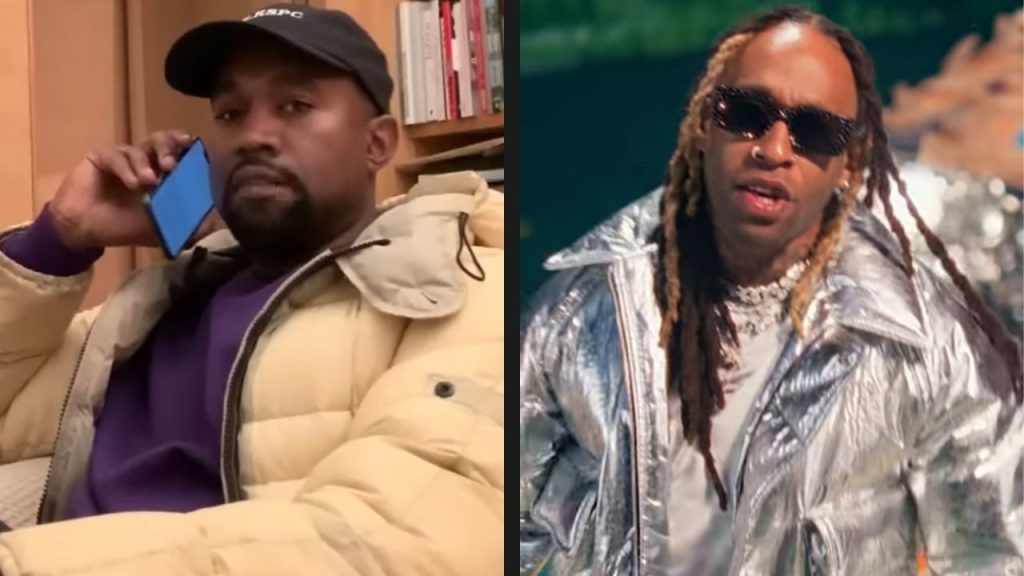 Kanye West and Ty Dolla $ign's highly anticipated joint concert in Italy may not be happening as previously planned. The event, which was supposed to take place on October 27 at RCF Arena, has faced several obstacles that now cast doubt on its occurrence.
No Show?
Kanye West and Ty Dolla $ign fans may be disappointed. Their highly anticipated joint concert in Italy may happen differently than planned.
According to Billboard, the concert was never officially confirmed, and the concert stage has been dismantled. Ye has returned to the United States with his wife, Bianca Censori, indicating that the show may no longer be going ahead. 
The controversy surrounding Ye is believed to be one of the reasons why the concert has been thrown into uncertainty. His past social media rants, labeled anti-Semitic, have sparked backlash from local feminists and anti-fascist associations in Italy. 
Permit Issues
These groups have raised objections to his presence in the country and likely contributed to the complications surrounding the event.
Furthermore, the concert venue, RCF Arena, has encountered permit issues, which have hindered the construction of the stage. It has been reported that necessary permits were not obtained by the mid-October deadline, thereby stalling the preparations for the show.
As of now, Ye or Ty Dolla $ign have yet to address the status of their joint album or if they plan to reschedule the show in the United States or elsewhere.
Updated By: Chris Samuel (10/23/23 at 5:00 pm)
Kanye West & Ty Dolla $ign Set To Perform Joint Album In Italy After Recent Leak
Kanye West and Ty Dolla $ign are set to take the stage in Italy, offering fans an exclusive preview of their highly-anticipated joint album. The project comes after multiple leaks, which recently surfaced on the internet, and will be unveiled for the first time at the performance, generating immense excitement among music enthusiasts worldwide. 
Kanye x Ty Dolla $ign
Kanye West and Ty Dolla $ign are gearing up to deliver an electrifying performance in Italy on October 27. 
The superstar rapper, also known as Ye, and the acclaimed singer will be showcasing their highly-anticipated joint album at an undisclosed location. With fans eagerly awaiting the release of their collaborative work, this exclusive event promises to be a momentous occasion for music enthusiasts worldwide.
The untitled album, resulting from the creative collaboration, has been shrouded in mystery. However, on October 27, the duo will showcase the album for the first time during their performance in Italy. 
No Venue Info?
While the exact venue remains undisclosed, speculations had initially pointed towards the RCF Arena in the northern city of Reggio Emilia, which has a capacity of up to 100,000 people. So far, no official confirmation regarding the venue has been made.
News of the performance has ignited excitement among fans, who have expressed their anticipation for the joint album's release. 
Users on X took to the platform to share their thoughts, with one user commenting, "I'm excited for this, Ty Dolla gonna bring great energy to Ye's production." Another user added, "Feel like this gonna be a crazy album."
Leak After Leak
As for ticket availability, no information has been released yet, leaving fans eagerly awaiting further details. Additionally, it remains uncertain whether the album will be released on streaming platforms after the performance.
Ye has previously hosted listening parties in stadiums for albums like The Life of Pablo in 2016 and Donda in 2021, creating a unique and immersive experience for his fans.
In September 2023, leaks of Ye's music surfaced, revealing potential collaborations on his album, including Ty Dolla $ign, along with artists like Dr. Dre, A$AP Ferg, Travis Scott, Anderson .Paak, and more. These leaks only heightened the anticipation surrounding the joint album and added to the excitement for the upcoming performance in Italy.
Updated By: Chris Samuel (10/16/23 at 5:58 pm)
Kanye West Reportedly Returns To The Studio Amid Multiple Album Leaks
Kanye West is reportedly in the studio working on his next solo album. The decision to start working on a new album comes after multiple leaks of his previous projects, which have made their way onto the internet.
Ye Back In The Studio
After a music hiatus and multiple leaks, Kanye West still finds himself in a "great head space" and has been recording constantly, according to a TMZ Exclusive. 
One leak was the 35-minute visual album for DONDA, which West released in 2022 as a tribute to his late mother. Another leak was an entire album called Jesus Is King II, which featured a collaboration with legendary producer Dr. Dre. These leaks have spurred West to get back into the studio and create new music, seeking to reclaim his artistic vision.
Reports suggest that the Chicago native's Jesus Is King II features an impressive lineup of star rappers, including A$AP Ferg, Travis Scott, Ty Dolla $ign, Anderson .Paak, Eminem, and Thurz. The leaked information prompted one user on social media to comment, "It sucks that this whole thing was leaked, but I hope the music is fire🔥."
Although West's new album's title and release date have yet to be confirmed, this will mark his eleventh solo studio album and his first since DONDA in 2021.
Updated By: Chris Samuel (9/27/23 at 1:54 pm)
Kanye West's 'DONDA' Visual Album & Dr. Dre Collab 'Jesus is King 2' Leaked Online
Kanye West is again making headlines for his music and video library leaks. The most recent leak involves West's collaboration with Dr. Dre on the highly anticipated Jesus is King 2. In addition, West's visuals for his album DONDA were also leaked on social media, sending fans into a frenzy. 
Leak After Leak
It appears Kanye West is having a rough time with his music rollout as he experiences multiple leaks of his projects. 
The most recent leak, reported by Variety on Tuesday, September 26, involves the Yeezy mogul's collaboration with rap legend Dr. Dre on the highly anticipated Jesus is King 2. The album was set to follow West's Grammy-winning first full gospel album.
Not long ago, various unreleased content, including studio recordings, surfaced online. This situation highlights the third instance of severe leaks from West's catalog, with no official comment from the artist as of now. 
'DONDA: With Child'
On September 21, Kanye West's visuals for his album, DONDA, were also leaked to the public via Twitter (X). The leaked video album, titled DONDA: With Child spanned 35 minutes.
In the leaked video, West can be seen walking through spacious fields, accompanied by sheep. Other individuals are also depicted lying on the grass or near a body of water. 
The video features multiple songs with features from artists like Travis Scott and Ant Clemons. According to reports, the visual album was shot in Wyoming, where West has ample ranch space. It was directed by Vanessa Beecroft.
Ye Takes Legal Action Against Leaker
West has a history of taking legal action against leakers. Just days prior, he was reportedly pursuing legal action against an unidentified leaker who had shared multiple songs from his music library, including footage of him in the studio. 
However, the "Famous" rapper has not provided any comment on the visual leaks of his album at this time, and the release date for the visual album was never specified.
Fans React
Fans flooded Twitter with excitement, spreading the leaked videos rapidly. 
One fan expressed their enthusiasm, questioning how such leaks could occur but remained determined not to let them diminish their excitement. "An entire visual album leaked. How does this happen to Kanye? Ima watch tho," wrote the fan. 
Another fan shared their love for the song featured in the video, declaring it their favorite track off the album.
Hundreds Of Songs By Young Thug, 21 Savage & Gunna Leaked
In a similar vein, other notable rappers such as Young Thug, Gunna, and 21 Savage also faced mass leaks of their music libraries in late 2022. During that time, hundreds of songs were reported to have been leaked.
Originally Written By: Dorian Waller