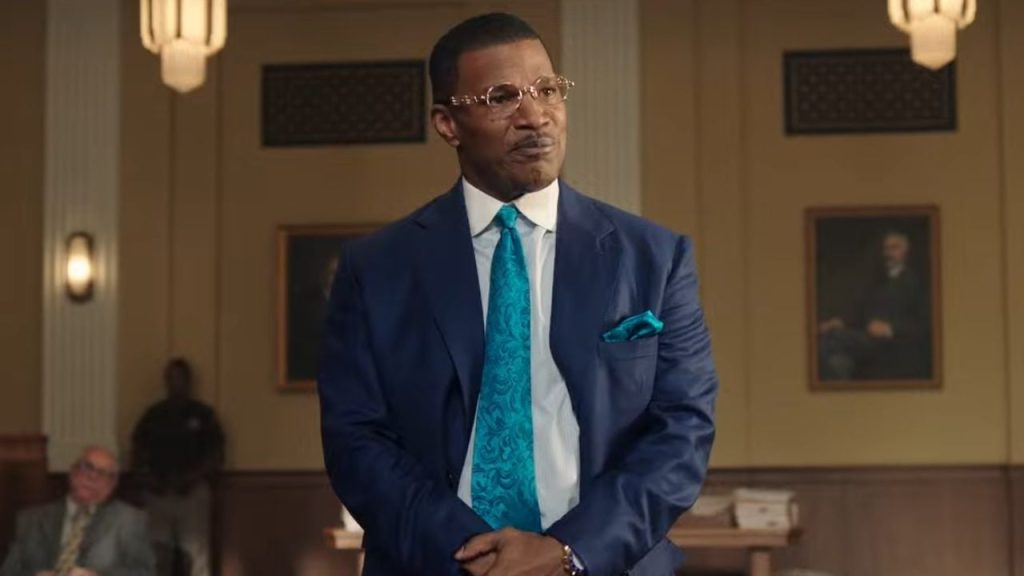 Jamie Foxx is adding another film to his impressive resume, with a new movie premiering this fall. In The Burial, Foxx will star alongside legendary actor Tommy Lee Jones. The film promises an intriguing storyline.
Based On A True Story
On September 7, the trailer for The Burial was released. The film follows the character Jeremiah, played by Jones, a funeral home director. Jeremiah enlists the help of Jamie Foxx's character, attorney Willie E. Gary, to win a case against a major corporation. 
The film is based on a true story, chronicling Jeremiah Joseph O'Keefe's lawsuit against the Loewen Group, a Canadian funeral home company. The case was documented by Jonathan Harr in a 1999 article for The New Yorker.
The Toronto International Film Festival
Working alongside Foxx, Jones expressed his admiration for the talented actor. He mentioned how fun and energized their workdays were, saying, "We did a lot of laughing, and some pretty good work got done too." The film is directed by Maggie Betts and features a script co-written by Doug Wright.
Betts recently shared a statement to People magazine and said "it was clear" to her "from the start that Jamie was going to completely devour the role of Willie Gary."
The Burial will have its world premiere at the Toronto International Film Festival on September 11 and will be released in select theaters on October 6. Additionally, the film will be available for streaming globally on Prime Video starting from October 13.
Jamie Foxx Making Moves In Entertainment
Jamie Foxx does not stop at The Burial; he has more projects lined up. He is set to star as God in the upcoming comedy film Not Another Church Movie, which is slated for release in late  2023. The cast includes Mickey Rourke, Vivica A. Fox, Tisha Campbell, Kyla Pratt, Jasmine Guy, Kevin Daniels, and Lamorne Morris.
In other news, Foxx recently addressed his medical scare that led to his hospitalization in April 2023. He shared a video on his social media accounts talking about the incident. Following his recovery, he starred in the Netflix film They Cloned Tyrone, which premiered on July 21.
50 Cent Set To Star In 'The Expendables 4'
In related film news, The Expendables 4 is another highly anticipated movie set to premiere soon. Rapper and television mogul 50 Cent will star in the film as "Easy," alongside actors Dolph Lundgren, Megan Fox, Jason Statham, Sylvester Stallone, and more.