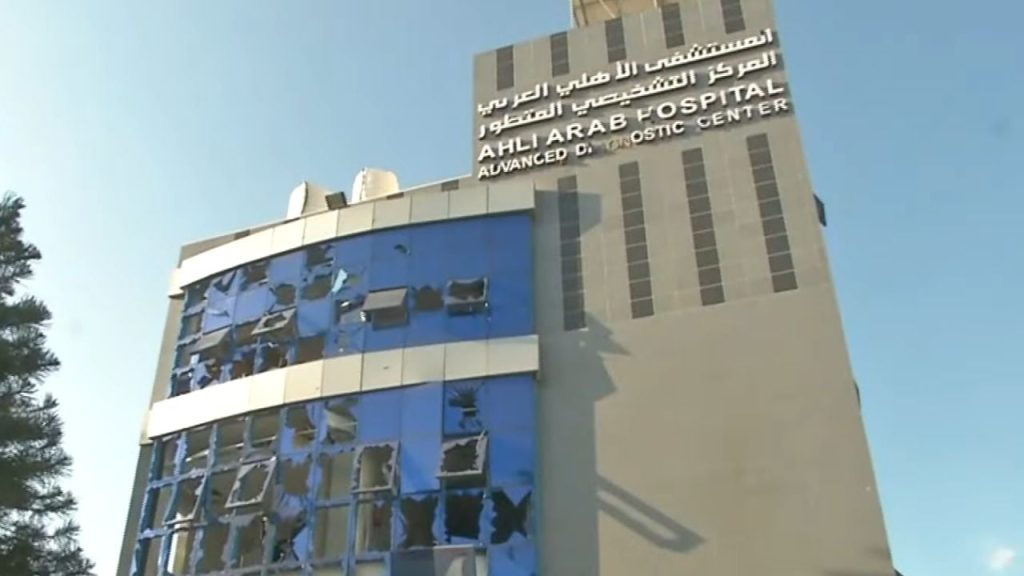 Israel's bombing of a Gaza hospital has intensified tensions in the ongoing conflict between Israel and Palestine. As this tragic incident unfolded, it also appeared that Israeli forces had filled two water wells in the Westbank with cement, depriving residents of access to drinking water. 
Palestinian Tragedy 
On October 17, just before President Joe Biden's visit to Israel, an explosion occurred at the Al Ahli Arab Hospital in Gaza, resulting in the death of reportedly 500 Palestinians. While some Western countries have called for an investigation, Arab states have blamed Israel. 
Israel's bombing of the Gaza hospital has caused outrage and deepened the tension between Israel and the Palestinian group Hamas. 
The explosion resulted in the deaths of hundreds of Palestinians and left the hospital in ruins. While some Western countries have called for an investigation into the incident, Arab states have unequivocally blamed Israel.
Who's To Blame?
President Biden, who has been a staunch supporter of Israel, echoed their view, stating that the hospital blast appeared to result from an errant rocket fired by a "terrorist group." However, Palestinian officials have squarely blamed Israel for the tragedy, while Israel has denied any responsibility and attributed the blast to a failed rocket launch by Islamic Jihad.
The impact of the explosion was devastating, with the hospital walls bloodied, vehicles destroyed, and buildings damaged. The Al Ahli Arab Hospital, also known as the "haven of peace," was a symbol of hope and resilience in a troubled region. 
Biden pointed the finger of blame at Palestinian militants. Speaking alongside Israeli Prime Minister Benjamin Netanyahu, Biden said:
 "I was deeply saddened and outraged by the explosion of the hospital in Gaza yesterday, and based on what I've seen, it appears as though it was done by the other team, not you."
Warning Signs
Before the explosion, Israel told Palestinians who lived north of Gaza and even in Gaza City to move south for their own safety. Via a Twitter (X) message, Israel's military specifically told Zeitoun residents to move south on Tuesday. 
On Monday, Oct. 16, a Kuwaiti specialized hospital in Rafah city, said they had received two Israeli warnings to evacuate, but according to the director, the staff would not leave. 
Dr. Naim reported that he had just completed one surgery and was about to begin another when he heard the explosion. To better connect the timing, Dr. Naqa said the explosion occurred around 6:30 p.m. (1530 GMT).
Its destruction has left many in shock and mourning, including the Archbishop of Canterbury, Justin Welby, who expressed his deep sadness at the loss of innocent lives. He stated: 
 "This is an appalling and devastating loss of innocent lives. The Ahli hospital is run by the Anglican church. I mourn with our brothers and sisters. I renew my appeal for civilians to be protected in this devastating war. May the Lord God have mercy."
2022 Cement Filling 
In addition to the hospital bombing, Israel's actions in the Westbank in 2022 aggravated the situation. Israeli forces filled two water wells with cement in September 2023, rendering them useless. 
These wells were a vital source of drinking water for residents in the villages of al-Ras and Kafr Aboush villages. The international community has been closely following the developments in Israel and the Westbank. 
The escalation of violence and the deprivation of necessities like water have raised concerns about the well-being of the Palestinian population. Efforts to bring about peace and address the human rights issues in the region remain a pressing challenge.
DJ Khaled x Palestine
As a prominent figure of Palestinian descent, DJ Khaled's silence has raised eyebrows, fueling speculation about where he stands on the matter. 
With tensions escalating since the recent attacks, many are curious to see if DJ Khaled will use his platform to support Palestine. 
On a more positive note, renowned music producer, DJ Khaled, paid his respects to his homeland, Palestine in 2021. Khaled pulled for love and peace to reign supreme. The hip-hop hitmaker had come forward to share heartfelt words following violence and protests in Palestine. 
Moroccan Earthquake
As tensions escalate in the Middle East, it is important to note other instances where artists and public figures have taken a stand for their homelands. French Montana recently donated to aid Morocco after a devastating earthquake struck the country. The earthquake caused widespread destruction and loss of lives, prompting Montana to partner with Global Citizen and CARE.org and pledge $100,000 to support Morocco during this difficult time.