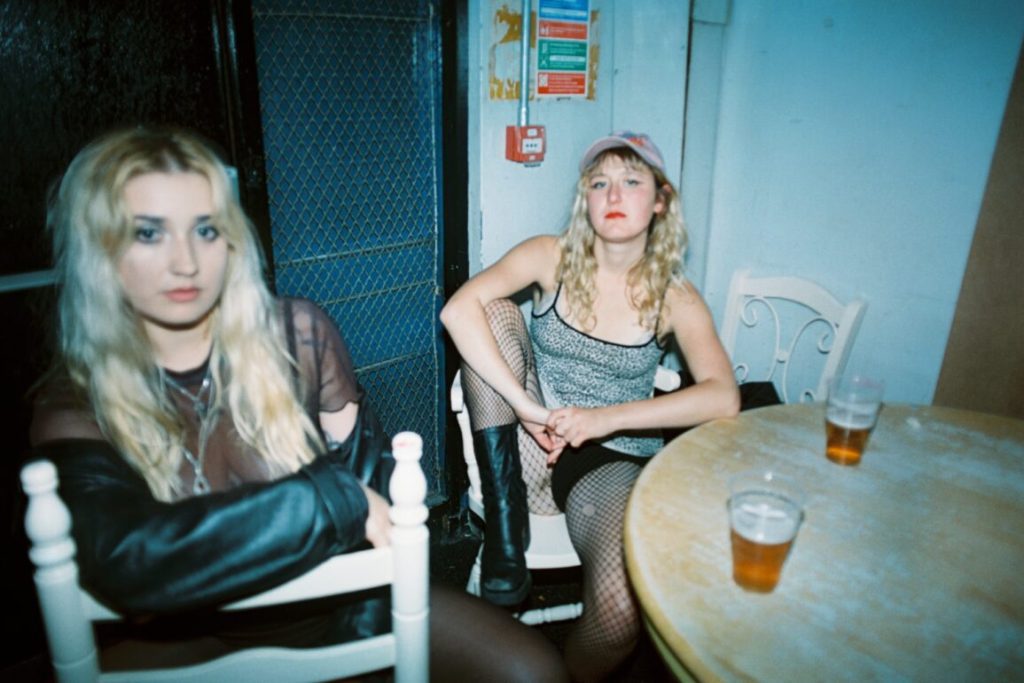 Lambrini Girls have released a powerful video for their latest track, 'Boys in the Band' calling out abuse and sexual assault within the music industry. Alongside the track, Lambrini Girls have released a limited edition longsleeve with 100% of the profits going to Refuge, Rape Crisis, and Safeline charities which you can buy HERE. The Lambrini Girls are here to call out injustice, kick down barriers and provoke essential change.
Speaking of the track, the pair said, "We've been planning the release of this music video for a while and the recent events in the media just confirmed its relevance further. Our song, Boys in the Band- is about SA and abuse in the music scene. The recent influx of conversations of abuse culture, comes down to another bombshell revelation in pop culture when another celebrity turns out to be a nonce. However, we need to be shouting about this constantly. Opening conversations about abuse culture is appropriate, all the time because this happens, all the time."
Earlier in the year lead singer  Phoebe Lunny told NME, "Punk in itself was about inciting positive change, but now, it is literally about fucking men stomping around on stage singing about capitalism when they all come from fucking five-bedroom houses in Surrey." This is the punk that we need right now – the punk to incite real and necessary change.
The video for 'Boys in the Band' comes from their debut EP You're Welcome released earlier this year via Big Scary Monsters. At their explosive EP launch show at Resident Music in Brighton, lead singer Phoebe Lunny crawled upside down across the ceiling and started a mosh pit in the street outside and then skilfully hushed the crowd to discuss abuse culture within the music industry. The Lambrini Girls described how it is something that they have directly experienced and how intimidating lad culture can be. Phoebe said that even in the room that we stood in, there were probably abusers who we needed to call out even if they are our mates. We need to believe it when people say that they were abused and not let these people get away with it. That's what punk was supposed to be for; inciting change. They said if you don't call out your friends you are on the side of the abuser and it perpetuates the issue and bassist, Lily Macieira added, "STEP UP!." We need this rage for change as this kind of abuse has gone on for too long. Phoebe then gave a whip-smart social commentary in Boys in the Band singing,
"Give a Big Hand/ For the boys in the band who can do everything better than me
An overnight success, just from banging on their chest
As we cheer beneath the glass ceiling/ We've only ever dreamt of the majority they represent
Who could get away with anything ……You've gotta say they're not safe to be around"
Watch the video here:
They said, "We made [the video]  the day after we got back from playing a festival. We were totally destroyed and just raw dogged the whole thing. We tried to invite a crowd of people down to Green Door Store where we were filming the video and only 5 people turned up. The idea behind one of the scenes was to depict invisibility by playing in the middle of an indifferent ' crowd .'We made this video with Bristol director Harry Steel."
Lambrini Girls have opened for Iggy Pop, played with Pigs Pigs Pigs Pigs Pigs Pigs Pigs, Shame, Frank Carter and The Rattlesnakes, and Gilla Band, and are a familiar face in the live circuit, seemingly always on the road across the UK and Europe.
They've been included in the NME 100 as well as gaining attention from BBC Radio 1, So Young, Brooklyn Vegan, CLASH, BBC6 Music, Variety Magazine, The Line Of Best Fit, Rolling Stone UK, Kerrang! Magazine, Rough Trade, DIY – the list goes on.
With inspirations drawn from shit punk to noise rock; not only do Lambrini Girls plan on setting your bin on fire- they're here to create safe spaces, and fuck up anyone who gets in their way. "No one deserves to feel uncomfortable, no one deserves to feel invisible, start conversations with your mates, never let anyone stop you existing authentically and most importantly: Gays to the front."
Simply put, Lambrini Girls are here to take over the scene, one fizzy bottle at a time.
Order the Longsleeve limited edition Charity T shirt here HERE  with100% of the profits going to Refuge, Rape Crisis, and Safeline.
You're Welcome is out now via Big Scary Monsters
Tour Dates:
OCTOBER
21ST – Headline, GARAGE NOORD AMSTERDAM
21ST – HIT THE ROAD FESTIVAL EINDHOVEN
31ST – Queercore Night of the living WARDROBE LEEDS
NOVEMBER
4TH – LES INDISCIPLINÉES FESTIVAL LORIENT
18TH – LA CARENE BREST
30TH – LA ROCHELLE WITH DREAM WIFE
DECEMBER
1ST – Headline, LE MECANIQUE ONDULATOIRE PARIS
2ND – ZIETGIEST FESTIVAL NIJMEGEN
Tickets available HERE